Simple Baked Chicken Parmesan Recipe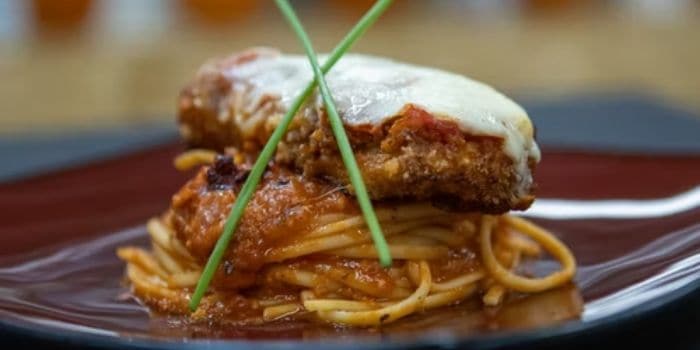 Oven-baked chicken parmesan is a classic favorite for a reason. It's breaded, delicious, and covered with cheese. (Who doesn't love cheese?)
You can make this recipe with or without pasta, so we added an optional pasta recipe, too!
Oven-Baked Chicken Parmesan Ingredients
3 chicken breasts, sliced in half
1 cup shredded mozzarella cheese
Cooking spray (canola or olive oil work well)
½ cup water
1 egg, beaten until yellow
1½ cup unseasoned breadcrumbs
6 tablespoons grated parmesan cheese (set aside 2 tablespoons for initial mixture, with 4 tablespoons left for spreading at the end)
1 tablespoon dried oregano*
1 teaspoon dried basil*
½ teaspoon dried thyme*
½ teaspoon garlic powder
2 cups spaghetti sauce
*Can substitute with fresh-chopped herbs, if you prefer.
Optional: Chicken-Infused Pasta
If you want to make mouthwatering pasta to go with your chicken parmesan, here it is. And if you don't, regular pasta will do just fine, too!
1 package of spaghetti, angel hair, or fettuccine
2 quarts chicken stock

If you don't have chicken broth, use water with bouillon cubes or Better Than Bouillon paste

A pinch of salt
Optional: Italian seasoning
Oven-Baked Chicken Parmesan Recipe
Preheat oven to 350*F.
Spray a 9×13 baking dish with cooking spray of your choice.
In a medium bowl, whisk together water and egg until blended smoothly. Set aside.
In a medium bowl, combine breadcrumbs, 2 tablespoons parmesan cheese, oregano, dried basil, dried thyme, and garlic powder.
Bathe each chicken breast in the egg mixture, then allow the excess egg to drip back into the bowl.
Coat each chicken breast in the crumb mixture and set aside.
After every chicken breast has been dipped in the egg and crumbs once, re-dip every piece of chicken to create a double coating of crumbs and egg wash.
Once every chicken breast has been double-dipped, place in the prepared baking dish.
Bake chicken for 40 minutes.
Pull the chicken out and pour spaghetti sauce over each breast.
Top each slice of chicken with mozzarella and the remaining parmesan cheese.
Continue baking 15-20 minutes more, until chicken is no longer pink in the middle. The cheese should be gooey and melty. If you check with an instant-read thermometer, the internal temperature should read 165*F.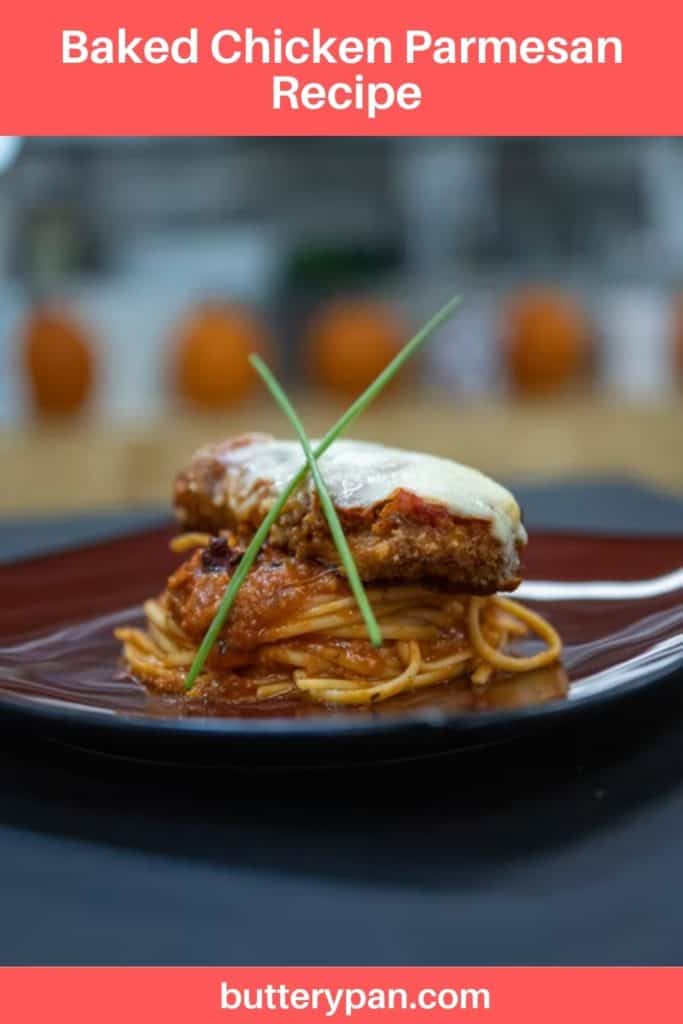 Optional: Chicken-Infused Pasta
After returning chicken to oven in Step 12 above, boil your chicken stock (or bouillon cubes in water). 
Add a pinch of salt and 1-2 tablespoons Italian seasoning (optional). 
Add pasta and cook until al dente to tender, 10-12 minutes. 
Serve with chicken.
Summary
Now you know how to make a perfect chicken parm. It is quick and easy if you know the steps and have the right ingredients. The most important part