Simple Chicken Lombardy Recipe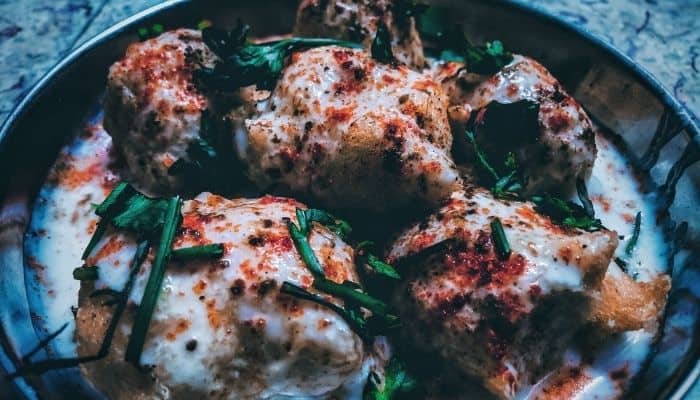 Chicken Lombardy is a delicious, relatively easy dinner to throw together. If you need a quick fix meal in 30 minutes on a Saturday night, this is your dish!
Chicken Lombardy Ingredients
To make this scrumptious masterpiece, we first need scrumptious ingredients. Gather:
2 large chicken breasts
A dash of salt and pepper
½ cup flower (for dredging)
1 tablespoon garlic powder
4 tablespoons butter, divided into 2-tablespoon pats
1 tablespoon olive oil
1 cup sliced mushrooms (white or cremini work well)
½ cup marsala wine
¼ to ½ cup chicken broth
1 cup shredded mozzarella or fontina cheese
½ cup grated parmesan cheese
2 green onions (scallions) chopped
An oven-proof skillet – no plastic handles! – or 13×9 glass baking dish
Chicken Lombardy Recipe
Preheat the oven to 400*F.
Cut chicken breasts in half lengthwise to make 4 long slices.
Add salt, pepper, and garlic powder to the flour and shake or sift together.
Coat each piece of chicken with flour.
Heat the olive oil and 2 tablespoons of butter in an oven-proof skillet on medium-high.
When the oil is sizzling, lay your chicken strips in the pan.

Cook each side of the chicken for 4-5 minutes, or until the flour is golden.
Transfer chicken to a paper towel to let the oil drain.

Add the remaining 2 tablespoons of butter to the skillet and melt.
Sauté mushrooms, stirring occasionally, until the mushrooms are brown (about 5-6 minutes).
Add chicken broth and marsala to the skillet. Let the mixture bubble on medium-low for 5-10 minutes. Stir occasionally.
Add the chicken strips back to the pan and spoon the sauce-mushroom mixture over the top. Cook for about one minute.