How To Cook Chicken Taco Filling In a Bag?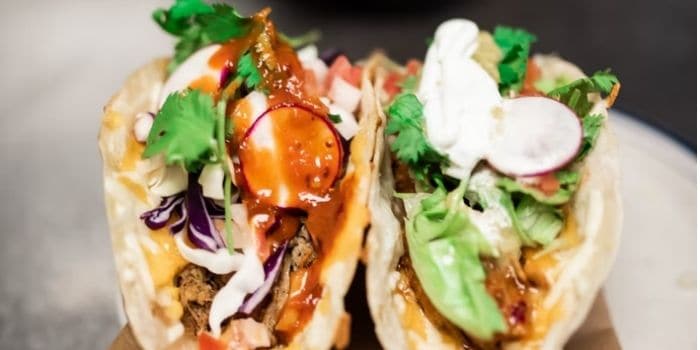 So you have chicken taco filling in a bag wondering how to cook it? Preheat the pan to low medium and reheat your chicken taco filling, after that just start filling tacos. But there are many more ways how to use it, check the post below for details.
Everybody loves to eat chicken tacos and if you keep chicken taco filling in a bag in your pantry or freeze your extra chicken, you can make tacos at home for a quick lunch, for a tv snack, or for a dinner party with friends in no time.
Chicken taco filling in a bag is usually pre-cooked so it doesn't need cooking at all, however, you should always check the package for cooking instructions, recipes, and nutrition facts.
Chicken taco filling in a bag, how to cook it?
I assume that the chicken taco filling that you received is already cooked so all it needs is just a bit of heat. You could just put a bit of oil on a low medium preheated pan and put the filling there. When the chicken taco filling is all nice and hot – you and start filling your tacos as you normally would.
Otherwise, there are several ways to do it and I will cover them below. You can make soup, make a casserole, cook it in the slow cooker or in an instant pot just to name a few.
How do you use chicken taco filling in a bag?
Chicken taco filling in a bag is a true lifesaver: you can use it for many different recipes, from burritos to soups, and it will always be delicious!
If your chicken taco filling is fully cooked you can simply heat it and wrap it in a taco shell or a tortilla, add the shredded chicken to a salad or cooked rice, make it into a grilled sandwich, or add broth to make a chicken taco soup.
You can find recipes everywhere on the internet or be creative and get more ideas for your tacos from your favorite meat recipes!
How do you cook chicken taco filling in a slow cooker?
Chicken taco filling can be cooked in a slow cooker with chicken broth for an amazing taste and the most tender meat. There are so many recipe variations for such a flavorful meal!
(this is for the cases that your chicken taco filling is not cooked already, otherwise, you could follow the same steps but just reheat it in the chicken broth instead of slow cooking it).
Here's how you do it:
1. Place salsa, chicken broth, homemade taco seasoning mix, boneless skinless chicken breast, salt, and pepper in your slow cooker
2. Cover and start cooking your chicken: the cooking time may vary from 7-8 hours on low heat to 4 hours on high heat.
3. Then remove the cooked chicken breast, shred the chicken with two forks and stir back in the slow cooker with the seasoning
4. Serve this tasty shredded chicken mixture in your tacos, in burritos, in salads, or in soups!
How do you cook chicken tacos in the Instant Pot?
Cooking chicken taco filling in the Instant Pot is one of the quickest and easiest ways to make tasty chicken. Here's your infallible recipe:
Get your chicken breasts, homemade taco seasoning mix, chicken broth, and salsa in your Instant Pot and cook for 12-15 minutes.
Once cooked, take out the chicken breasts and shred them with two forks. Mix the chicken taco filling with the other ingredients and serve warm.
You can use your shredded chicken taco filling in burritos, or you can add it to taco salads or soups!
How do you make chicken taco casserole?
Chicken taco casserole is a very popular recipe, ideal for a busy night when you can manage to cook only one dish in the oven. It's full of flavor and ready in less than an hour! Here's how you do it:
1. Heat your oven to 350 ° F, grease with a bit of olive oil a baking dish, and spread crushed tortilla chips on the bottom.
2. Place your boneless skinless chicken, salsa, black beans, taco seasoning, and sour cream in a bowl and mix. Then spread half of the salsa mixture over the tortilla layer and top with shredded cheese. Repeat layers of tortillas, chicken mixture, and cheese.
3. Bake for 30 minutes, or until fully cooked, and serve. Eat chicken casserole warm!
How long do you cook chicken tacos?
Chicken tacos are just what you'd call a classic go-to weeknight meal, and they can be cooked in so many ways that you will never get bored of them! The cooking time is different depending on the cooking method you use, but the result will always be as delicious.
Once you've prepared your taco filling with chicken, taco seasoning, cheese, salsa, or any other ingredients you wish, you need to cook your chicken taco filling mixture.
You can cook on a large skillet on medium-high heat for 5- 10 minutes, in the oven to 400° F for 15 minutes, or in a slow cooker for 4-8 hours, depending on whether you cook on low heat or medium-high heat.
How do you make taco soup with chicken broth?
There are many ways to prepare a delicious taco soup with chicken broth, and this is one of our favorite recipes. It's loaded with chicken, vegetables, beans, and flavor and it's super quick to make!
To make this soup simply place a cup of organic chicken broth, shredded chicken, canned tomatoes, and beans in a large pot. Cook on low heat for 10-15 minutes and adjust with spices (try a taco seasoning mix to give a delicious taste to this soup).
Once your soup is ready, serve it in bowls and top with crushed tortilla chips, cheese, or one of your favorite toppings!
Can you season chicken tacos with sour cream?
Tacos, just like burritos, are an easy meal full of flavor and they can be cooked in various recipes, each one with a different sauce.
If you're wondering which sauce is ideal for chicken taco filling, the answer is sour cream. Here's how you can use this delicious sauce in your tacos recipes:
Mix it with salsa and taco seasoning for chicken taco casserole
Top your chicken taco filling with sour cream and cheese for a bold flavor
Dip your chicken tortillas in sour cream and guacamole to enjoy the authentic Mexican delicious food
How can you use chicken taco leftovers?
When cooking chicken taco filling, whether in a slow cooker, in the oven, or on the stove, you may find yourself with some chicken filling leftovers to freeze.
Chicken filling leftovers mean delicious recipes await in your freezer bags!
For example, you could make tortillas topped with shredded chicken and cheese, a quick chicken taco salad, or even a cooked rice bowl with shredded chicken and crushed tortillas.
You can also freeze chicken broth and soup in freezer bags, so you can enjoy a hearty soup whenever you want.
How do you make chicken taco grilled sandwiches?
One of the many easy recipes you can make with chicken meat is a chicken taco grilled sandwich. This snack is full of flavor and it's so simple and oh so tasty. Let's see how it's done:
1. In a bowl mix chicken, taco seasoning, diced tomato, and onion
2. Butter one side of both slices of bread and place on a heated skillet, topped with a slice of cheese. Then spread the chicken mixture and layer with another slice of cheese and buttered bread
3. Grill the sandwich for about 5 minutes, until the cheese has melted and the bread is golden brown. Flip on the other side and continue cooking.
4. Serve warm with salsa, guacamole, and sour cream. Enjoy!
You can also cut these sandwiches into bite-sized pieces for a delicious appetizer!
Summary
Hope this post answered your question about how to cook chicken taco filling in a bag. The easiest way is to reheat in a pan and have it with a taco or tortilla, but there are many more great recipes in this post.