Cream Cheese Danish Recipe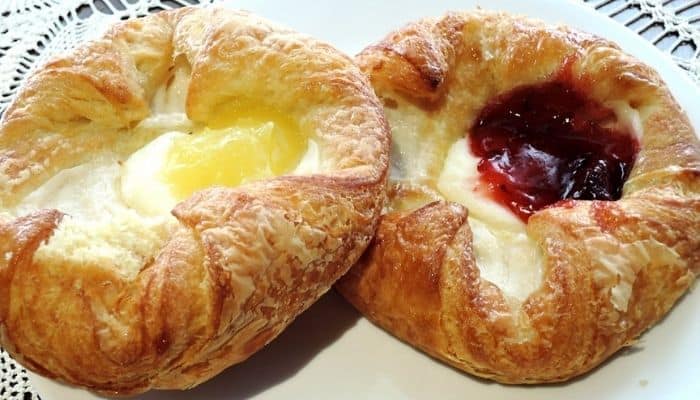 Why is Cream Cheese Danish so good? Sometimes, delicious recipes need a little help. And when it comes to baking, shortcuts are rarely a good idea.
But we think you'll forgive us for taking one little shortcut in this scrummy danish recipe. While the puff pastry is the heart and soul of baking, making your own is a time-consuming pain.
To that end, we've put together a recipe that cuts out the elbow grease and adds an extra dash of happiness. We give you our Quick 'N' Easy cream cheese danish!
Cream Cheese Danish Ingredients
Since we're cutting out the hardest part of making the danish – the pastry itself – this recipe has relatively few ingredients. In fact, with the exception of the pastry sheets, you probably have everything you need already!
1 large egg at room temperature
1 egg yolk separated from the egg white at room temperature
1 teaspoon water
8 ounces of softened cream cheese
3 tablespoons of sugar, plus dusting sugar
1 teaspoon lemon juice
½ teaspoon vanilla extract
One box (17.3 ounce) puff pastry sheets (thaw them first if you buy them frozen)
Cream Cheese Danish Recipe
Preheat the oven to 400*F. Insert two oven racks: one in the middle, one in the upper third.
Line 2 baking sheets with parchment paper.
In a small bowl, beat the whole egg with 1 teaspoon of water. Set aside egg wash for later.
In a medium bowl, use an electric mixer on medium speed to blend the cream cheese, egg yolk, vanilla, lemon juice, and sugar. Beat until the mixture is smooth and creamy.
Lay out two sheets of puff pastry and cut each sheet into four squares using a pizza or pastry cutter.
Fold the corner of each square by about 1 inch. This should create octagon-shaped pastry "bowls," with a little dip in the center.
Use a spoon to add roughly 2 tablespoons of the cream cheese mixture into the center of each pastry bowl. Do not spread the cream cheese – it will spread in the oven.
With a pastry brush, bathe the edges of the danish with the egg wash.
Dust the edges of the pastry with a little bit of sugar.
Bake in the oven until the pastry is golden brown and puffy, about 18 minutes. Switch the baking sheets at 9 minutes to ensure even baking.
Let cool for 10 minutes on a cooling rack before serving. Enjoy!