Easy Shakshuka Recipe For One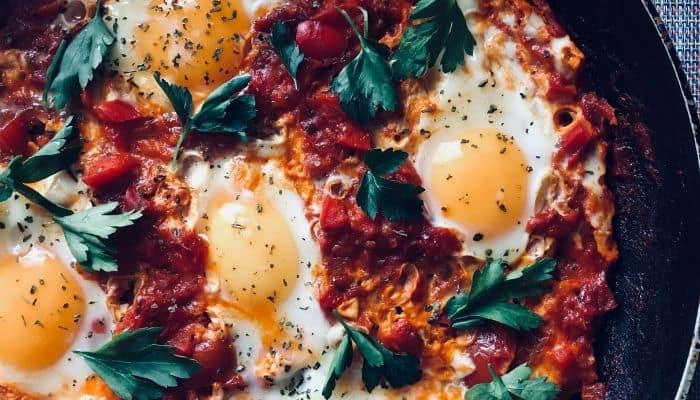 In this post we will go over one of the tastiest breakfast there is – an easy shakshuka recipe for one. Let's get right into it!
Ingridients
So what will you need to make a great shakshuka, not much actually:
Eggs. 2 will make for a good portion for one.
Olive oil.
Crushed Tomatoes or peeled tomatoes. Canned are perfect for this.
Half of an onion (diced)
Half of a red bell pepper – diced (green works well too)
Clove of garlic, chopped.
Tomato paste – 1/2 tbs
Cumin – 1/2 tsp
Paprika – 1/2 tsp
Chili – a pinch, depending on your preferences.
Salt and Pepper – to taste
Parsley or Cilantro – to taste
How do you cook it?
Easy!
On medium heat, preheat your pan.
Add olive oil, wait for a bit so it warms up.
Add chopped onions and red bell pepper.
When they soften up and onions are translucent, add garlic.
After garlic is also a bit translucent, add crushed tomatoes and tomato paste.
Add your spices – a pinch of chili, paprika, and cumin go in now.
Mix it all up and let it simmer for a bit, if needed lower the heat.
After all the ingredients got nice and friendly with each other, (roughly 2-3 minutes) with a spatula create a well in your sauce, into this well break an egg (if you have two eggs – that means two wells).
Cover with a lid or with a foil, and let it simmer until the eggs are of desired consistency. I like the egg whites cooked through while the yolk is still a bit runny. That is roughly 2-3 minutes of cooking time.
Remove the cover, add cilantro and/or parsley, and voila you are done!
There you have it! A very tasty and easy shakshuka recipe for one.