How To Cook A Frozen Ham?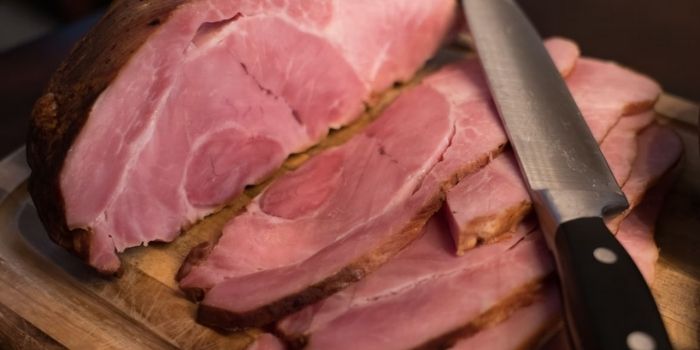 How to cook a frozen ham? The standard way to achieve a great nice looking ham is to cook It in your conventional oven. Preheat your oven to 325 °F ( 163 °C ), place a roasting pan with an inch of water and your meat, and cook your ham calculating its weight, 18-20 minutes per pound.
Want more details and different ways to cook It? Keep reading!
How To Cook a Frozen Ham in The Oven?
Get your trusty wonder oven up to 325 °F ( 163 °C ) and preheat it.
Get a roasting pan with an inch of water and put your ham on it,
Calculate how long you must cook the ham depending on its weight, 18-20 minutes per pound, or until the internal temperature of the ham gets to 160 degrees F or 72 degrees C.
How To Cook a Frozen Ham in a Crock-Pot?
Now, this way of baking frozen ham is for those that have up to 6 hours and more. If you seem to have a crockpot big enough to fit your ham and you prefer that slowed-cooked meat – this is for you.
Turn on your crockpot and place your meat inside.
Cook your meat and the lowest setting for about 6 to 8 hours.
Check your meat with a meat thermometer to ensure perfection and tender ham.
If your meat is larger It will need more time to cook, almost 12 hours.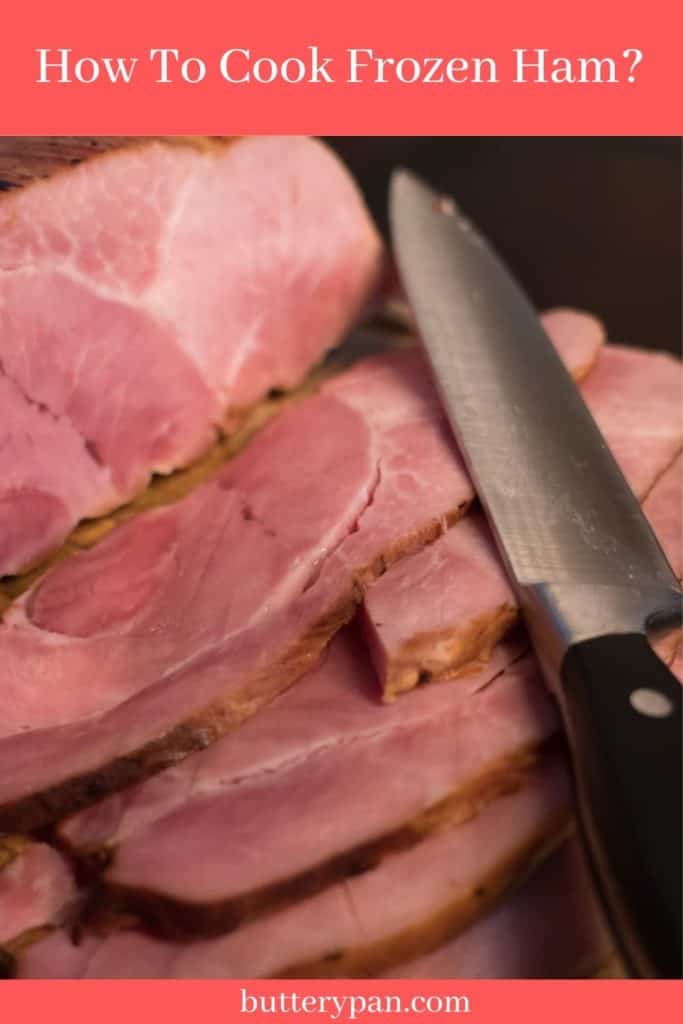 How To Cook a Frozen Ham in an Instant Pot?
The wonder of wonders! What's great about It is that you can cook frozen meat in that big pot and get a delicious result. Just cook all of your ingredients at once for 30-35 minutes on high pressure.
How To Cook a Frozen Ham Steak?
Your leftover ham steak should be hardener, smoked, or roasted. So the steak is technically cooked, but to get that crispiness:
Heat up your medium-size roasting pan over medium heat.
Add your butter, cinnamon, and brown sugar, and allow to melt.
Place your ham steak for 4 minutes on each side.
Once start to get all brown and golden take off the heat.
Enjoy!
How To Cook Frozen Ham Loaf?
It's the turn for that hearty ham loaf. Even though thawing your ham loaf hours prior to cooking will ensure a short waiting time, you can safely cook a ham loaf that was totally frozen.
Preheat your oven at 350 ⁰ F
Place your Ham Loaf in a foil-lined baking sheet
Cook for 1-1.5 h If it was thaw, and up to 2-2.6h If frozen.
How To Cook Frozen Ham in a Convection Oven?
Just like your good old oven, a convection oven does the same work but is hotter and it's perfectly safe.
Preheat oven at 300 ⁰ F.
Place your Ham Loaf on a baking sheet and into the center of the oven.
Cook until  internal temperature of ham is 165 F, checked in a meat thermometer.
How To Cook Frozen Ham in a Pressure Cooker?
Pressure cookers and Instant Pots. The main difference is, a traditional pressure cooker can reach a PSI of 15 on the stovetop, while Instant Pot models can only reach a PSI of 12. So, as for the instant pot, place all of your ingredients together and set for high pressure for 20 minutes.
How To Cook Frozen Ham in a Roaster Oven?
Ham in the oven, ham in heaven. Doesn't matter what oven you use:
Secure your uncooked ham with a lid, yes, no need to thaw ham in this cooking process.
Set your roaster oven at 275 ⁰ F and set your meat thermometer to alert you when the cooked ham reaches 140 ⁰ F
Once the oven reaches 275 degrees, the ham will take 15-20 minutes per pound to get fully cooked.
How To Cook a Frozen Ham in a Ninja Foodie?
Fast and to perfection, you can cook a whole ham in your ninja foodie in just under 40 minutes.
Place your unsliced frozen ham in the Ninja Foodie
Add your seasoning
Cook for 20 minutes until it reaches a safe temperature
How To Cook a Frozen Ham Hocks in an Instant Pot
Place your frozen ham hocks in your instant pot and cover them with 10 cups of water.
Seal the lid of the instant pot and bring it to high pressure before cooking the ham hocks for 30 minutes.
After, release the pressure in order to open the Instant Pot.
Can You Cook Ham When It's Frozen?
Yes! Cooking your frozen ham steak is perfectly safe according to the USDA, It will only take 50% more time than an unfrozen ham.
Should You Thaw a Frozen Ham Before Baking?
If you want to spend less time cooking, YES. It is recommended to thaw the ham before cooking. In some cases, cooking ham frozen can lead to dryness more easily.
How Do I Cook a Frozen Spiral Ham?
With your ham thawed and properly heated, you can consume your spiral ham without fear of any issues. Your spiral sliced ham is precooked and can be heated to defrost and serve. To cook the ham, heat your oven to 275 degrees. Warm the ham in the oven for 20 to 22 minutes per pound.
How Long Do You Cook a 10lb Frozen Ham?
Preheat the oven at 350⁰ F
Carefully place the ham in the oven with 2 cups of ham stock
For a smoked ham fully cooked, leave 4-4.5h or until your thermometer reaches a safe temperature of 160 degrees Fahrenheit
Once it has cooked, leave for 1h.
Summary
Now you know how to cook a frozen ham, the best way is to preheat your oven to 325F, pour 1 inch of water into the roasting pan, put your ham on and cook for around 20 minutes per pound. Or you can use other recipes in this post!