Wondering how to cook an abalone? A simple recipe is to clean it, season with salt and pepper, and fry on olive oil for 3 minutes on each side. For more detailed tips and recipes read my post below!
How To Cook Abalone?
The easiest way of cooking abalone is by frying it. Make your pan-fried abalone by following these quick and easy steps.
Slice the cleaned abalone.
Use a flat meat tenderizer and gently tap each abalone slice.
In a large plate or bowl, mix flour, salt, and pepper. Dredge the abalone in the mixture and lay it on a platter or baking sheet.
Place a frying pan on medium heat and pour oil or melt a little butter. When the oil or butter is ready, place a single layer of abalone slices and fry until golden. This will give the abalone a crunchy texture. Do this for about 2 to 3 minutes on each side. Then repeat for the remaining slices.
Serve and enjoy your fried abalone!
How Do You Prepare Abalone?
If you're buying fresh abalone from the market, you can ask the vendor to deshell and clean your abalone. When you get home, all you need to do is wash and slice it.
If you've bought a shelled one, just follow these preparation steps and your abalone will be ready to cook in no time!
Remove abalone from the shell.
Do this by using a wooden spatula or a short-blader knife. Slide the tool between the flesh and the shell. Work the tool around the shell until the abalone flesh detaches.
Remove the guts from the abalone.
Removing the guts may be a little tricky. But you can easily do it by holding the abalone flesh and letting the guts hang down. Then use a knife to cut it off.
Clean the abalone.
Fresh abalone tends to have black stuff on its sides. These should be removed because it is icky-looking and bitter-tasting.
Cutting the blackish side is the easiest way to clean the abalone. But you can also remove these by scrubbing every side.
Cut the lips (optional)
The curled edges (a.k.a the lips) of the abalone are edible. But these are rough and tough, including the pointed end. This can be removed by cutting using a sharp knife as well.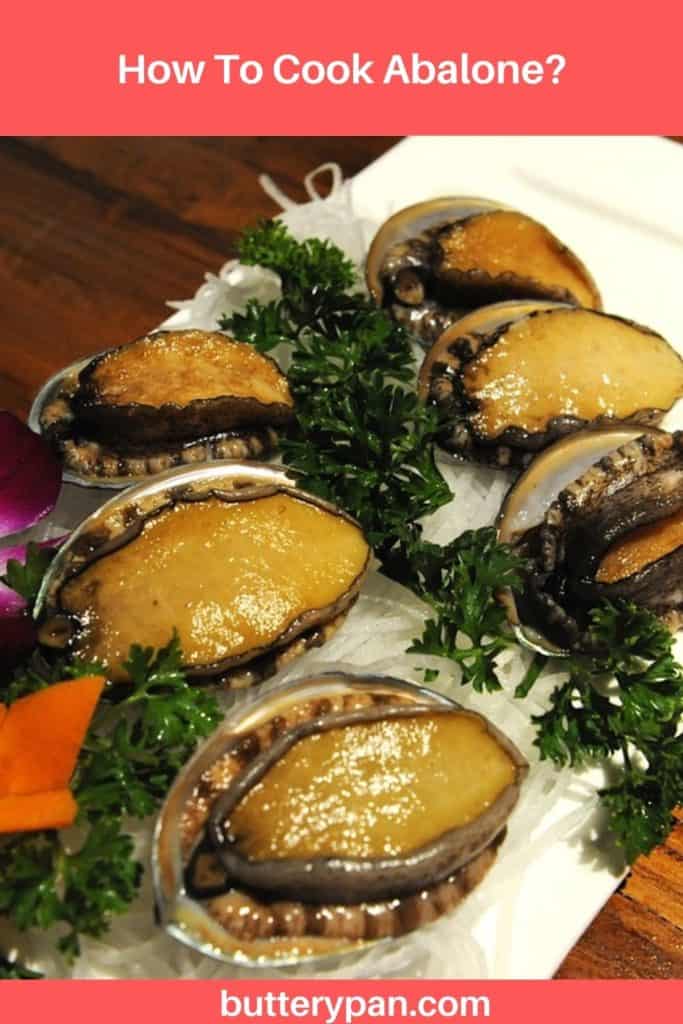 How Do You Cook Raw Abalone?
Tenderizing the abalone is the first step. You can do this by either of the following steps.
Beating – Cut the abalone horizontally into thin slices. After slicing, beat the layered abalone using smooth-surfaced meat tenderize. Do it until it becomes supple.
Mincing – This method also helps tenderize the abalone. But doing this depends on the desired abalone dish.
How Do You Prepare Abalone To Eat?
If you want to enjoy the fresh seafood flavor of abalone, you can eat them raw. Just clean a small abalone as usual and make sure to remove the guts. Then slice thinly and serve with soy and wasabi. You can also use a bigger abalone and slice it paper-thin then serve.
My personal advice would be to grill it or fry it, I am not a huge fan of raw seafood. You can also steam abalone.
How Long Should Abalone Be Cooked?
How long you cook the abalone affects its tenderness. You can cook it slowly in water or stock for a long period over low heat. This takes about 4 to 5 hours. If you're using a pressure cooker, 1 to 2 hours is enough.
Alternatively, you can also fast-cook in a short period over high heat. Just cut the abalone very thinly, about 1-2mm, and stir fry for 5 seconds to two minutes to keep the abalone taste.
How To Cook Frozen Abalone?
Defrost abalone by putting it in the refrigerator overnight. But if you need a faster way of thawing, you can soak the unopened abalone pack in ice-cold water. Do not force-thaw by putting in the oven or soaking in warm water.
When the abalone is thawed, slice it thinly and cook depending on the desired abalone recipes.
How To Cook Abalone In Can?
Most canned abalones are ready to eat and immersed in a variety of sauces. You just need to heat, serve, and enjoy. However, you can also use it for different Chinese cuisines like braised abalone with mushroom or abalone soups.
How To Cook Abalone With Shell?
One of the easiest abalone recipes to prepare is this steam abalone in a shell. All seafood lovers will surely love this!
Ingredients
Abalone
garlic
Oyster sauce
Seafood soy sauce
Bean Vermicelli
Sugar
Cooking wine
Directions
Clean abalone using a brush and then rinse with clean water.
Separate the shell and meat using a small knife.
Remove the innards of the abalone and squeeze the dirt from the bottom.
Return the abalone to its shell.
Blanch the vermicelli, drain, and place on a plate. Then place the abalone on top of the vermicelli.
In a wok, saute garlic until fragrant. Then use a small spoon to place the garlic on each abalone. Place any remaining garlic on the vermicelli.
In a small bowl, mix the seafood sauce, cooking wine, oyster sauce, and sugar. Pour the mixture onto the abalone.
Boil water and team the abalone for 5 to 6 minutes.
Serve and enjoy your steamed abalone on a shell!
How To Cook Abalone Mushroom?
A braised abalone with mushroom is also an easy abalone recipe to prepare. In this recipe, you can use either frozen or fresh abalone. Here are what you'll need to make this delicious dish.
Fresh abalone or frozen abalone
Shiitake mushroom
Oyster sauce
Shaoxing rice wine
Chicken bouillon powder
Minced garlic, ginger
Sugar, salt, oil
Water
Steps in cooking
On high heat, place a wok or saucepan and pour the oil. Turn the heat to medium when the oil turns hot.
Add the ginger and garlic to the hot oil and cook for 30 seconds.
Put the mushrooms in and turn back the heat to high. Stir fry for two minutes.
Add the abalone and stir fry for another two minutes.
Pour in the oyster sauce, chicken bouillon powder, sugar, and salt. Cook for two minutes then add the Shaoxing rice wine.
Pour the water in, stir quickly, and bring to a boil.
Turn the heat back to medium-low. For frozen scallops, let it simmer for 4 to 5 hours. If you're using a fresh scallop, an hour of simmering is enough.
Tips for a tastier and more tender abalone.
You can use chicken stock as your water base. This will enhance the abalone's seafood flavor and will add sweetness to your dish.
The longer you simmer, the better. This will make the abalone softer and absorb the flavorful sauce better.
Add more water if needed. Ensure that all the ingredients are submerged during the braising time. This will keep everything moist and juicy.
How To Cook Abalone Soup
To make a quick abalone soup, just follow this easy recipe.
Ingredients
4 dried black mushrooms
4 ounces abalone
Chicken stock or water
1/4 cup smoked ham
1 tablespoon sherry
1/2 cut lean pork
1/4 teaspoon salt
2 slices fresh ginger root
1 tablespoon cornstarch
1 tablespoon soy sauce
1 tablespoon peanut oil
1 dash pepper
1/4 teaspoon salt
1 egg
Directions:
Soak the dried mushrooms in water.
Drain the canned abalone and combine the liquid with the chicken stock or water to make six cups.
Cut the abalone, ham, pork, and mushrooms into strips, but keep them separate. Mince ginger root.
Combine the soy sauce, cornstarch, and sherry. Add to pork, toss to coat, and let stand a few minutes.
Heat the oil and stir-fry the ginger and salt. Add pork and stir-fry again until it loses pinkness. Remove from pan and set aside.
Meanwhile, slowly boil the abalone-stock mixture.
Add mushrooms and stir-fried pork. Simmer for 10 minutes.
Add the remaining salt, pepper, ham strips, and abalone. Cook for about 2 minutes. Don't overcook the abalone because it will toughen.
Garnish with a poached egg.
Serve and enjoy!
How To Cook Abalone Porridge
This dish is a common Korean and Chinese cuisine. Just follow this easy recipe and enjoy a delicious dish.
Ingredients
Clean abalone
White rice
Sesame oil
Salt
Water
Chicken powder
Egg whites
Directions
Finely chop the cleaned abalone.
In a pot, saute the abalone in sesame oil.
Add the rice and water and cook in medium heat.
Stir in the salt, chicken powder, and egg whites. Leave for 2 to 3 minutes.
Serve and enjoy this comfort food!
How Do You Cook Abalone With Broccoli?
This another famous Chinese cuisine is easy to prepare. You also need only five ingredients for this recipe.
Ingredients
Canned and Braised abalone
Broccoli
Dried mushrooms
Diced garlic
Oil
Directions
Cut the broccoli and soak in cold salted water for 10 minutes.
Boil abalone for 5 minutes then drain. Set aside.
Soak the dried mushrooms until soft
Saute garlic and mushroom until fragrant.
Add the abalone sauce and simmer in low heat for 30 minutes.
Place abalone and broccoli on a serving plate.
Pour the cooked sauce on the plated ingredients.
Serve and enjoy!
How To Cook Abalone With Shell
Let's get into it, its pretty simple:
Clean the abalone (as described above) and put it back into the shell.
Mix oyster sauce, a bit of sugar, some wine for cooking, and let it simmer in the pan for a bit.
Steam your abalone for 5-6 minutes, when ready pour on the sauce, and sprinkle with greens.
How To Cook Abalone With Noodles
This will be an addition to the recipe above!
Clean the abalone.
Get your noodles into the boiling water, take them off and drain when ready, keep a bit of noodle water in a cup.
Mix the same sauce – Mix oyster sauce, a bit of sugar, some wine for cooking.
Add abalone on the pan with a bit of oil, add the sauce mixture and the water from the cup, let is simmer, when the water evaporates a bit add your noodles and stir – done!
How To Cook Abalone With Chicken
Follow the previous recipe, but before adding abalone add chicken on the pan and let is fry through. Abalone has a much shorter cooking time.
After your chicken is cooked, add abalone and the sauce and let it all mix up nicely. You can also add noodles if you like – for a protein-packed meal!
How To Cook Abalone Sauce
Cooking with abalone sauce is very simple, just add it during your cooking to the pan and let it mix and simmer with ingredients, it will give your meal some awesome flavors.
I frequently add it when making salmon with noodles.
Takeaway
Now you know how to cook abalone! Clean it and fry it in oil for 4 minutes with a bit of seasoning!
Cooking an abalone is quite easy. You can prepare different dishes but here are the things that you must remember.
Make sure that your abalone is clean and trimmed. You should also cut the abalone into thin slices. If cooking it the fast way, use a meat tenderizer. You can pan-fry or stir-fry the tenderized abalone.