How To Cook Adobong Pusit?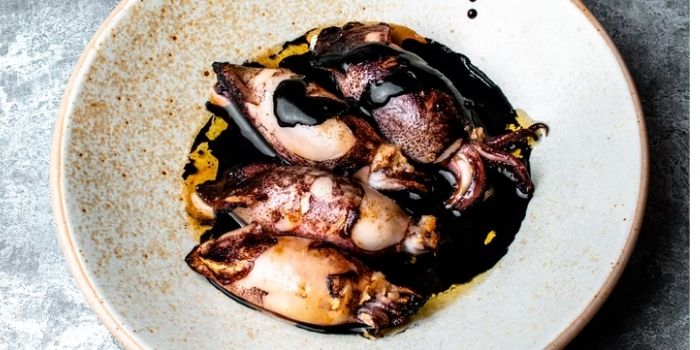 How to cook adobong pusit? Although all recipes are quite simple, the simplest of all is sauteing some onions and garlic in a pan and adding the squid with some soy sauce, vinegar, and seasoning to cook for 15 to 20 minutes at medium heat. However, I've given you the simplest of simple run-downs just now. Thus, to get a much better idea of everything you need and all that there is to try out with adobong pusit, check out the recipes below!
How To Cook Adobong Pusit?
In addition to the basic recipe above, I'm sure you'd like a bit more detail on how to cook adobo pusit – and this is just the place for that! Adobo pusit squid is traditionally and most commonly made in a pan at medium heat. It's also cooked quite fast, meaning it makes for a healthy and quick dinner plate.
In addition to the cooking time and cooking method of choice, you'll need the ingredients too. The musts for any adobo squid recipe are ground black pepper, bay leaf, soy sauce, and vinegar. I should probably mention that squid ink is a big part of most recipes as well, although it may be left out if you'd like.
Since you now have the starting ingredients, cooking times, and methods, it's time to uncover some of the tastiest adobong squid recipes out there!
How Do You Remove Squid Ink?
Since we're talking cooking, I'll assume you'd like to remove the squid ink sac rather than a stain from your clothes. Even though squid ink is edible, I'll understand if you'd like to remove it rather than eat it. For that reason, I'm providing you with a few easy steps on how to remove the ink sac from the squid!
Pull the tentacles and head out of the body cavity – a silvery sac should be somewhere half along this path.
Detach the ink sac carefully, paying attention not to puncture it – the easiest way would be to make a small cut underneath it and thus detach it from the squid.
Step three is the crossroads depending on whether you've changed your mind and would like to cook with the ink or are still planning to dispose of it. If you're in it for the culinary adventure of option one, then check out how to cook with squid ink below!
How To Cook Adobong Pusit With Ink?
As promised, for those of you stepping out of your comfort zone, here is an adobong pusit recipe that uses squid ink. Let's get cooking!
Heat a tablespoon of cooking oil in a medium-sized pan.
Add finely chopped garlic into the hot oil and saute it for about a minute.
Next, simmer the adobong pusit squid, onions, and soy sauce vinegar in the pan over medium heat.
After a couple of minutes, add salt and ground black pepper, and brown sugar.
This step is optional and meant for those who'd like the ink sauce to be a bit thicker – remove the squid from the pan and let the sauce reduce to about half of what it was.
Return the squid to the pan with a sprinkle of olive oil over everything.
That's it – make sure to serve hot with a bowl of rice and extra soy sauce on the side!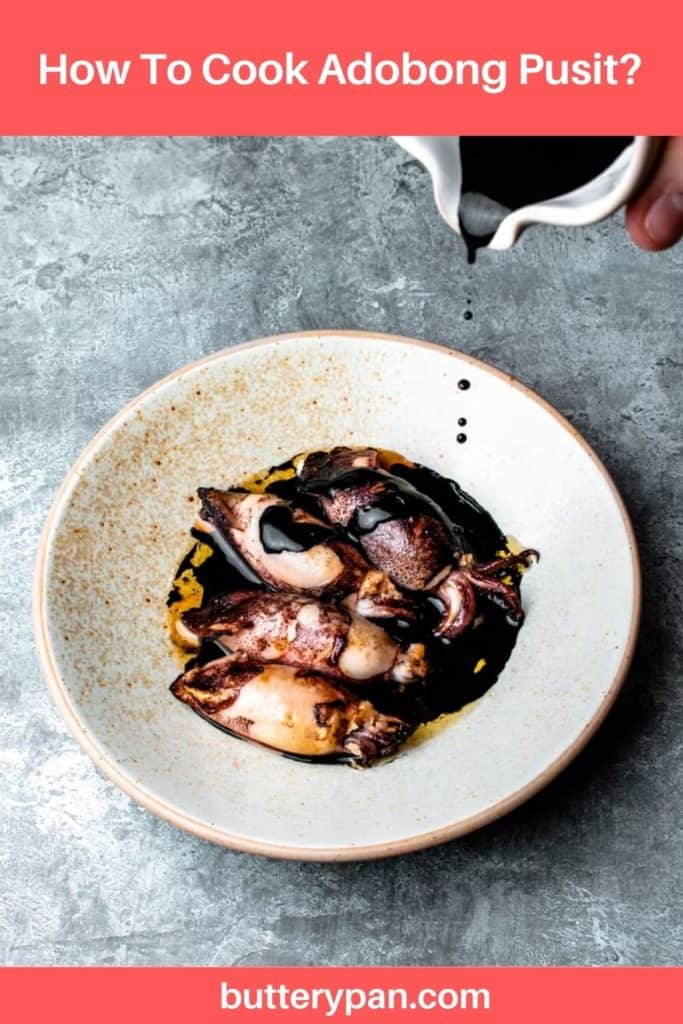 How To Cook Adobong Pusit Without Ink?
Now, you didn't think I would just forget about all of you non-squid ink chefs out there – because I most certainly won't. To prove it, here is a wonderful squid adobo recipe that includes zero traces of ink!
First things first – heating the olive oil. This should be done in a medium-sized pan over medium heat.
Once the oil is hot, add onions, garlic, and tomatoes – these should saute for a few minutes or, in more concrete terms, until they soften.
It's time to add the main ingredients into the mix – the (cleaned) adobong pusit squid and vinegar! Everything should now simmer for 2 minutes tops.
Lower the heat to low and add the soy sauce, half a cup of water, and salt and pepper – the cooking time for this bunch is another 10 to 15 minutes.
After step 4, it would appear you're all done. Just keep in mind that adobong pusit squid is best served hot and in combination with rice!
How To Cook Adobong Pusit With Sprite?
I know adding sprite to a squid recipe is a bit out there. However, it's also one of those out there ideas that work wonderfully in the end. So, if you're in the mood for an unusual but tasty meal that adobong pusit with sprite is the recipe for you.
Heat olive oil over medium heat – once hot, saute garlic and ginger over it.
After around a 1 or 2, add chopped onions into the mix.
Next – the star ingredient is also known as the squid, along with lime juice and soy sauce. Hey, seasoning is the key to a rich flavor profile!
Add salt and pepper, along with bay leaf, to the pan and keep string occasionally – this is crucial, as all the flavors have a chance to spread around the pan.
Time for the most unusual ingredient of the bunch – a glass of sprite (along with a tablespoon of white vinegar).
Keep mixing and stirring on low heat for 10 more minutes, after which your adobong pusit with sprite should be all ready for you to dig in!
How To Cook Adobong Pusit With Oyster Sauce?
After the last few recipes, I feel you're becoming confident enough with adobong pusit squid, meaning it's time to step to add a new ingredient to the mix. This time it's going to be oyster sauce, one of the most delicious pairings when it comes to squid. So, without further ado – a simple and relatively quick squid adobo recipe featuring oyster sauce!
Simmer finely chopped garlic and ginger over medium heat for 1 to 2 minutes.
Throw the squid into the pan and simmer it for another 2 to 3 minutes as well, after which you'll need to reduce the heat to low.
Once the heat is reduced, pour in the oyster sauce along with some seasoning of choice, bay leaf, and lime juice – this is where the flavor will come from!
Add half a glass of water and cook for another 7 to 10 minutes, in simpler terms – until the water evaporates.
As with all the recipes before – make sure to serve this one hot and over a bowl of rice as well. Enjoy!
How To Cook Adobong Pusit Sa Gata?
The recipe I'm about to share with you is one of those deliciously envious Filipino recipes you'll be dreaming of every night after you've tried it. In addition to being a delicious squid recipe, it's also a fairly simple one, so master chef skills aren't necessary – all you need is a bit of time and desire to try out something new.
As always – you'll first need to heat a tablespoon or two of cooking oil over medium heat and let simmer chopped garlic until it begins to turn light brown.
Next, you'll add the squid and cook it on the same heat for about two minutes, after which you'll set it aside – don't worry, we're going to put it back in the pan in just a bit.
Pour 2 cups of coconut milk and bring it to a boil, after which you should reduce the heat.
Seasoning time – add the bay leaves, salt and pepper, and vinegar into the pan and cook until the coconut milk reduces to half.
Once the liquid is reduced, it's time for the squid to go back in with a tablespoon of fish sauce – this should cook for an additional 3 to 5 minutes – as long as the liquid is close to evaporating, you're done!
Like I say – simple and delicious. Although, you'll have to check the latter out for yourself!
How To Cook Adobong Pusit Na Tuyo?
Just like all the adobong pusit squid recipes that came before, this one is no exception – it's enviously good and requires just a bit of time and a single pan. However, fair warning before you start cooking – adobong pusit squid na tuyo does require using squid ink! If you're good at trying it out, there's no time like the present, so let's get cooking!
Saute garlic and onions in olive oil until the former turn golden brown and the latter become translucent – this should take no more than 3 minutes time-wise.
Add the squid and let it simmer for 20 seconds, after which you'll want to pour a tablespoon of soy sauce and white vinegar into the pan as well – just make sure to keep stirring so nothing burns!
Season with a bit of pepper – this ingredient is crucial, although you're free to add others of your liking into the pan as well. Just relax and let your culinary creativity flow!
Add a glass of water, reduce the heat to low, and cover the pan – this should cook for 15 to 20 minutes if you're a visual learner, keep simmer until the sauce becomes sticky.
This part is somewhat optional – while you'll need to add in the squid ink, adding 1 tablespoon of sugar is a decision I leave to you.
Finally, put some chili peppers in, as much as you'd like, and let it all simmer on low heat for 5 more minutes.
That's in – the squid na tuyo is done, so I'll leave you to enjoy your meal!
How To Cook Adobong Squid With Sitaw?
Although the name of this recipe may sound strange at first, it's quite simple. Translated, adobong squid with sitaw means cooking squid with string beans. You weren't expecting string beans, were you? I won't keep you confused much longer. Just check out the recipe below, and all will become clear!
The first thing you'll need is a medium-size pan and a tablespoon of olive oil – heat it over medium heat on the stove.
Add minced garlic and onions – you already know this part by now.
New step – add sliced tomatoes and saute these with the onions and garlic for a few minutes.
Next, you'll want to add those string beans I mentioned earlier.
After the string beans come other main ingredient – the squid, along with soy sauce and vinegar, that is!
What are we forgetting just now? That's right – the seasoning, including green chilies, a tablespoon of sugar, and a chicken cube.
Now everything's ready – cover the pot and let all the ingredients inside simmer for five minutes on medium heat.
Once the five minutes are up, you're good to go – no unusual spices or countless hours over the stove – just a delicious and simple dinner with some squid and string beans!
How To Cook Adobong Pusit With Ginger?
I'm afraid I don't have a straightforward answer to this question. The reason is that there isn't one special adobong pusit recipe that uses ginger – almost all of them due! Ginger is one of the key ingredients when it comes to making adobong pusit squid. This is the result of its unique flavor and the intricate way it blends with the squid.
The important thing to remember is that ginger is at its finest when you let it saute or simmer for a bit before putting the squid in. Thus, once the garlic and onions are in the pan, make sure to throw in the ginger as well – after that, everything else will fall into place!
To help you decide on the right adobong pusit recipe that uses ginger, this article has your back – just go back up a bit because a handful of great recipes are waiting for you to try them out!
How To Cook Adobong Pusit Tagalog?
Okay, so this article has made you try everything up to this point – from traditional Filipino recipes to pointers on how to properly clean squid.
As with all the rest, you'll first want to saute the garlic and onions in a medium-sized pan.
Once they become golden brown and translucent, respectively, add in the squid, a glass of water, and the squid ink.
Bring everything to a boil and keep it this way for two minutes – this way the squid can turn nice and crispy.
Add the soy sauce and vinegar – these two are truly a must in any adobong pusit recipe.
Simmer for another 3 minutes or simply until the sauce turns thick.
Told you this one would be simple, didn't I?
How Long Do You Cook Squid?
As you may have noticed in previous recipes, cooking squid, and here I mean in the pan, doesn't take all that long. More specifically, once you put the squid in the pan, it should cook for around 15 to 20 minutes. Of course, you should keep in mind that recipes differ – some will have the squid in the pan during the whole cooking process, while others will require it to be taken out to avoid the risk of overcooking.
Now that you have the basic idea of how long to cook squid, scroll back up, pick a recipe, and start cooking!
How To Cook Perfect Squid?
Cooking the perfect squid is no different than preparing any other meal, be it breakfast, dinner, or brunch. The secret is in the timing and the seasoning. Thus, to cook perfect squid, you'll need to cook it for 15 to 20 minutes and avoid the risk of overcooking it. Furthermore, you'll need the perfect ingredients by your side – a dash of vinegar and soy sauce, as well as garlic and onion.
Now, I've given you only the basics here. Until you choose the recipe, you won't know what else you'll need. Thus, the logical next step is to go back up the article and find the one that will make you love squid!
How Do You Make Tender Squid?
The secret to cooking tender squid is cooking time, but I'm guessing you already kind of assumed that part. So, leaving the obvious aside, I can tell you this much – cooking tender squid means cooking it for 15 to 20 minutes at medium heat. It also means stirring occasionally and seasoning generously with both spices as well as liquids.
However, each recipe is different and specific. Therefore, to find out how to make tender squid na tuyo or tender squid with sitaw, you'll have to check out the step-by-step recipes above!
Summary
You won't believe it, but this is the end of the article, and you now know how to cook adobong pusit – saute some garlic and onions in the pan, throw in the squid with a glass of water, soy sauce, and vinegar and let everything simmer for 15 minutes or until the sauce turns sticky.
Don't worry. If you ever forget any of these steps or decide you want to try an adobong pusit recipe with ink, just check out this article, and you'll find everything you need. Promise.