How To Cook Frozen Ravioli?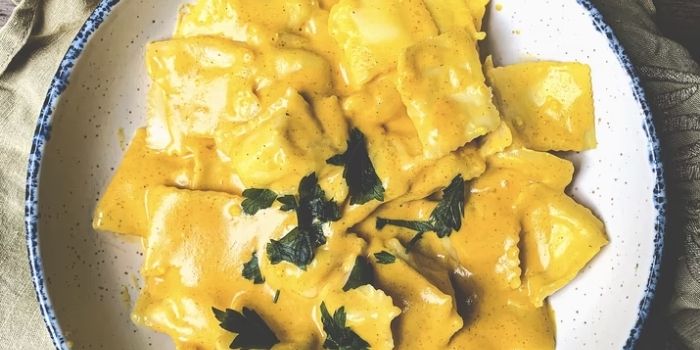 How to cook frozen ravioli? Toss the frozen cheese ravioli (or any other ravioli you prefer the most) into the boiling water and cook for 10-12 minutes. When cooked, they will start to float on the surface of the boiling water.
Pro tip: add salt and olive oil to the water so that it boils faster, and the ravioli cook nicely without sticking to each other. Also, adding fresh basil and some mozzarella cheese will enhance all the flavors inside the ravioli.
How To Cook Frozen Ravioli Pasta?
Put a large pot on medium heat and pour water.
Add some salt and olive oil to the water.
Bring water to a boil.
Add ravioli to the boiling water.
Cook for 10-12 minutes or until the pasta floats.
You can serve cooked ravioli with tomato sauce, ricotta cheese, or fresh basil. Ravioli pasta comes with many different fillings, meat, cheese, vegetables.
How To Cook Frozen Ravioli In Oven?
If you like baked ravioli, then this recipe is perfect for you:
Preheat the oven to 350 degrees F.
Spray the baking dish with a cooking spray.
Pour 3/4 cup of pasta sauce over the baking dish.
Spread half of the frozen ravioli evenly over the baking dish and top it with the remaining pasta sauce and mozzarella cheese.
Spread the other half of frozen ravioli and sprinkle it with parmesan cheese (we recommend grating fresh parmesan cheese because it has a richer taste).
Bake for 40 minutes or until the ravioli become golden brown.
How To Cook Frozen Ravioli In Air Fryer?
Preheat the air fryer to 400 degrees F.
Pour some buttermilk into one bowl and herb and garlic breadcrumbs into the other.
Dip each frozen ravioli first in the buttermilk and then into the breadcrumbs.
Place the breaded ravioli into the preheated air fryer and cook for 3 minutes.
Open the air fryer and spray the top of the ravioli with a cooking spray.
Cook for another 3-4 minutes.
Make sure that ravioli don't touch each other.
Repeat the process until you run out of breaded ravioli.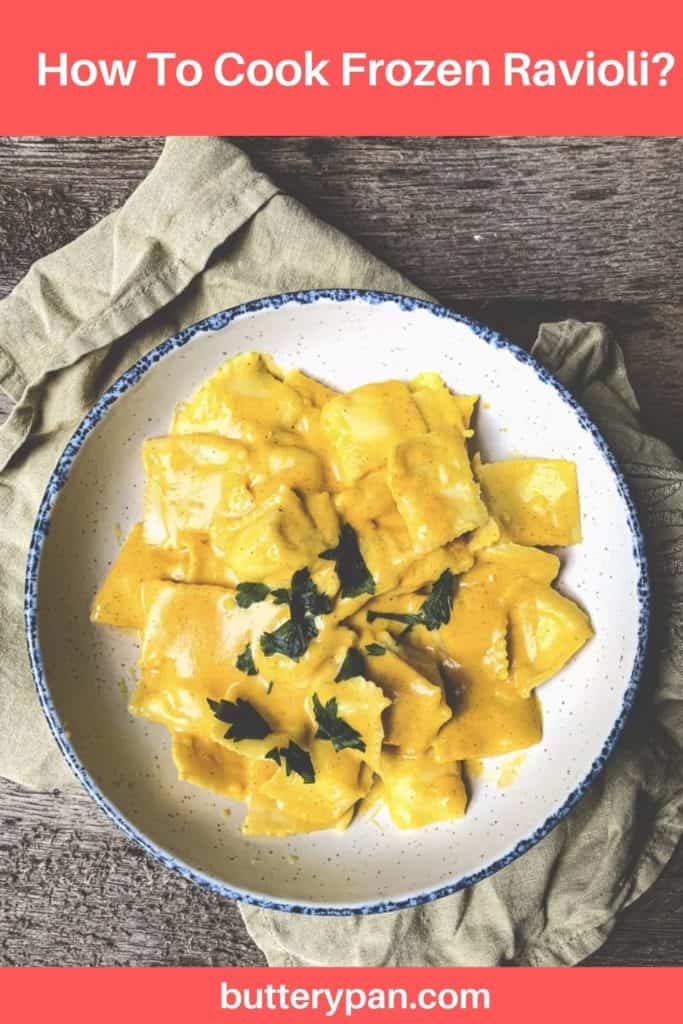 How To Cook Frozen Ravioli In An Instant Pot?
You can cook frozen lobster ravioli in your instant pot. Just follow these steps:
Place the ravioli into the instant pot.
Pour enough water to cover all the ravioli.
Set the instant pot at high and set the timer to 2 minutes.
After the 2 minutes pass, quickly release the pressure and drain the ravioli from the remaining water.
How To Cook Frozen Ravioli In Crock Pot?
Here is a recipe for cooking five cheese jumbo ravioli (or Kroger cheese ravioli) in a crockpot:
Brown one Italian sausage in the pan, and drain the fat.
Add tomato sauce and stir.
Pour the tomato sauce and browned Italian sausage in the crockpot, spread the frozen ravioli over it, and spread some shredded cheese on the top.
Cook for 3 hours on low.
How To Cook Frozen Ravioli In Skillet?
For this recipe, you will need a large skillet, 1 pound of ground beef, one chopped green pepper, and 1 oz prosciutto. Instead of prosciutto, you can use a deli ham.
Cook the ground beef, pepper, and prosciutto in a large skillet.
Make sure that the beef is fully cooked.
Add ravioli and cook for 7-9 minutes, with occasional stirring.
Sprinkle with cheese and cook for 1-2 minutes until the cheese has melted.
How To Cook Frozen Ravioli In Ninja Foodi?
Preheat Ninja Foodi to 390 degrees F.
Place the frozen ravioli into the rack.
Cook for approximately 8 minutes.
Don't forget to shake the rack halfway through the cooking time.
Serve with pesto sauce and grated cheese.
Should I Thaw Frozen Ravioli Before Cooking?
You don't need to thaw frozen ravioli before cooking. Add ravioli frozen into the boiling water and cook for 10-12 minutes. Frozen ravioli are usually made quite small, which helps them cook so fast, even without defrosting.
How Do You Cook Frozen Ravioli In Boiling Water?
It is quite simple. You need to follow the boiling instructions on the package if you are boiling store-bought frozen ravioli. However, if you are boiling homemade ravioli, boil them for 10-12 minutes.
Remember that ravioli floats when fully cooked, so make sure that you don't take it out of the boiling water before that happens. You don't want to eat uncooked ravioli!
Can You Cook Frozen Ravioli In The Sauce?
You can cook frozen ravioli in the sauce without having to pre-cook or defrost them. Follow this easy pasta recipe:
Pour pasta or marinara sauce of your choice into the saucepan and heat it until boiling.
Add frozen ravioli and cook for 10-12 minutes with occasional stirring.
Serve with grated parmesan.
Can You Cook Ravioli Without Boiling?
If you want to eat some no-boil ravioli, bake them in the oven! You can also fry frozen ravioli without having to boil and defrost them! That's why ravioli is a perfect choice for weeknight dinners, as it is so easy to make when following some cooking instructions.
Summary
How to cook frozen ravioli? We learned that cooking frozen ravioli is just as easy as cooking fresh ravioli. You need to boil it in the water for 10-12 minutes! However, if you like to cook it more slowly or to try more complex recipes, we've got you covered! In this post, you read several great ideas for cooking frozen ravioli and serving it afterward.
Hopefully, at least some of those ideas will inspire you to make a tasty yet simple to prepare dinner for the whole family! And how do you cook frozen ravioli? Write in the comments!