How To Cook Frozen Stuffed Shells?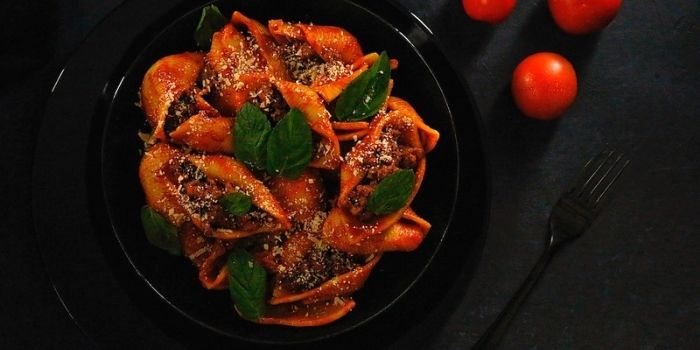 How To Cook Frozen Stuffed Shells? The simplest way would be to preheat your air fryer to 300 °F and cover the bottom with sauce. Next, you would add the stuffed shells in layers covering each one with a coat of sauce as you go. In the end, all that's left is the cooking time, and that's between 10 and 15 minutes.
If you'd like to know a bit more detail about this pasta recipe and learn about some more ways of preparing frozen stuffed shells, make sure to check out our article below!
How To Cook Frozen Stuffed Shells?
Cooking frozen stuffed pasta shells is like opening a whole world of opportunities. You can cook them in an air fryer for 10 to 15 minutes, like above, or just place them in the microwave if you're short on time. Then again, they're also the slow cook option available if you're using the crockpot and have 3 to 4 hours to spare.
Okay, we'll stop here and let you decide for yourself – how do you want to cook the frozen stuffed shells? Once you decide, check out our recipes below and start cooking!
Can You Cook Frozen Stuffed Shells In The Microwave?
As with many and, in honesty, all frozen food, you can cook frozen stuffed shells in the microwave as well. Just remember the golden rule of the microwave – put everything in a microwave-safe dish before placing it in the microwave!
Cover the microwave-safe dish with your favorite sauce and place the frozen pasta shells onto it.
Cover the shells with additional sauce and with a microwave-safe lid or wrap.
Into the microwave they go!
Microwave on high for 7 to 8 minutes.
Once out, make sure to greater some parmesan cheese over the stuffed shells.
Should I Defrost Frozen Stuffed Shells Before Baking?
This would be a fairly good idea – yes. In order to defrost your frozen pasta shells, take them out of the freezer and thaw them in the fridge overnight. Once you open your eyes and feel like a pasta brunch in the morning, the stuffed shells will be ready to go!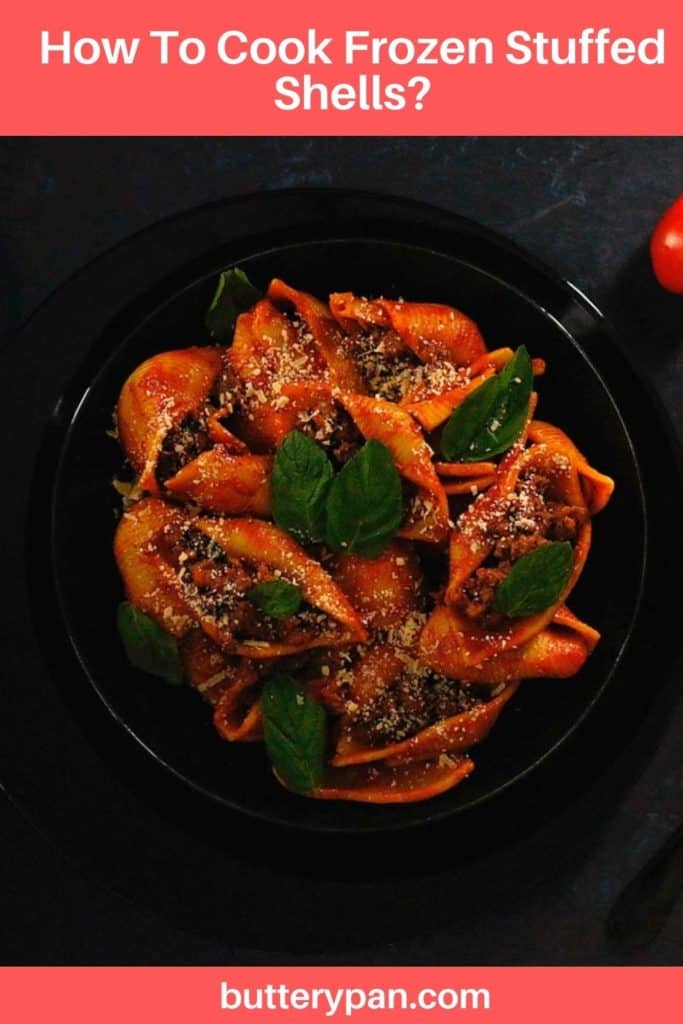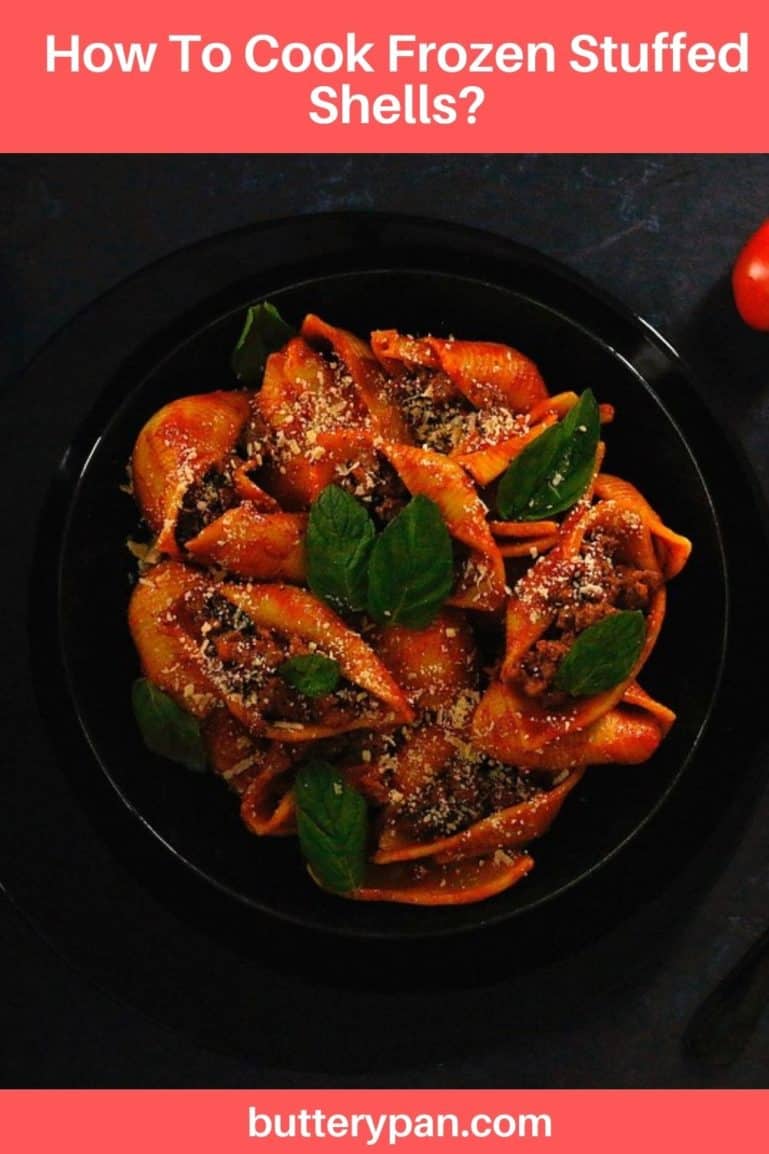 How To Cook Frozen Stuffed Shells In The Oven?
Since we have the defrosting thing down, all that's left is to place the defrosted shells in the oven, right? Well, technically, yes, but just to be on the safe side, we've provided a step-by-step of how to do this below.
Preheat the oven to 375 degrees F.
Place the stuffed shells onto a baking dish previously covered in a store-bought or homemade sauce.
Cover the stuffed shells with extra sauce and grate some ricotta cheese over them. If you're a fan of mozzarella cheese, it may work wonderfully as well.
Bake the pasta at 350°F for 50 minutes or an hour – this way, you'll be sure that the shells are cooked all the way through and that your freezer meal will be hot inside and out!
How Do You reheat Frozen Stuffed Shells In The Oven?
Like we've said, reheating freeze stuffed shells in the oven may be best if you let them thaw overnight in the fridge. After that, scroll a bit up and follow our quick and easy recipe for stuffed shells in the oven!
What Temperature Do You Reheat Frozen Stuffed Shells?
If you're not feeling like cooking that much tomorrow and have some frozen shells on your hands, the best idea would be to thaw them overnight and reheat them the next day. Delicious and easy pasta dish guaranteed!
Once you're ready to start cooking or reheating, preheat the oven at 350°F and let the stuffed pasta shells reheat for about an hour. This should give them just enough time to cook all the way through. Once done, sprinkle mozzarella cheese on top and enjoy!
How To Cook Frozen Stuffed Shells In Air Fryer?
Since the frozen stuffed shells are already filled, half of the work is done. Also, since you're using an air fryer, your recipe is destined to be both quick and sensational with almost no prep time at all, so let's go!
Before placing the shells into the air fryer pan, make sure to cover it with a nice sauce. We recommend a spaghetti sauce or marinara sauce to go with it!
Place the frozen stuffed pasta into the air fryer pan and set the air fryer to 300 °F.
Cook the shells for 10 to 15 minutes.
Once they're done, feel free to pair up with some garlic bread or mozzarella sticks if you're a cheese fanatic like us!
How To Cook Frozen Stuffed Shells In Instant Pot?
If you'd like a quick and tasty recipe for frozen-filled shells but prefer the instant pot over the air fryer, we've got just the recipe for you! Follow along and enjoy our favorite freezer meal!
Pour a cup and a half of water into the instant pot.
Next, pour the sauce in – any will do, so your favorite store-bought sauce may be just the right option for this recipe!
Place the filled shells inside the instant pot and cover them in additional sauce – the more, the merrier!
Cover the dish loosely with aluminum foil and lower it into the instant pot.
Seal the pot and set it to either high or manual cook for 15 minutes.
Once the timer goes off, serve the shells with some shredded mozzarella or parmesan cheese.
How Long To Cook Frozen Stuffed Shells In Crock Pot?
Not counting prep time, frozen stuffed shells in a crockpot are still going to take a significant amount of time. Remember – the crockpot is ideal when you have both some time on your hands and a bit of culinary inspiration.
So, when cooking frozen shells in the crockpot, you're looking at a cooking time between 2 and 3 hours on high and 3 to 4 hours on low. You decide which of the two works best for you, and check out our detailed recipe on how to make the next!
How To Cook Frozen Stuffed Shells In Crock Pot?
It's the weekend, and you have some time on your hands – the ideal time to try out our crockpot recipe for frozen stuffed shells. Trust us; you won't regret it!
Cook the shells according to the packaging instructions.
Place one cup of marinara or meat sauce at the bottom of the crockpot.
Place stuffed shells one layer at a time into the pot and line them with another coat of pasta – repeat this process until all the shells are in the crockpot and ready to go!
On the last layer, grate some parmesan cheese or ricotta if you prefer it. Some fresh herbs like basil or parsley may also come in handy,
Seal the lid and cook for either 2 to 3 hours on high or 3 to 4 hours on low – it's up to you!
Once done, make sure to serve warm like any casserole dish and enjoy!
How To Cook Frozen Stuffed Crab Shells?
To be completely honest, frozen stuffed crab shells aren't that different from what we've been talking about. But, to make sure they come out perfect, here is a quick recipe on how to make them in the quickest and most delicious way possible.
Preheat the oven at 450 °F.
Place the frozen stuffed crab shells onto a baking dish lined with a cooking sheet, and into the oven, they go.
Cook them for 35 minutes, and make sure to check on them from time to time!
Once they're done, any remaining cheese in your house can be grated on top as a final touch.
How To Cook Frozen Cheese Stuffed Shells?
So we've given you a bunch of ways to cook frozen cheese stuffed shells -from the microwave and air fryer fast lane to the slow cooker. Place frozen shells into whichever you like best, double-check our recipe and start cooking!
How To Cook Frozen Stuffed Shells With Sauce?
Although we've already given you a great stuffed shells recipe or two above, we do want to reiterate one thing. Those jumbo pasta shells you're making will only be good as the sauce your making them with!
No matter if you're cooking in an air fryer or crockpot, the golden rule is to remember is this – line the bottom of the pan and each layer of pasta shells with sauce. In this way, the sauce will be evenly spread out, and no one shell will end up soggier than the rest.
One more pro-tip – make sure you're using a sauce you actually like since it contributes a lot to the flavor profile of the meal. Don't like meat sauce – don't use it? Have a jar of the rich marinara sauce you've been dying to try out – now's the time! Although, if you ask us, nothing beats a jar or your own homemade sauce!
How To Cook Frozen Stuffed Shells Without Sauce?
We know – we've hyped the idea of cooking frozen stuffed shells with the sauce a lot. And yes, we know some of you may not be a fan of tomato sauce or any other sauce for that matter. This is precisely why we've prepared a recipe for stuffed pasta without the sauce – just for you!
Preheat the oven to 375 °F.
While it's heating, melt two tablespoons of butter in a pan and add some diced garlic.
Saute at medium heat until the garlic softens – in minutes, this should take about 2.
Add cooking cream and bring everything to a simmer.
Season the cream with salt and pepper, a bit of chopped basil, and some shredded mozzarella – yes, we know mozzarella isn't a seasoning, but in our world, it is!
Keep string until the cheese melts.
Butter a large baking dish and place the shells on it.
Cover the shells with the cheese mixture and cook for between 25 and 30 minutes in the oven – a sign that the shells are close to done will be the light golden brown they begin to have.
That's it – serve hot and enjoy your non-sauce pasta dish!
Summary
After this article, you're all set – you know just How To Cook Frozen Stuffed Shells – the easiest way is to place them into an air fryer with about half a jar of homemade sauce to cook for 10 to 15 minutes at 300 °F.
But, in all honesty, now you know way more than just how to air fry frozen stuffed pasta. You're also ready to slow cook them and bake them as well. Whatever you do, we guarantee it will turn out delicious with our simple and stunning recipes!