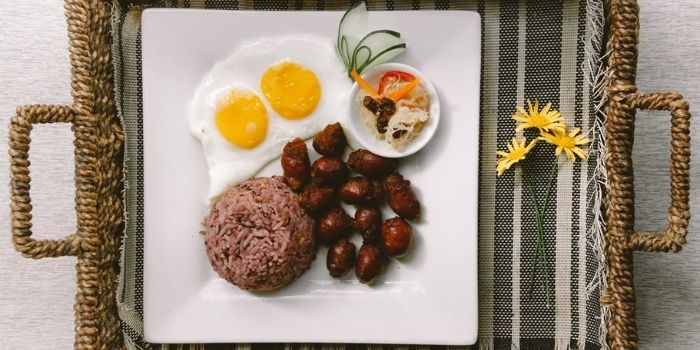 So, how to cook longanisa? It can be eaten as an appetizer, with rice, or it can be cooked in any dish to add flavor. You can fry it for 15 minutes (after boiling it for about 10 minutes), bake it in the oven, put it in the air fryer, or boil it!
This blog post will teach how to cook longanisa so read on!
How To Cook Longanisa?
To cook longanisa, you will need a frying pan and vegetable oil. You can use regular or sweet Filipino longanisa sausages for this recipe. First, slit the sausage lengthwise so it is easier to flatten out in a frying pan.
Add some cooking oil once the pan is heated up. Cook the longanisa on both sides for about five minutes or until it is golden brown. (The exact timing will depend on how thick your sausages are.)
You can cook it in its own oil with brown sugar and soy sauce, on medium-high heat, with the recipe mentioned below and you will have golden brown longanisa sausages.
How To Cook Longanisa With Eggs?
Longanisa is also great with eggs. There are many Filipino egg recipes you can cook with longanisa. You can cook longanisa in advance and must make the eggs on the side.
Or, you cut longanisa into thick circles brown it on one side and after flipping ad the egg, so the eggs take in all the flavor of longanisa.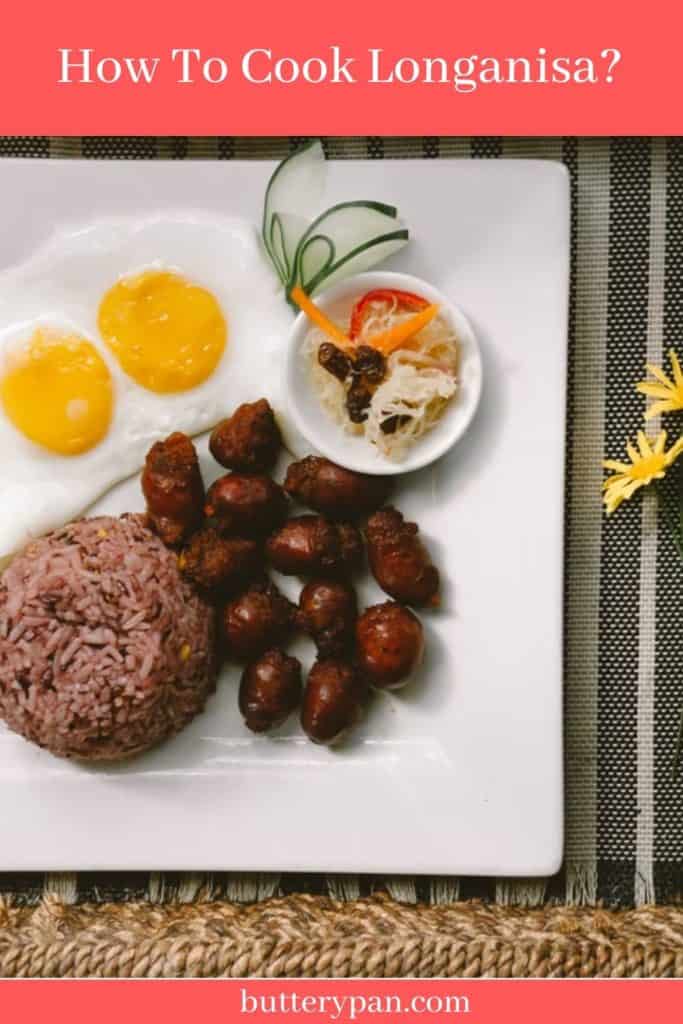 How To Cook Longanisa In Oven?
You can also cook longanisa in an oven. Preheat your oven to 400 degrees Fahrenheit and place the sausages on a baking sheet lined with parchment paper or aluminum foil.
Bake for 20-25 minutes until they are cooked through. You may need to turn them occasionally so that it is browned evenly all over.
How To Cook Longanisa In Water?
Boiling longanisa is also an option. Put the sausages in a pot of cold water, bring to a boil and then reduce heat. Cook it for around 15 minutes or until they are thoroughly cooked through.
How To Cook Longanisa In Microwave?
You can cook longanisa in the microwave. Wrap the sausages in a paper towel and then place them on a microwavable dish. Cook it for around five minutes or until they are cooked through.
How To Cook Longanisa Frozen?
If you have a frozen longanisa, no problem. Just cook it in the same way you would cook fresh sausages. However, make sure that they are fully defrosted before cooking them to avoid overcooking of its exterior while leaving the inside raw.
Alternatively, ad around 5-10 minutes to your cooking time if you do not plan to defrost it in advance.
So when pan-frying, first fry longanisa on lower heat for 5 minutes on each side so it warms up a bit. Then proceed to fry it as you would normally.
In the oven, just add another 10 minutes on top of the standard cooking time and you are good to eat!
How To Cook Longanisa in Air Fryer?
This is how you cook longanisa in the air fryer. Put it into preheated air fryer for 15 minutes at 340F, turn after 6 minutes to make sure that it cooked through evenly.
Some longanisa tips for air fryer cooking: Take the frozen marinated meat and thaw longganisa in a small bowl. Once it's completely thawed, using a paring knife or a fork, poke holes in the casings.
Simply poking the sausage allows heat to get inside to make sure it's fully cooked and well done. Finally, layer the sausages in the air fryer basket. But make sure that you lay them in a single layer without any overlapping.
Cook the sausages until they're nicely browned on the outside, if you need to check how the inside is cooked, either poke them with a fork or just cut one open to see how the center of the sausage is doing.
How To Cook Longanisa Lucban?
This is how you cook longanisa Lucban. You can boil it, fry it put it in the oven or in the air fryer – all described in this post.
How To Cook Longanisa on Grill?
Preheat the grill, make sure that you are not putting the longanisa on the parts of the grill with high flames. Place the longanisa on the grill for 5 minutes, turn it and give it additional 5 minutes.
How To Cook Longanisa Dominican Style?
Dominican style longanisa it also referred to as longaniza frita. It is flavored with sofrito, annatto powder, and garlic.
One of the popular recipes for Dominican-style longanisa is Dominican rice also called clorio de longaniza.
How To Cook Longanisa in Microwave?
You should not cook longanisa in the microwave. It is raw meat and cooking longanisa this way would take ages and still remain uncooked. If you already have cooked fried rice with longanisa – sure, by all means, put it in the microwave, but otherwise use one of the other methods described in this post.
What Is Longanisa?
Longanisa is a Filipino sausage traditionally made from pork and garlic It was brought by Chinese immigrants to Southeast Asia. It is considered Filipino food.
The local version of longanisa uses the spices and flavorings that are used in native dishes, such as vinegar and garlic, and curing salt to preserve it.
In the Philippines, it is made out of ground meat like ground pork, chicken, beef which are spiced with garlic or have anise liqueur flavor. You can also use soy sauce. This mixture is grilled or cooked to make sausages.
Freshly made sausage is sold on the market and in the butcher's shop, while frozen uncooked longanisa is sold in the stores.
How To Cook Longanisa On Stove?
Add thawed sausages to a skillet. Put some water on it, it should cover the sausage link from a quarter to half its height. Let the water boil. Once the water evaporates you can fry the longanisa for 10 minutes on medium to low heat.
Can You Cook Longanisa Without Boiling?
It is recommended to boil an uncooked longanisa at least for a bit. How long does longanisa have to boil? Most recipes recommend adding thawed sausages and let them boil 15 to 20 minutes for a fully cooked longanisa.
As you see in these recipes, you add a bit of water to a pan, put a lid on it, and when the water evaporates you fry the longanisa to get the nice texture on its exterior.
How Do You Know Longanisa is cooked?
So, you have to boil it a bit first some recipes recommend half an hour, but 15 -2o minutes will be enough for uncooked longanisa. Once the water evaporates you fry the longanisa for 8 if you want it done quick. You can let it stay longer on medium to low heat until you get a shiny coating.
So total cooking time get to around 30 minutes from raw ground pork sausage to a fully cooked ground pork sausage 🙂
To know that your longanisa is cooked completely – poke it with a fork. No red juices should come out, only transparent liquid.
If the texture is too soft, or there is too much red liquid – that means that you still have an uncooked longanisa.
Summary
Now you know how to cook longanisa. Put in the pan filled with a bit of water, on medium heat, let the water evaporate while turning longanisa once. When the water is fully evaporated, start frying the sausage for 5 minutes on each side or until golden brown crust appears.
You can also cook this Filipino food in the oven or air fryer – as described in the post above.
Try this delicious Filipino sausage, you won't be disappointed!