How To Cook Pizza Rolls Without Them Exploding?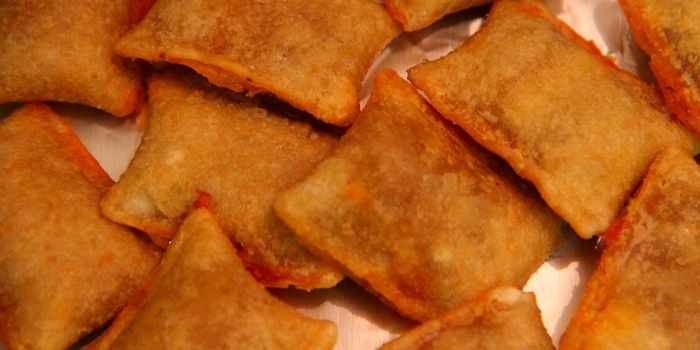 Wondering how to cook pizza rolls without them exploding? Simple – preheat the oven to 425F, place pizza rolls on the baking sheet (you can oil the baking sheet under them just a bit), and bake for 15 minutes.
If you ever cooked pizza rolls, you know the frustration when they burst while cooking and most of the filling comes out, making a mess in your kitchen. But, how to cook pizza rolls without them exploding?
Pizza rolls burst because the water inside the sauce in the filling starts boiling and creating bubbles of hot air that eventually explode.
How to cook pizza rolls without them exploding?
To make sure they do not explode, poke a couple of small holes in them with a fork so the captured air may escape when cooking.
If they are frozen, let them thaw a bit before cooking.
In case you are using an oven – preheat to 425F, place on a lightly oiled baking sheet, and bake for 15 minutes. After you take them out from the oven, make sure to give them around 5 minutes of rest, the filling will be very hot.
In the microwave – set to high and set for 1 minute 15 seconds for 6 rolls. When you take it out of the microwave make sure to let it rest a bit, the filling with be very hot.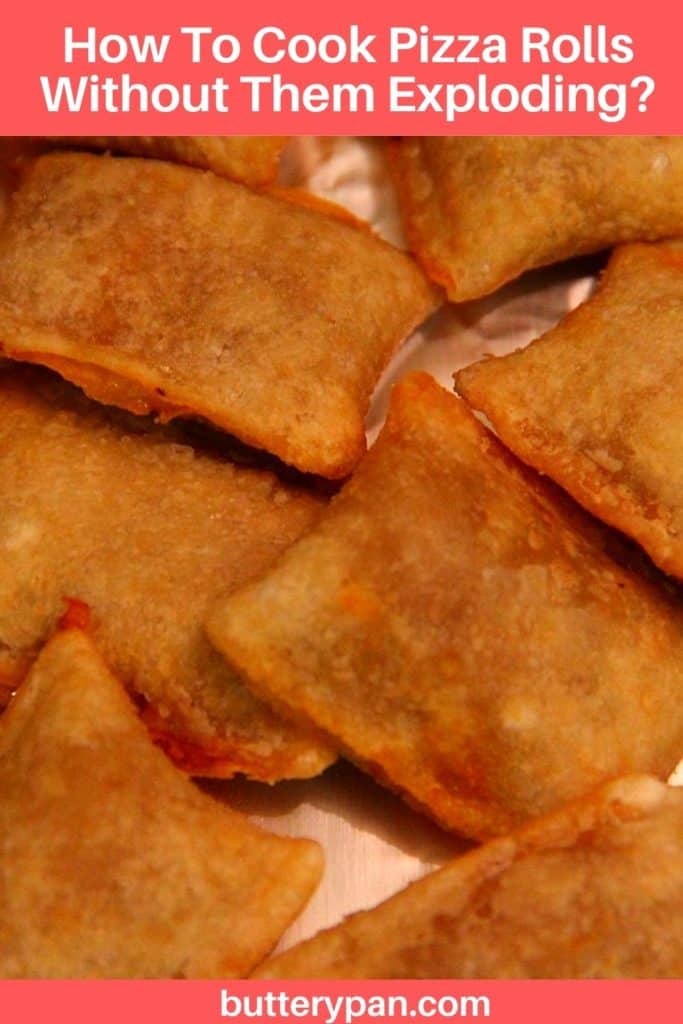 What Is The Best Way To Cook Pizza Rolls?
The best way to cook pizza rolls is in the conventional oven. Preheat the oven. Place rolls in a single layer on a baking sheet or aluminum foil. When the oven temp reaches 220o C (425oF), place pizza rolls in the oven and bake them for 15-20 minutes, or until they are golden brown and crispy enough.
To prevent pizza rolls from exploding, poke holes in each pizza roll with a fork or toothpick to let steam escape, this way the sauce inside the pizza roll won't burst out.
You can also cook pizza rolls in a microwave, air fryer, or on a toaster oven tray. With microwaves, cooking times are much shorter. Put them in a single layer on a plate, cover them with a paper towel and microwave them for 1-2 minutes, depending on the temperature you set.
Pay attention when cooking pizza rolls in the microwave and don't leave them unattended. Be careful when eating the first pizza bites, as the filling might be still too hot!
Are You Supposed To Flip Pizza Rolls In The Oven?
When baking pizza rolls in the oven, you can flip them when half the time needed for cooking has passed, to make sure they bake evenly until they become golden brown. Use a spatula and be careful not to rip any pizza roll apart while flipping.
While it is not completely required to flip them, the heat from the baking tray will give you a golden crust on both sides if you do.
How Do You Make Crispy Pizza Rolls In The Oven?
To make the rolls a bit more crispy, you can lightly coat them with butter (but very lightly) which should do the trick.
Also, flipping them when they are in the oven will help too. The baking sheet is like a hot pan, so it helps to fry the exterior of the pizza roll.
Can You Cook Pizza Rolls On The Stove?
Totino's pizza rolls can be fried in the nonstick skillet. Grease the skillet with 1/4 cup of oil, and turn the stove on medium heat.
Defrost pizza rolls before cooking, because frozen pizza rolls would be more prone to exploding when in contact with hot oil., and they could also burn on the surface.
Summary
Was this article helpful for you to learn how to cook pizza rolls without exploding? It's a simple process, just poke holes in each pizza roll, place them on parchment paper or aluminum foil when baking, and try to defrost frozen pizza rolls before baking.