How To Cook Sheepshead Fish?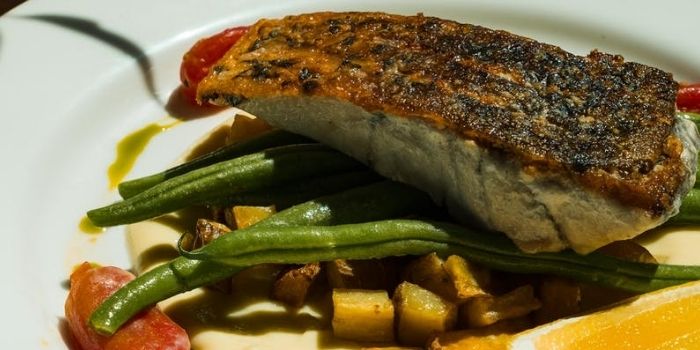 How to cook sheepshead fish? The easiest and quickest way would be to throw some sheepshead fillets onto a grill preheated between 350 and 400 degrees F and cook for 2 minutes per side.
Of course, this simple recipe isn't all you can do with this phenomenal clear water fish. There's also a ton of baking, frying, and searing recipes out there to try, and I've collected all the best ones for you in this article!
How To Cook Sheepshead Fish?
As you'll learn throughout this article, sheepshead fish is quite versatile, so pretty much anything goes.
If you're planning a quick and easy dinner for some friends, a grilled sheepshead may be what you're looking for. For the details on how to make it, check out the quick recipe above or a more detailed one down below. In any case, be sure to enjoy the sheepshead!
You can also just fry it!
Is Sheepshead A Good Fish To Eat?
To be being honest with you, sheepshead fish is not only a good fish to eat. It's one of the best-tasting fish out there. Although it may not appear so at first glance, this fish has a sweet and delicious shellfish flavor. Many experts compare it to either black bass or triggerfish.
In addition to tasting good, sheepshead fish is also quite nutritious due to its varied diet. So, the next time you want to try out a new type of fish, opt for the sheepshead and scroll down to find some of the best ways to make it!
What Can I Do With Sheepshead Fish?
If you're an adventurous spirit, you can try to catch it during the winter when it moves inshore. On the other hand, if you meant cooking-wise – you can do just about anything with sheepshead fish.
Prepare it whole or just do fillets. Throw it on the grill or bake it in the oven. Anyway, it will do as long as you have a great recipe and some fresh herbs by your side. For the latter, you'll have to run down to the grocery store. And the former? I've got that part covered. Just scroll down!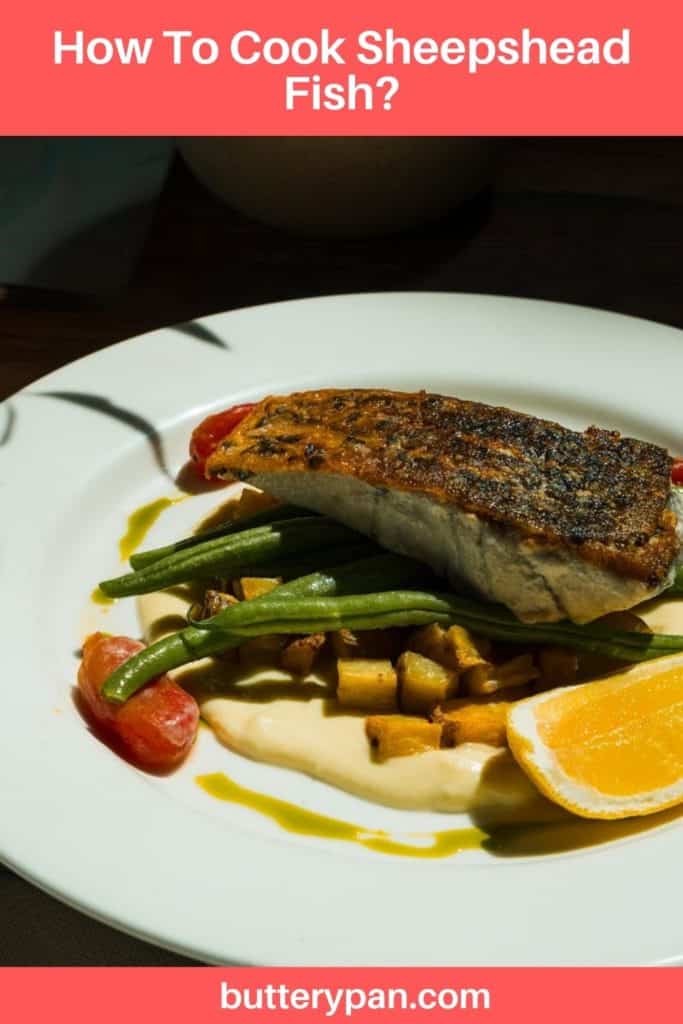 How Do You Cook Sheepshead?
Like I said, cooking sheepshead is quite rewarding since it's a versatile fish and can go anywhere from the oven to the skillet and onto the grill. However, whatever you do, make sure to blend Our spices, add a few sides and never ever overcook it!
How To Clean And Cook Sheepshead Fish?
Okay, so we've already told you that there's a bunch of different ways to cook sheepshead, and I'm going to show you all the best ones below. Promise. However, before we get down to cooking, it's important to show you how to clean sheepshead before cooking. So, here we go and beware, this may take some time!
Before attempting anything else – scrape the armor like you would with scales.
Starting at the head, make a vertical cut down through to the backbone.
Another cut – above the lateral line and down to the anus.
Flip the sheepshead over and cut from the vertical cut close to the backbone – through the spine and down the ribcage.
Cut any flesh still attached to the skeleton and detach the fillets from the tail.
Repeat this process for the other side.
Finally, cut a small portion of flesh along the lateral line to remove the pin bone.
All done and ready for some amazing recipes!
Is Sheepshead Fish Good Fried?
Glad you asked! Fried Sheepshead fish is mouth-wateringly good. In addition to being delicious, frying sheepshead fish is also one of the easiest ways to make it, so if you are planning a quick dinner for your friends and family, this just might be the recipe for you!
How To Fry Sheepshead Fish?
Like we've said, there's nothing easier. Just follow our quick recipe below and get frying!
Clean the sheepshead fillets up nicely and dip them into salted milk.
After the milk, flour them and dip them into a bowl of beaten eggs – the more fillets you have, the more eggs you'll need. Simple as that.
Coat the fish in bread crumbs and place it into hot olive oil.
Fry them at medium heat until cooked. This should take anywhere between 8 to 12 minutes.
Once cooked, take them out and let them cool down. Make sure to place them on a paper towel to remove the residual oil.
Nothing, just make sure to enjoy!
How To Bake Sheepshead Fish?
Another perfect way to prepare sheepshead fillets is to place them in the oven and bake. This is both a delicious way of making them and an easy one since it allows for some of the best seasonings to take place. Just follow our recipe to the t, and you'll be reading a show-stopping baked sheepshead fillet in no time!
As always, the first step is to preheat the oven. This time it's to 450 degrees F.
Seasoning – part one. Season the fish with lemon juice and some salt and pepper.
Seasoning – part two. Butter the sheepshead and add oregano and parsley into the mix – they help with the shellfish flavor!
Cover the baking dish with olive oil and chop up a few onions, lemon slices, and tomatoes to bake alongside the fillets.
Bake everything at 350 degrees F for up to 15 minutes.
Remove it from the one and make sure that it's tender and cooked all the way through.
All that's left is to enjoy your baked sheepshead along with the fire-roasted tomatoes on the side.
Best Way To Prepare Sheepshead Fish?
If you're asking us to tell you our favorite way of making sheepshead, this would have to be it – boiled sheepshead!
Salt the fillets and place them in cold water for about an hour – that is, if you've cleaned them first. If not, scroll back up for our step-by-step on how to clean sheepshead fish.
After the hour is up, take it out of the water, pat it dry and score both sides.
Place it into a fish kettle and squeeze lemon juice over it. Two lemons should do the trick, depending on how much you prefer the acidy taste.
Cover the fixing of a half water half milk mixture so that the mixture covers the sheepshead.
Add seasoning. For this recipe, we recommend a combination of oregano sea salt, parsley, and some garlic powder.
Cook the fish at low heat for 10 minutes.
Remove the fish from the stove-top and let it rest for an additional 15 minutes – this gives it time to soak up all the delicious flavors!
How To Cook Sheepshead Fish On The Grill?
We've talked about boiling and frying, but we still haven't gotten to the possibly most popular way of preparing sheepshead – on the grill. Grilled sheepshead is objectively amazing, and to convince you; I'm giving you my best recipe to try out over the weekend.
First thing first – heat up your grill to between 350 and 400 degrees F.
Cover both sides of the fillets with a little olive oil so the spices stick to them and they don't stick to the grill while grilling.
Seasoning – generously season with some chopped salt, freshly ground black pepper, paprika, and diced basil.
Place them onto the grill and grill each side for 2 to 3 minutes.
Take them off the grill and try out – if a butter knife goes through them with ease, it's time to dig in!
How To Cook Sheepshead Fish Fillets?
Although we've shown you a bunch of different ways of preparing sheepshead fish fillets, we're feeling extra generous today, so we're sharing our Blackened Sheepshead recipe. Enjoy!
Take a large pan and heat up a bit of olive oil at medium-high heat.
Season the fillets with the standard salt and pepper mix while also adding some paprika, garlic, basil, and cayenne.
Pan-sear each side once the oil is hot. Sear each side for 2 minutes.
Add a bit of water and cover the pan. Leave it to cook through for a few more minutes.
Now time for the sauce! You didn't think we weren't going to make a side dish right!
While the sheepshead is cooking, heat up a little olive oil in another pan and add sliced jalapenos.
Crisp them up for a minute or two on each side.
Mix some finely chopped basil, lime juice, and sour cream on the side.
Cover the pan-seared fillets with the cream sauce and enjoy together with the crips jalapenos.
How To Cook Sheepshead Fish Whole?
Since we've shown you how to cook a sheepshead fillet, it's only fair to give you a recipe for cooking a whole sheepshead fish. So, here we go!
Heat up a bit of olive oil in a medium-sized pan and on medium heat.
Once the oil is hot, add garlic, onions, and green peppers.
Cook them for five minutes – a telltale sign will be the onions since they'll begin to look translucent!
Add the chopped mushrooms into the mix to saute.
Once the mushrooms begin to darken and soften, add the lemon juice, Worcestershire sauce, honey, and tomato sauce – that's all for the sauce, we promise!
Let it all simmer for another five minutes.
While this is cooking, preheat your oven to 375 degrees F.
Place the sheepshead into a baking pan covered in olive oil and season with a sea salt and pepper rub. If you want to think a bit outside of the box, throw in some rosemary too!
Coat everything with the sauce. It should be just about done at this point.
Bake for 25 to 30 minutes.
Baste with the sauce every 8 minutes. You may want to set a timer for this.
Once you hear the ding, take the fish out of the oven and onto a bed of Spanish rice!
How Do You Cook A Sheepshead Fish?
We've given you almost every recipe in the book when it comes to sheepshead. Now you know how to boil them, bake them, and even fry them. However, we've saved one more recipe for you – broiled sheepshead fish!
Once cleaned, make several cuts along the sheepshead.
Broil while seasoning with salt, pepper, and finely chopped basil and parsley.
Melt a cup of butter and add lemon juice, and clean fresh herb sprigs to it.
Pour the butter over the broiled fish and enjoy your meal!
How To Cook Freshwater Sheepshead Fish?
Like we've said previously, freshwater sheepshead is one of the most versatile fish out there. A grill sheepshead fillet is delicious, but on the other hand, the whole fish can taste just as good with the right ingredients.
If you're still debating on the best way to prepare the freshwater sheepshead, scroll back up and go over all the sheepshead recipes we've written down just for you. There's one that will be perfect just for you!
Summary
In this article, you've learned a whole lot about how to cook sheepshead fish. One of the simplest ways is to fry the fillet for around 2-3 minutes on each side with a bit of oil. After this, you're a real culinary master – you know how to grill, bake, and pan-sear a sheepshead fish. So, grab your chef's hat, pick a recipe and start cooking!