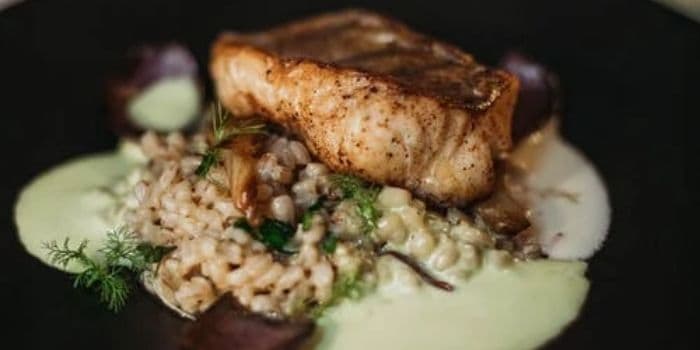 How to cook wahoo? Place wahoo fillets on a plate and coat them lightly in olive oil. Season them with salt and pepper, and you can even add more spices, such as garlic powder, red pepper flakes, or smoked paprika. Preheat the oil in a skillet, and once the oil gets hot, cook for 3-4 minutes on each side.
Wahoo (also called ono) is a versatile fish with delicious white meat of delicate flavor. There are many great wahoo recipes, so keep reading this article to learn more!
How To Cook Wahoo?
Cut wahoo into fillets and lightly coat them in olive oil.
Season with salt and pepper, and add more seasonings of your choice if you want.
In a medium-sized skillet, preheat olive oil.
Once the oil gets hot, carefully lay wahoo fillets with meat side down.
Cook for 3-4 minutes.
Flip each fillet and cook for another 3-4 minutes.
Serve with soy sauce and lime juice.
In this video, you can check how to fillet the fish but most importantly there is a very simple recipe. They have a grill, but it can be applied for pan-frying as well – check it out!
How To Cook Wahoo Steak?
In a bowl, mix one tablespoon of lemon juice, one tablespoon of lime juice, 1/2 teaspoon of salt, one teaspoon of black pepper, 1/2 cup of olive oil, one teaspoon of cayenne pepper, and a few red pepper flakes.
Add wahoo steak to the bowl and coat it in the marinade.
Let it sit in the marinade for 30 minutes in the refrigerator.
Heat a griddle pan over medium heat, without oil, because there will be enough oil from the marinade.
Once the oil gets hot enough, carefully place wahoo steaks into the pan.
Cook for 15 minutes, flipping frequently.
How To Cook Wahoo Steaks In the Oven?
This recipe will teach you how to make baked wahoo with herbs.
Preheat the oven to 350 degrees F.
Place wahoo fillets on the baking tray so that there is some space between them.
Brush lightly with canola oil, sprinkle with salt and pepper, and drizzle with lemon juice.
Sprinkle chopped fresh parsley over each fillet.
Add two rosemary sprigs to the baking tray.
Cover with aluminum foil and bake for 15-20 minutes.
Once cooked, brush each wahoo fillet with a mixture of minced garlic, fresh parsley, lemon juice, and olive oil.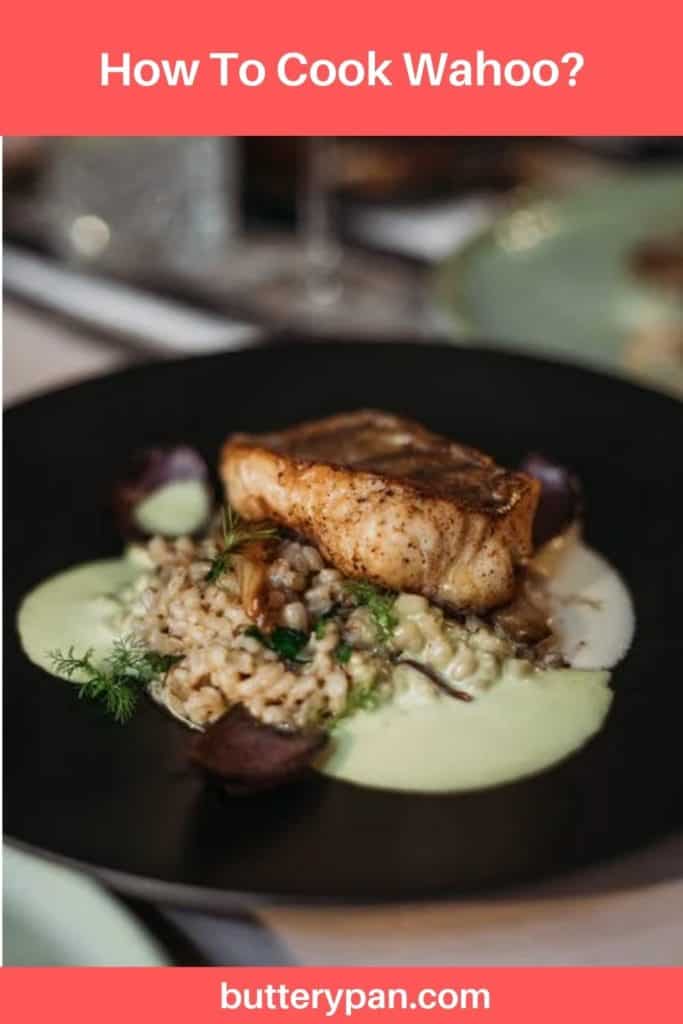 How To Cook Wahoo On The Grill?
You can also try and make grilled wahoo fillets. Follow these steps:
Preheat your grill to high heat.
Marinate wahoo fillets for 30 minutes in a mixture of melted butter, minced garlic, paprika, lime zest, salt, and pepper.
Once marinated, place wahoo fillets onto the grill grates.
Grill for 3-4 minutes on each side.
Serve with fish sauce and salad of your choice.
How To Cook Wahoo Steaks On The Grill?
Preheat your charcoal grill to a high temperature.
Brush wahoo steaks with olive or canola oil and season with salt and pepper.
Place wahoo steaks onto the hot grill grates.
Grill for 4-6 minutes per side.
How To Cook Wahoo Fish Tacos?
In a bowl, combine three tablespoons of lime juice, one tablespoon of extra virgin olive oil, and two teaspoons of sugar.
In another bowl, combine 1/4 cup of chopped green onion, 1/4 cup of chopped fresh cilantro, and a bag of coleslaw mix.
Pour juice mixture over the vegetable mixture.
Cook wahoo fillets in a pan as described in previous paragraphs.
Place cooked wahoo fillets on tacos, and top them with the vegetable-juice mixture.
How To Cook Wahoo Wieners?
Preheat 2 tablespoons of cooking oil in a large skillet.
Once the oil becomes hot enough, add Wahoo wieners.
Fry them for 10-12 minutes, frequently turning them to avoid sticking.
How To Cook Wahoo In Air Fryer?
Another simple wahoo recipe:
Preheat your air fryer to 370 degrees F.
Cut your fresh wahoo into smaller fillets, and season them with salt and pepper.
Spray the air fryer basket with a nonstick cooking spray.
Place wahoo fillets into the air fryer basket.
Air fry for 10 minutes, then pull out the air fryer basket and pour fish or soy sauce over the fillets.
Return the air fryer basket into the air fryer oven and air fry for another 10 minutes.
How To Cook Wahoo In A Skillet?
Making a pan-seared wahoo is probably the easiest way to cook wahoo. Once you preheat some oil in the skillet, you need to fry wahoo for 4 minutes per side and serve it with your favorite sauce, salad, or rice.
How Should Wahoo Be Cooked?
When you cook wahoo (ono), it is important to avoid overcooking it. Wahoo has low-fat content, so you don't want to dry it out with too much cooking. Wahoo fish has high-quality flesh that many people prefer to eat medium rare and without too many spices.
Is Wahoo Good Eating?
Wahoo is good eating because it is a versatile fish that can be cooked in many different ways and combined with many different ingredients. Fun fact: wahoo is called "ono" in Hawaiian islands, which means "good to eat".
What Does Wahoo Taste Like?
If you have never eaten wahoo, you are probably curious about its taste. Wahoo has a mildly sweet taste, firm texture, and low to moderate amounts of fat.
How Do You Know When Wahoo Is Done?
The safest way to make sure that wahoo is done is to use a meat thermometer to check the internal temperature of the flesh. It should be at least 145 degrees F before you start eating it. However, most parts of this fish can be eaten raw, although they might be a bit chewy when eaten this way.
Summary
Now you know how to cook wahoo. Preheat oil in a skillet or frying pan, season your wahoo fillets with salt and pepper, and coat them in olive oil. Cook in hot oil for 3-4 minutes per side, and serve with lemon juice and sauce of your choice.