How To Cook Yummy Black-Eyed Peas?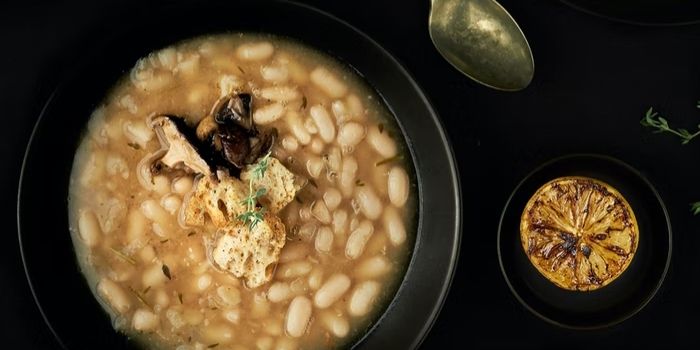 How to cook yummy black-eyed peas? The easiest way would be to add soaked beans into a pot with chicken broth and seasoning and simmer everything for 45 minutes. This way, you'll get a classic black-eyed pea recipe done in under an hour and won't even need to stand next to the stove that long.
On the other hand, if you're in the mood for a spicier take on black-eyed peas – done. Or maybe you'd like to try out Southern recipes – also done. What I'm saying is that this article has everything concerning black-eyed peas covered – from preparing them to spicing and serving. All you have to do is keep reading and start cooking!
How To Cook Yummy Black-Eyed Peas?
So far, you've got the basics down. Cooking black-eyed peas is done in under an hour. Well, this is only partially true – while the cooking time for the recipe above is 45 minutes, the prep time is a bit longer – overnight, to be exact.
The thing is – dried black-eyed peas need enough time to soak up the water, and leaving them in water overnight does the trick. So, if you're in the mood to try out the recipe above, make sure to start on time – and if not, hey, this article has a bunch of alternatives to offer!
Here is a cool recipe with black eyed peas!
How Long Do You Cook Black Eyed Peas For?
If you've learned anything on this food blog, it's that cooking times vary. They vary even when you're cooking the same ingredient in different ways – and black-eyed peas are no exception. Their cooking time ranges from just a few minutes in the pan to over an hour in the crockpot. Thus, if you're looking for a quick meal, think about canned black-eyed peas. On the other hand, if you'd like to work for your supper, try out one of our more demanding hour-long recipes!
Another thing to keep in mind when cooking black-eyed peas is the prep time. In case you're cooking with dried beans, the preparation time may take anywhere from 6 hours to overnight. The reason behind this is simple – dried peas need to soak in water for at least six hours. Thus, if you're in the mood for some black-eyed peas, best start soaking right away!
The things you'll do for a delicious meal, right?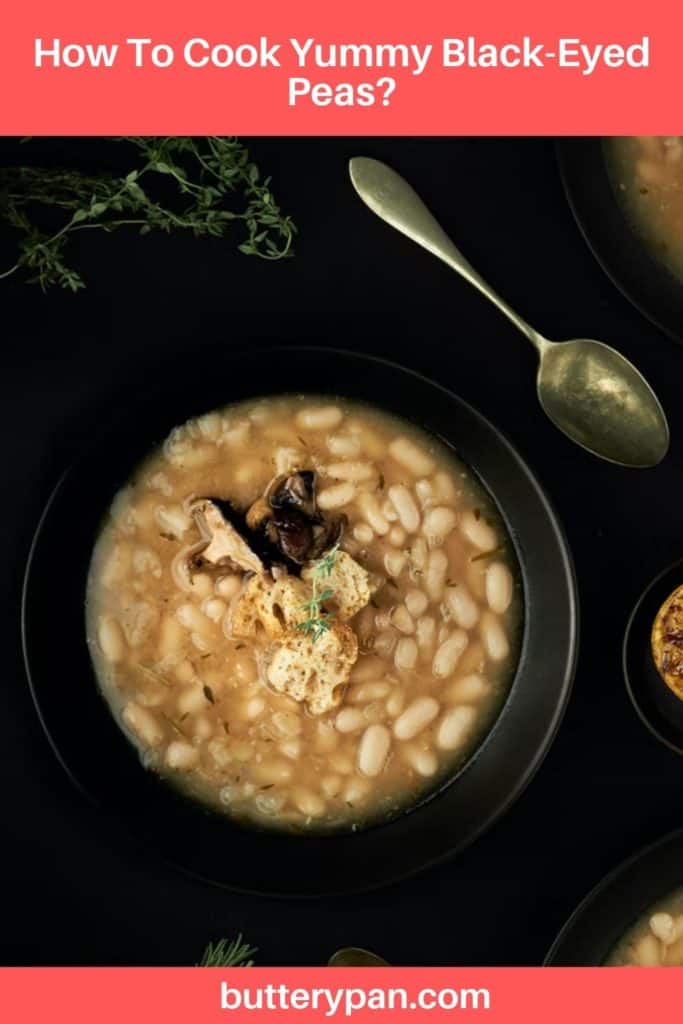 Are Frozen Black-Eyed Peas Cooked?
Technically speaking, yes – frozen black-eyed peas are cooked and then frozen. However, it doesn't feel right to leave it at that, so I'm going to give you a bit more information for this one.
Frozen black-eyed peas are flash-steamed and then frozen. In translation, they're ready to eat. The only thing you'll need to do is warm them up. However, this is where the tricky part comes in – because the peas are precooked, warming them up for longer than a minute will make them lose their sweetness and rich flavor.
So, remember, for maximum crispiness and deliciousness, warm them up quickly and enjoy them with some of our suggestions below!
What Goes Good With Black-Eyed Peas?
Before deciding on what goes good with black-eyed peas, there are a few points that should be considered.
The first is, of course – their taste. After all, if you don't know what black-eyed peas taste like, how are you ever going to combine them with other ingredients and dishes? Well, put simply, black-eyed peas are white beans with a dense and creamy consistency. When cooked, beans are tender and have a light but present sweetness.
Now that you're got the taste down, it's time to decide if you're eating black-eyed peas as your main dish or side dish this time. Luckily, no matter which of the two you land on, the next few ingredients will always work well with black-eyed peas. First up are collard greens, followed by corn-bread, chopped onions, mashed potatoes, and for meat lovers, some turkey bacon, of course.
Now, I've given you a lot of options here. To help you narrow down these life-altering combinations and get cooking, I've detailed a couple of easy black-eyed peas recipes down below.
Do You Drain Black Eyed Peas?
When making, or more specifically when preparing black-eyed peas, you should drain them. However, before you get to the draining part of the cooking process, you'll first need to cover the soaking one. Therefore, to make your life easier and time in the kitchen well spent, I'm breaking down the soaking and draining steps for all your black-eyed peas recipes.
The first thing to know is that both dried black-eyed peas and canned black-eyed peas can be soaked and drained. However, do keep in mind that although they are technically the same product, nothing beats dried beans!
Now, once that's out of the way, the second (but really first) thing you'll need is a large bowl for the peas to soak in. When pouring the water in, make sure it covers them by at least 4 inches – as I said, you're going to need a large bowl! The peas should soak for a few hours. I'd recommend around five, but even soaking them overnight is fine.
After the peas are done soaking, drain and rinse them thoroughly with cold water. Now, they're ready to cook, and you're ready to hear about the delicious black-eyed pea recipe this article has in store!
How To Make Delicious Black Eyed Peas?
To start this culinary adventure, we're going to keep it simple and a bit Southern. Trust me. Once you've made this black-eyed peas recipe, it's going to become a household favorite in no time – all you have to do is follow the recipe instructions down below!
To start, wash and sort the black-eyed peas. Set them aside since you'll come back to them a bit later.
Chop up 3 onions and 2 to 3 cloves of garlic – do keep in mind that this is the amount I prefer to use. You're free to alter it as you'd like.
Next, put in 2 tablespoons of olive oil in a large pot on medium heat.
Once hot, add the onions and garlic and saute until they become tender. If it's your first time sauteing something, here's a tip – this part usually takes between 2 and 3 minutes.
Time for the beans and smoked turkey and chicken broth.
Bring it to a boil and then let it simmer covered for an hour over lower heat, medium to be exact.
Let everything sit for 10 to 15 minutes after cooking so that all the best flavors are absorbed into the beans.
You're done! – all that's left is to grab a bowl and marvel at the results of this fantastic Southern recipe!
How To Make Perfect Black-Eyed Peas?
You probably know that fresh peas are among the healthiest food out there – and the same is true for black-eyed peas. Thus, to make a healthy ingredient into a healthy and hearty meal, here is a unique Greek-style black-eyed peas recipe. All you'll need is a crockpot, garlic cloves, and a few daring Greek spices.
Heat extra virgin olive oil in a crockpot or large pot over medium heat.
Saute onions and garlic for 2 to 3 minutes once the oil is hot.
Once they become translucent, add bell peppers and carrots into the sautéed onions and simmer for 5 minutes.
Add a can of diced tomatoes into the pot (the juices too!) along with 2 cups of water.
It's time to season – add salt, black pepper, and bay leaf into the pot and bring to a boil
It's time for the beans – throw them into the pot and boil at high heat for 5 minutes.
After 5 minutes, reduce it all to a simmer and cook covered for 25 to 30 minutes – just don't forget to stir!
Lastly, add a pinch of lemon juice and parsley and serve hot!
Trust me – once you make it, this dish is going to become both your favorite comfort food and go-to game night snack!
How To Prepare And Cook Black-Eyed Peas?
If the last recipe took you out of your comfort zone, this one is here to slow this culinary adventure down a bit. More specifically, I've written down a simple one-pot black-eyed peas recipe that's guaranteed to become a must-have on your weekday dinner menu.
Let's start with the preparation. In translation, it's time to soak and drain the beans.
Place the peas into a large bowl and soak in water for at least 6 hours. Overnight works as well.
Drain and rinse the beans in cold water.
If these instructions seem a bit simple, feel free to scroll back up and check out a detailed description of the prep time. For now, it's time to move on to the cooking process.
Add the beans and chicken broth into a large pot and bring to a boil over medium heat.
When the water starts to boil, reduce the heat and simmer covered for 45 minutes – this is the time when the beans become tender. If needed, add additional chicken or vegetable broth.
After 45 minutes, add spinach and stir for an additional 5 minutes.
Serve hot and enjoy!
How To Make Fried Black-Eyed Peas?
Since you're nearing the end of this article, I feel like it's only right to pull an ace out of the hat and detail the most delicious black-eye pea recipe out there. Coincidentally, this recipe is also my personal favorite – pan-fried black-eyed peas. Not to waste any more time, here is the simple yet wonderful recipe!
Thoroughly drain and rinse the peas and set them aside.
Heat 2 tablespoons of extra virgin olive oil in a large skillet over medium heat.
Once the oil is hot, saute onions and garlic for 2 to 3 minutes. You'll know it's time to add a tablespoon of smoked paprika when the onions become translucent.
Add your start ingredient – the beans, along with finely chopped red onions and peppers.
Fry for 5 minutes while seasoning and stirring occasionally. For the seasoning, I'd recommend salt and pepper and red pepper flakes.
After 5 minutes, take the skillet off the stove, serve the beans hot with fresh herbs such as basil and parsley on top!
Summary
Since you've reached the end of this article, you know what that means – now you know how to cook yummy black-eyed peas! Once you throw them into the pot with the chicken broth, they'll be ready in 45 minutes tops! For all the other tips and tricks, you'll just have to keep rereading the article!