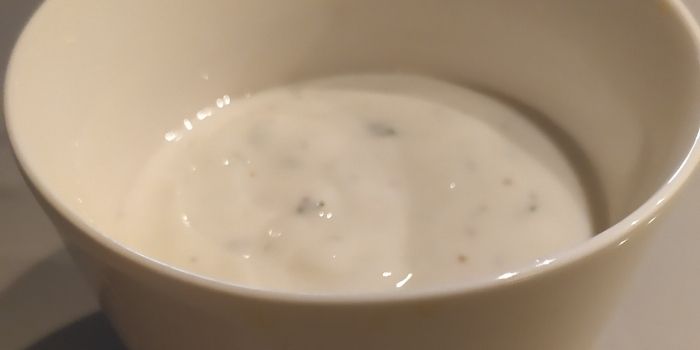 How to make raita? Raita is an Indian meal or side dish that you'll likely see on the menu at most Indian restaurants or in Indian stores. This classic Indian yogurt sauce gets its creamy texture from:
plain yogurt (Greek yogurt or other yogurt alternatives will also do)
garlic
ginger
chopped coriander
fresh mint leaves
lime
garam or chaat masala
grated cucumber.
All you have to do is mix all your ingredients together and serve
How To Make Raita?
Making Indian raita isn't difficult at all! In fact, here's an easy raita recipe you can make at home:
Put 250 grams of whisked yogurt in a bowl (plain yogurt, Greek yogurt, and coconut yogurt are just a few options, choose your favorite, just make sure it's flavorless!).
Mix in one finely chopped garlic clove.
Mix in some finely grated ginger to taste.
Add some chopped coriander leaves to taste.
Stir in the juice from half a lime.
Add 1/2 tsp of chaat masala.
Finally, add 1/4 of grated cucumber.
Serve with pappadam or other Indian dishes as a nice break from all the typical spicy foods in Indian cooking. The cucumber and the yogurt give the dish a nice cooling effect, so even if you want to add in some red chili powder or green chilies, you won't feel like your mouth is burning, even if you usually prefer more mild foods.
How To Make Raita At Home?
To make raita at home, you don't have to worry about following any complicated recipes. A basic recipe will still give you a final product full of complex flavors that you'll love. If you love Indian food, trying your hand at some raita recipes will definitely improve your cooking game.
While there are so many variations, an easy raita recipe you can follow just involves mixing your yogurt (low fat or plain yogurt are fine, just make sure there are no added flavors), your ground spices (Ginger, ground coriander leaves, and chaat masala), lime juice, and a cucumber.
Serve raita with bread, crackers, or vegetables.
How To Make Raita Recipe?
If you want to make your own simple raita, all you have to do is mix unflavored Indian yogurt, coriander leaves, ginger, garam masala, lime juice, and grated cucumber.
Once you're comfortable making the basic recipe, you can try something a little more complex. There are so many variations from pineapple raita to mint raita. All that matters is you use fresh herbs and spices when you can. Add in some cayenne pepper or a little chopped green chili if you want to balance out the cooling effect of the yogurt with a little spice.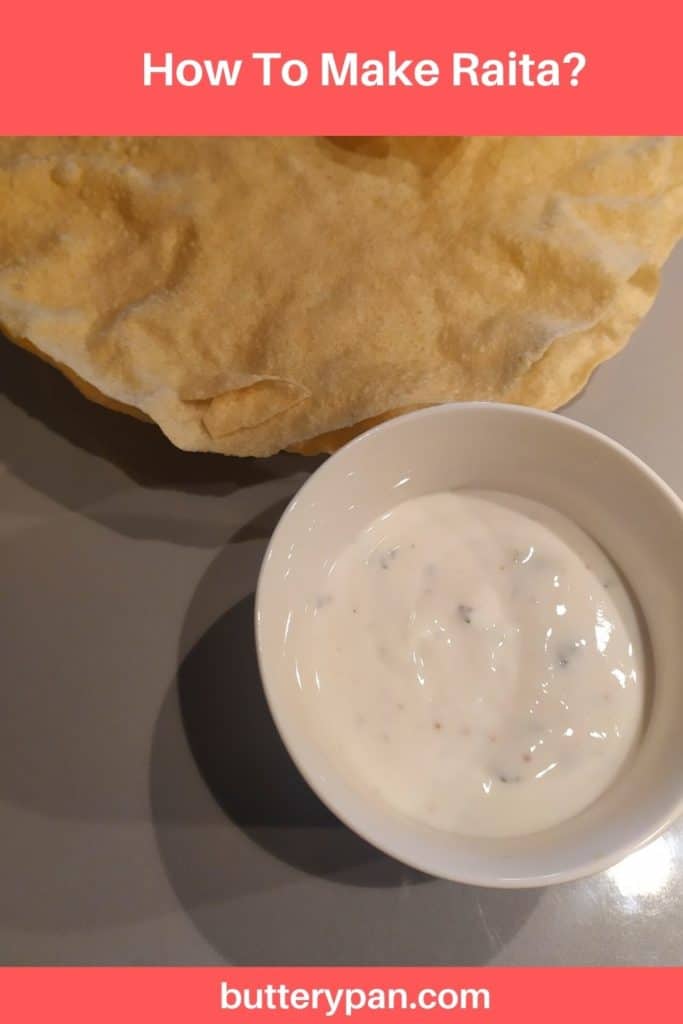 How To Make Raita Sauce?
To make raita sauce, mix yogurt, ginger, coriander, lime juice, garlic, and a masala spice mix (garam masala or chaat masala). Serve raita with your favorite Indian bread or serve as vegetable raita. You can even serve it with rice dishes for some really complex flavors.
How To Make Raita For Biryani?
Biryani is one of many rice dishes. It's a great staple in Indian cuisine that goes great with raita. While there are tons of Indian recipes for raita that you can find, to balance the flavors in biryani, it's recommended to start with basic Indian raita first.
Whisk yogurt and set aside.
Mix together grated ginger, chopped garlic, chopped coriander, lime juice, garam masala, and a cucumber.
Add your mixed ingredients to your yogurt.
Serve cool with your biryani.
Add any other mix-ins you might want once you know what flavors you like. Some common additions to raita are cilantro, ground cumin seeds or roasted cumin powder, mustard seeds, black salt, and other grated vegetables.
How To Make Raita In Hindi?
While raita is an easy Indian meal to put together, if you really want to kill two birds with one stone, you can try to follow the recipe in Hindi once you've got the hang of it. Little by little, you'll find yourself learning a new language while perfecting your cooking skills.
How To Make Raita With Yogurt?
Yogurt is an essential part of raita. Whether you prefer Greek yogurt, low fat, or plant-based options like coconut yogurt, as long as it's plain yogurt, your recipe will turn out great. Just mix your yogurt with your cucumber, spices, ginger, lime juice, and garlic, and you're good to go!
How To Make Raita With Cucumber?
To make classic cucumber raita, grate the cucumber into a mix of plain yogurt, ginger, garam masala, garlic, coriander, and lime juice.
How To Make Raita Marcha?
To make raita marcha:
Season cleaned green chilies with salt and tumeric.
Dry chilies, so there's no extra moisture.
Heat a little oil and cook rai Kuria until well mixed, then let cool.
Mix chilies with salt, fennel seeds, lemon juice, and rai Kuria oil.
Pour mixture into a glass jar and let sit for a few days, so the chilies start to pickle.
How To Make Raita Masala?
Raita Masala is really similar to classic raita. Just mix yogurt, onions, coriander leaves, and your favorite Indian spice powders like chaat masala or garam masala.
What Is Raita Called In English?
Unlike some foreign food terms, raita isn't called anything different in English. It's still raita! However, you might find a few alternatives if you were to look for raita in your local grocery store. Tzatziki is an example of what you might find instead of raita, but while they're pretty similar, they aren't the same!
Summary
Now you know how to make raita! Indian raita is an example of Indian cuisine that is truly simple to make at home! All you have to do is mix together plain yogurt, grated ginger, chopped or ground coriander, juice from half a lime, garam, or chaat masala, and grated cucumber. Serve your raita cold with vegetables, bread, or crackers. Whatever you think tastes the best!