Best Overnight Oats Recipe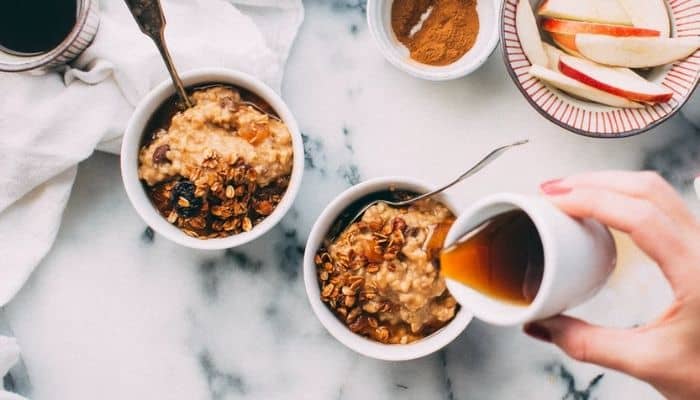 Overnight oats are a delicious, no-cook method of making oatmeal that leaves you with a full tummy and plenty of energy. And, although overnight oats only need to soak for a few hours, soaking them overnight gives you time to start your day.
So, why not enjoy a few extra minutes lounging in bed every morning? We certainly can't think of a reason!
Overnight Oats Recipe Ingredients
Because oats are the "rice of breakfast" – meaning that you can add almost anything for texture and flavor – there are tons of ways to make this easy, delicious dish. So, instead of adding a single list of ingredients, we've compiled a few different "flavors" for you to enjoy.
First, let's take a look at the things you'll need for every recipe:
1 mason jar or Tupperware with a lid
1-part old-fashioned oats (typically ½ cup)
1-part liquid (typically ½ cup)
¼ to ½ cup yogurt (Greek or plain vanilla work best)
1/8 cup chia seeds
1 tablespoon honey or maple syrup
¼ teaspoon vanilla extract (optional)
Optional: toppings – see below for potential recipes!
Berry Pie Toppings
To bring a little Thanksgiving delight to your breakfast, top your oats with:
A handful of berries, such as blueberries or raspberries
Chopped walnuts or pecans
An extra dab of maple syrup
¼ teaspoon ground cinnamon
Trail Mix Toppings
If you want to have candy for breakfast – and feel good about it! – top your oats with:
Crushed peanuts or pecans
Mini chocolate chips
Mini M&Ms
Shredded coconut
Raisins or dried cranberries
Peanut Butter and Jelly Toppings
To sprinkle a little bit of this childhood classic into your morning, top your oats with:
1-2 tablespoons of peanut butter
1 tablespoon of your favorite jelly (raspberry, strawberry, and apple work well)
Crushed or chopped peanuts
Overnight Oats Recipe
Stir your oats, liquid, and chia seeds together in a mason jar or tupperware
Add yogurt and stir until the clumps are dissolved
Add vanilla extract and honey/maple syrup and stir
Put the lid on your dish and stick it in the fridge
Leave for at least two hours, if not overnight; the oats will absorb the milk and sweeteners
When you're ready to eat, add your desired toppings and dig in!
The best thing about overnight oats is the sheer versatility. You can eat them plain, add the flavors of your favorite holiday, or sprinkle in a little bit of naughty, chocolatey goodness. The sky is the limit!