What Does Elderflower Taste Like?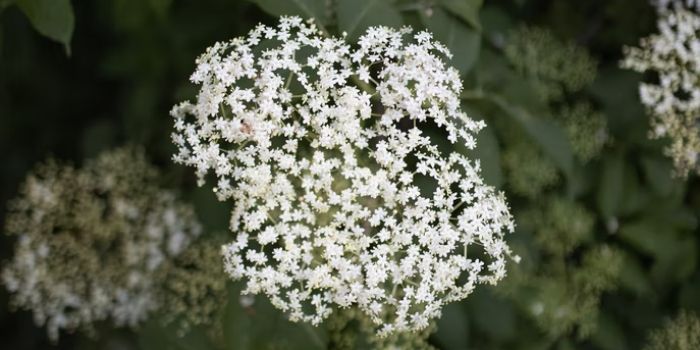 What does elderflower taste like? The elderflower flavor, by itself, is often described as being a delicate floral flavor that also has a fruity taste. You may notice a subtle pear flavor, as well as lychee, tastes if you are familiar with the flavors of both of those fruits.
What Does Elderflower Taste Like?
Elderflower can be described as having a slightly herby flavor while still having a slightly floral taste. There are also tropical nuances that can be noticed if you try the white flowers of this plant on their own. However, these edible flowers are often used in other recipes, such as some types of lemon cake. For example, Prince Harry and Meghan Markle decided on a lemon elderflower cake taste for their wedding cake. The royal wedding cake was so popular that Kensington Palace even made the recipe public!
What Does Elderflower Tea Taste Like?
Elderflower tea has a slight herby flavor to it that is also naturally sweet yet a little musky and with a unique floral flavor. Such a profile makes this a great tea to have when you're sick with a cold or a slight case of the flu, though it has broader appeal as well and can be enjoyed at all times of the year.
What Does Elderflower Tonic Taste Like?
Elderflower tonic sparkling water has a flavor that is a little sweet while still being refreshing. It is a great palate-cleansing finish for a meal that is distinct from tonics that are made from other edible flowers.
What Does Elderflower Gin Taste Like?
The elderflower flavor profile makes it an interesting addition to gin. While the elderflower's sweeter fruity and floral counterparts may give gin a stronger flavor, elderflowers taste slightly sweet yet distinctly musky and make for a uniquely fresh gin infusion.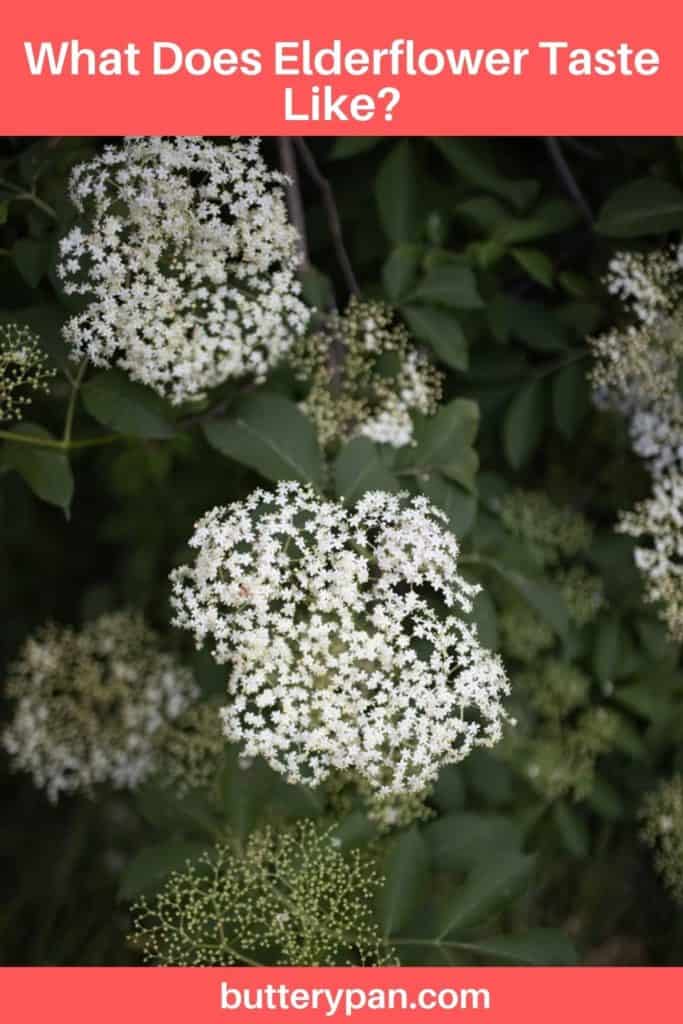 What Does Elderflower Wine Taste Like?
Elderflower wine tastes sweeter than traditional wine. It will have a subtle pear taste balanced with a slightly herby flavor. You will be able to smell the elderflower more than taste it, however.
What Does Elderflower Cake Taste Like?
Elderflower is used in many cakes, often with other types of fruit. A popular combination is lemon and elderflower cake. This sort of cake will have a sweet-tart taste that is also a little musky but in a delicious sort of way.
What Does Elderflower Champagne Taste Like?
Elderflower champagne has a unique flavor. It is slightly floral. It's made from the edible flowers from a small bush of elderflowers and champagne yeast. While some may prefer the traditional bubbly taste of champagne, the elderflower variety is quite unique and refreshing.
What Does Elderflower Drink Taste Like?
Elderflower cordial or elderflower liqueur are both sweet alcohols that are made from either the fresh flowers from elderflower bushes or from elderflower syrups that have been thoroughly mixed or distilled. While they'll both taste quite strong, the flavor itself will be light fruity, and the smell will be light and floral.
What Does Lemon Elderflower Taste Like?
Lemon elderflower cake that was served at the royal wedding tastes both tart and sweet while also being a little musky. It's a unique combination that is perfect for a spring or summer day with a cup of tea.
What Does Elderflower Lacore Taste Like?
Elderflower liqueur tastes light and sweet. What you'll notice more than the taste is the fragrance of this particular drink. It will smell distinctly of flowers and citrus fruits. It has been described as an easy-to-drink, smooth liqueur that is a great way to end a meal.
How Would You Describe The Taste Of Elderflower?
While not all elderflowers taste the same, in general, the taste can be described as being a little sweet and mildly fruity. The elderflower taste is pretty mild on its own, which makes it perfect for adding to other recipes. Especially recipes that involve fruity flavors or other flowers.
What Tastes Similar To Elderflower?
While elderflowers have a unique taste that isn't quite like anything else, some people described notes of the elderflower flavor profile as being similar to:
pear
passionfruit
lychee
citrus.
Is Elderflower As Good As Elderberry?
Both elderflowers and elderberries come from the same plant. Elderberries are the edible berries that will pop up after the flowers are done growing. The elderberry taste is tart like a cranberry, while the elderflower taste is sweeter. Whether you think elderflowers and elderberries are equally as good as one another or you have a preference is up to you. If you prefer sweet and mile flavors, you may like elderflowers more, whereas if you prefer tart flavors, elderberries may be the way to go.
Summary
What does elderflower taste like? Elderflower has a very particular and unique taste that isn't anything like other herbal flowers. It's a slightly sweet and light flavor that is also a little bit fruity. Don't take this article's word for it, though. Try it yourself!