17 Best Hamburger Helper Milk Substitute
The Hamburger helper milk substitute comes in handy when you want to make a Hamburger Helper without milk. Some of the most common milk substitutes for Hamburger Helpers are cream cheese, almond milk, sour cream, coconut milk, etc. However, there are plenty of other milk substitutes for making Hamburger Helper.
Hamburger Helper is a packaged food product from BettyRocker containing dried pasta or rice and powdered seasonings. The contents of Hamburger Helper are mixed with browned ground beef, water, or, more often – milk. There are also Tuna Helper and Chicken Helper packages that use tuna and chicken meat instead of beef.
Hamburger Helper Milk Substitute
Usually, when making Hamburger Helper, milk is used, but you can also use some substitutes. Some of them are: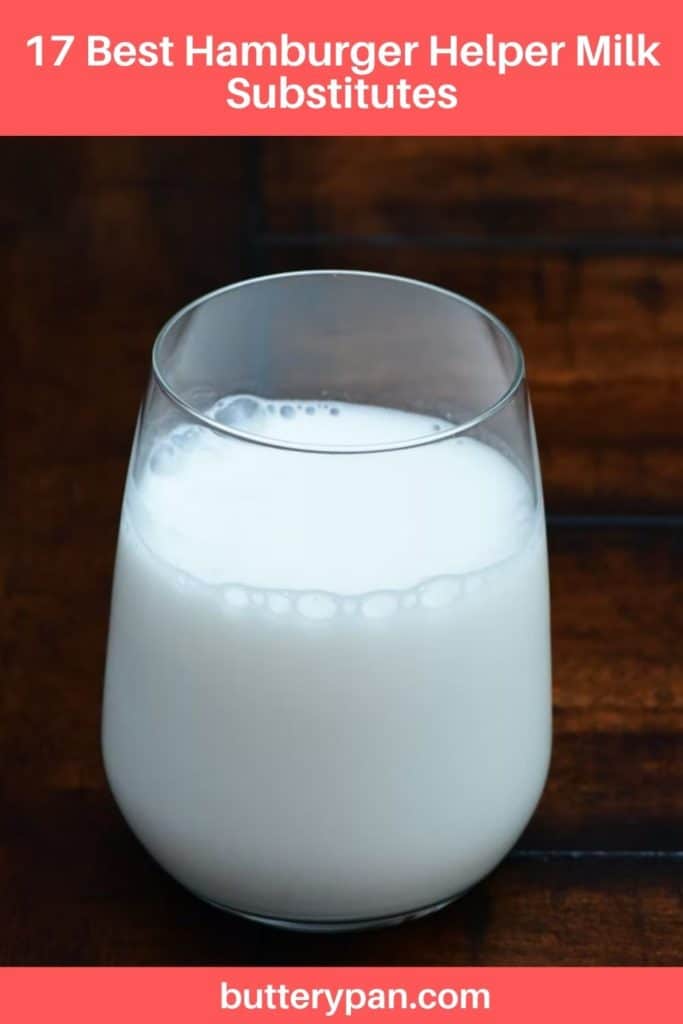 1. Cream cheese
Cream cheese will give you a much richer flavor when used in Hamburger Helper, so it is safe to say that this is a great milk substitute. It is also much denser than the real milk, so you need to use half as much cream cheese as milk and add 1/4 cup of water to make it a bit thinner.
2. Almond milk
This milk substitute is slightly thinner than the regular cow's milk, but it won't make much difference in the finished product. Another benefit of using almond milk is that it is great for those who are lactose intolerant.
3. Sour cream
Sour cream can be used instead of milk, but just like with cream cheese, it needs to be thinned with a little bit of water (3:1 proportion). Sour cream will give a slightly tangy flavor to your Hamburger Helper meal.
4. Coconut milk
Coconut milk will make hamburger helper rich and creamy, but it can also change the flavor of your Hamburger Helper meal because of its strong coconut flavor.
5. Evaporated milk
Evaporated milk is whole milk that has been reduced by approximately 50%. Simply add the same amount of water and evaporated milk, and you won't notice any difference from using regular milk.
6. Soy milk
Soy milk can also be used as a milk substitute, but make sure to use unsweetened soy milk in order to prevent any unwanted change in the Hamburger Helper flavor.
7. Rice milk
If you want to make Hamburger Helper that will be lighter in texture and not as creamy as when made with milk, use rice milk instead.
8. Oat milk
Another non-dairy milk substitute, oat milk can be used instead of milk when making Hamburger Helper. However, keep in mind that oat milk might slightly change the flavor of Hamburger helper.
9. Powdered milk
Dissolve 1/4 cup of powdered milk in 1 cup of water and use this reconstituted milk to make Hamburger Helper. Although many people don't like to drink this milk, it is perfectly fine to use for Hamburger Helper.
10. Whipping cream
For richer flavor and more complex texture, use whipping cream when making Hamburger Helper. The amount of whipping cream used here should be equal to the amount of regular milk needed to make a Hamburger Helper.
11. Chicken broth
If you prefer savory over creamy texture, chicken stock (or beef stock) will be a great milk substitute in Hamburger Helper. Substitute the milk with meat stock at a 1:1 ratio.
12. Plain yogurt
Plain yogurt will give the Hamburger Helper a tangy flavor with a rich texture. It will also add a hint of freshness to your meal, but don't forget to thin the yogurt with water at a 3:1 ratio.
13. Greek yogurt
Similar to plain yogurt, but with a more creamy texture, Greek yogurt is also richer in fat content and should be thinned with water at a 3:1 ratio when being used to make Hamburger Helper.
14. Macadamia milk
This plant-based milk is creamy and rich with a nutty flavor. It is great substitute milk for Hamburger Helper. Although really tasty, this milk substitute should be avoided by those who are allergic to nuts.
15. Water and butter
For each cup of water, add 1 tablespoon of water, and use this mixture to make a Hamburger Helper meal. This way, the fat content will be the same as if you used regular milk.
16. Mayonnaise
When you want a thicker and richer meal, mayonnaise is a great substitute for milk when making Hamburger Helper. However, each cup of milk should be replaced with only 1/3 cup of mayonnaise. Otherwise, your meal will be too thick and too sour.
17. Rice milk
Not as thick as the regular milk, but can still be used as a milk substitute for Hamburger Helper. You will get a meal that has a lighter texture, and it's not as creamy as when you cook hamburger helper with regular milk.
Hamburger Helper Milk Substitute Sour Cream
Sour cream is one of the favorite milk substitutes for Hamburger Helper because it gives a tangy flavor and a creamy texture to your meal. It is a perfect choice if you want to enjoy a more complex flavor than when you make your Hamburger Helper meal with milk.
Hamburger Helper Milk Alternative
Another great Hamburger Helper milk alternative is buttermilk. Traditionally made as a byproduct of making butter from milk, it has a thicker consistency than regular milk and a slightly tangy flavor.
Hamburger Helper Stroganoff Milk Substitute
If you want to replace milk in Hamburger helper beef Stroganoff, you can use sour cream, almond milk, or a butter/water mixture. This will give your Hamburger Helper beef Stroganoff a creamy and rich texture.
Summary
Now you know how to choose a good Hamburger Helper milk substitute. You have a lot of options, but some of the best ones are. Sour cream, cream cheese, almond milk, plain or Greek yogurt, mayonnaise… There are many other options, and each one of them will bring a unique mix of flavor and texture to your next Hamburger Helper meal!