How to Cook Frozen Meatballs?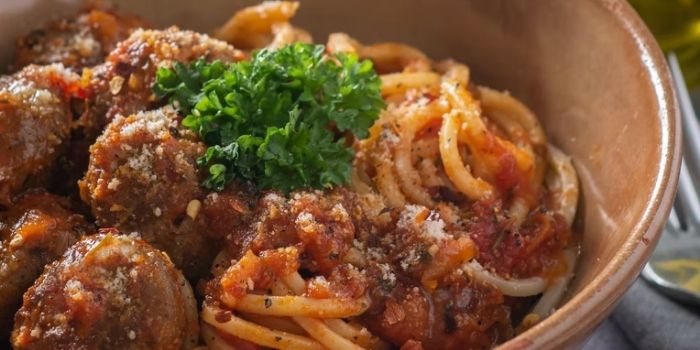 Need to know how to cook frozen meatballs quickly? One of the best ways is to put them into an oven for 20minutes at 350F or cook them on a pan for about 25 minutes in total. Read the post for more details!
You've got meatballs on the menu for tonight, but you've forgotten to take them out of the freezer before leaving for work and now there's no chance they will defrost on time.
But what if you could cook them from frozen?
How to Cook Frozen Meatballs?
Meatballs can be cooked from frozen – whether you're baking, slow-cooking, or frying your meatballs, but they will take twice the time to cook through.
Want to know more frozen meatball cooking secrets? – Keep reading!
How to Cook Frozen Meatballs in the Air Fryer?
Cooking meatballs in the air fryer takes just minutes and completely transforms the family favorite.
Instead of the traditional soft, saucy cooked meatballs we're used to, the air fryer creates a uniquely cooked meatball with a crispy shell and a moist, soft center.
The quick and easy snack is perfect for serving with your favorite dips – like BBQ sauce and ranch – and takes just minutes to make.
Whether you're serving a last-minute appetizer for unexpected guests, a quick snack for game night, or family favorite pasta to please even the fussiest of children air fryer-cooked meatballs are here to help.
Store-bought frozen meatballs are a family-friendly freezer essential – that everyone should always keep on hand.
From freezer to plate in under five minutes, these air fryer meatballs are going to be your new family favorite.
The following recipe is for small frozen meatballs – so you'll have to adjust the cooking size based on the size you have at home.
Instructions:
Preheat your air fryer to 400F or 200C.
Place your meatballs in the air fryer in small batches of 18 – 20 (don't crowd the air fryer, smaller fryers will need smaller batches).
Fry your meatballs for 4 to 5 minutes, turn them and fry them for a further 4 to 5 minutes or until golden brown.
Serve your meatballs – they can be added to a traditional sauce and served with cooked pasta, or served with a range of dipping sauces for something different.
You could try the recipe with thawed or fresh meatballs but the cooking time would be significantly less – so adjust accordingly!
How to Cook Frozen Meatballs in a Crockpot?
Like the air fryer, the crockpot is another time-saving family favorite that produces delicious meals time after time with very little effort.
Simply choose your favorite sauce – whether it's marinara sauce, teriyaki, Mexican, or BBQ – throw a whole jar into the crockpot with the frozen meatballs and put the lid on.
Set your crockpot to low over six hours for best results, but four hours on high would also work. Serve with your favorite pasta or with salad and cheese in a sub.
Top tip for making the ground beef meatball sub:
Place the frozen cooked meatballs in the sauce on the bottom half of the sub, on a baking sheet – top with cheddar and grill until cheese is melted.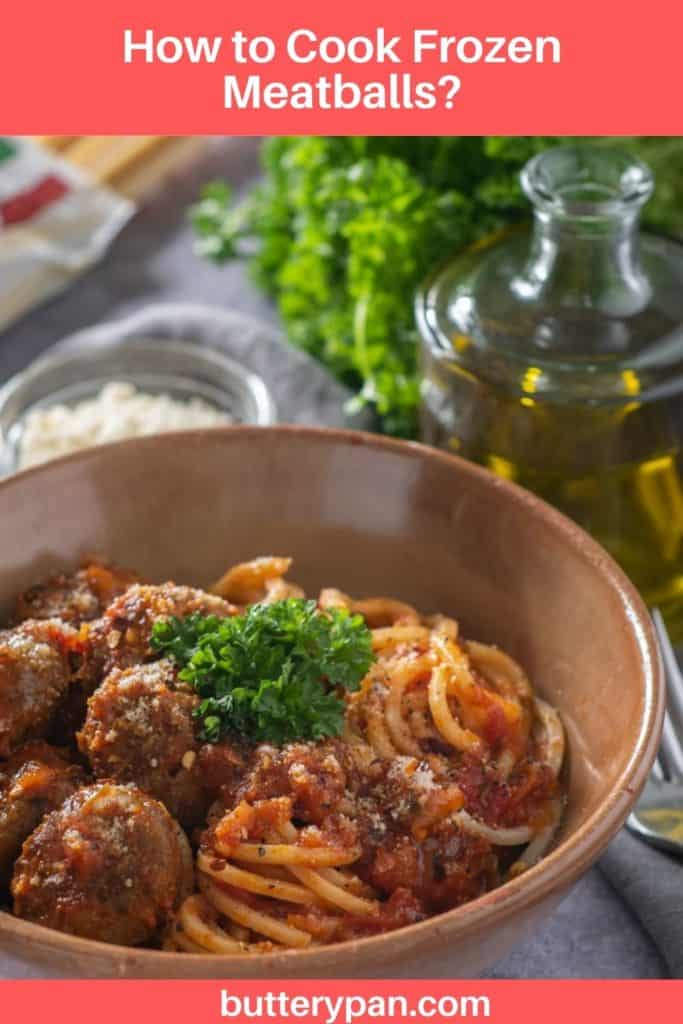 How to Cook Frozen Meatballs in an Instant Pot
In a rush? Instant pot frozen meatballs are ready in just minutes.
Simply add the sauce – such as a tomato sauce or spaghetti sauce – and any other ingredients to the instant pot, add the frozen meatballs, and set to pressure cook for five minutes.
Once cooked, quickly release the lid and serve your instant pot frozen meatballs however you wish!
How to Cook Frozen Meatballs in a Crockpot without Sauce?
It isn't recommended to cook meatballs in the crockpot without any liquid – a crockpot needs moisture to slow cook without burning the food.
That said, if you want to cook plain frozen meatballs in your crockpot it is possible without sauce!
Simply add 1/2 a cup of water or chicken stock to your slow cooker, add the frozen meatballs and cook on low for four to six hours!
How to Cook Frozen Meatballs in the Microwave?
You can cook frozen meatballs in the microwave. Simply add a single layer of meatballs to a dish, add a tablespoon of water and loosely cover with plastic wrap.
Cook the meatballs for two minutes on high, stir the meatballs, and repeat the process until cooked through.
Whilst it works, it's not the best way to enjoy frozen meatballs.
How to Cook Frozen Meatballs in a Ninja Foodi?
If you have a Ninja Foodi there are a couple of ways you can enjoy frozen meatballs at home.
Choose from pressure cooking, slow cooking, and air frying.
Pressure Cooking/Instant Pot
Pressure cooking/Instant Pot should take around 5 minutes, cooking the instant pot frozen meatballs in a sauce.
Slow Cooking
Slow cooking will take between four and six hours, and will also cook the meatballs in a sauce.
Air Frying
Air frying shouldn't take longer than 10 minutes and is done without a sauce, creating a crispier meatball than the other Ninja Foodi Methods.
How to Cook Frozen Meatballs without Sauce?
If you love meatballs but hate sauce and gravy, sauce-less meatballs can be enjoyed in plenty of different ways.
If you don't have an air fryer or Ninja Foodi at home – fear not, sauce-frozen meatballs are still a walk in the park.
Heat your oven to 300F and place your frozen meatballs in a single layer on a baking sheet or in an oven-proof dish.
Cover your meatballs in foil to keep them moist and cook until heated through.
If you want a crispy meatball, remove the foil and cook them for a further five minutes – or throw them under the grill till crispy on top.
How to Cook Frozen Meatballs In a Slow Cooker?
A slow cooker is the same as a crockpot – check out our crockpot frozen fully cooked meatballs directions above.
How to Cook Frozen Meatballs Fast?
The fastest way to cook ground beef meatballs is instant pot frozen meatballs – they take only 5 minutes with the sauce included.
Check out our recipe under "How to Cook Frozen Meatballs in an Instant Pot".
What is the Best Way to Cook Frozen Meatballs?
The best way to cook frozen meatballs depends on you and your family's preference.
If you like them crunchy with some ranch, spicy or BBQ sauce go for the air fryer or oven bake.
Prefer them slow-cooked in a rich, meaty sauce? – Stick with the crockpot.
If you're in a rush and need a quick meal, go for the instant pot choice.
How Long do you Cook Frozen Meatballs?
Meatballs take anywhere between 5 minutes and six hours to cook from frozen.
How do you Cook Frozen Meatballs on the Stove?
Shallow fry them on low heat until browned, add the sauce of your choice, and slow cook until the meatballs are cooked through.
Do you have to Thaw Frozen Meatballs Before Cooking?
No! It's quick. easy and often effortless to cook meatballs from frozen and you would never tell the difference unless we told you!
Summary
Now you know how to cook frozen meatballs! You can put them just in the oven at 350F for 20 minutes or use a pan or an air fryer! Read the tips above for more info!