How To Cook Frozen Roast Beef?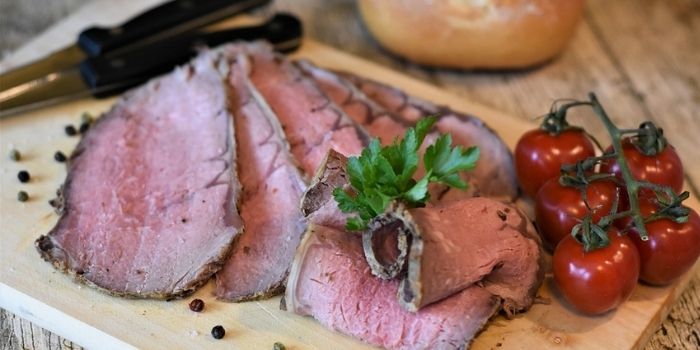 How to cook frozen roast beef? Preheat the air fryer to 375 ° F, add the frozen roast beef together with the broth, and set the timer 20 minutes – all done.
Now, if you'd like to know about everything else that goes down when cooking frozen roast beef, check out the article below. Trust me, once you reach the Summary, you'll wonder how you ever cooked without knowing all of this.
How To Cook Frozen Roast Beef?
Even though I mentioned the air fryer, this may be a bit of a cheat when it comes to cooking – anything and everything can be cooked in it in mere minutes. However, if you'd like to step out of the fast-paced culinary lifestyle, I'd recommend reading this article. It truly has everything you never knew about every possible way of cooking frozen roast beef.
Here is a great video guide on how to cook your usual roast beef, you will just need to increase the cooking time OR get yourself a cooking thermometer and set it to 115F. Press the needle in the middle of the roast and put the time on the side of the oven! When the internal temp reaches 115F – it is done!
Can You Cook Frozen Roast Beef?
You absolutely can. However, here we come to a crossroads where you have a choice of to thaw or not to thaw.
On the one hand, if you choose to thaw the meat beforehand, you're looking at up to an additional 7 hours in the fridge. While small and thin pot roasts take between 3 to 5 hours to thaw, larger and more compact ones take between 4 and 7 hours in the fridge.
Luckily, thawing isn't the only choice, and if you opt for cooking meat straight out of the freezer, then this is the article for you! Here you'll learn about all the different ways to make frozen roast beef – from a classic oven bake to an instant pot and air fryer!
Just remember – whichever path you take, the roast beef will turn out delicious.
How To Cook Frozen Roast Beef In Instant Pot?
An instant pot should be among your culinary best friends. If for no other reason, then because it allows you to make frozen roast beef without thawing it beforehand.
First, place the trivet with the frozen roast beef inside the instant pot.
Pour broth over the roast as well as some onions and seasoning of choice – of course, consider salt, black pepper, and garlic powder a must in this case.
Set the cooker to high pressure, seal the lid and close the valve – the roast beef should cook for 90 minutes.
If you're planning on slicing the meat, make sure to let it rest for 10 to 15 minutes after taking it out.
After that, serve the beef roast with a side of mushroom soup or baby carrots and enjoy!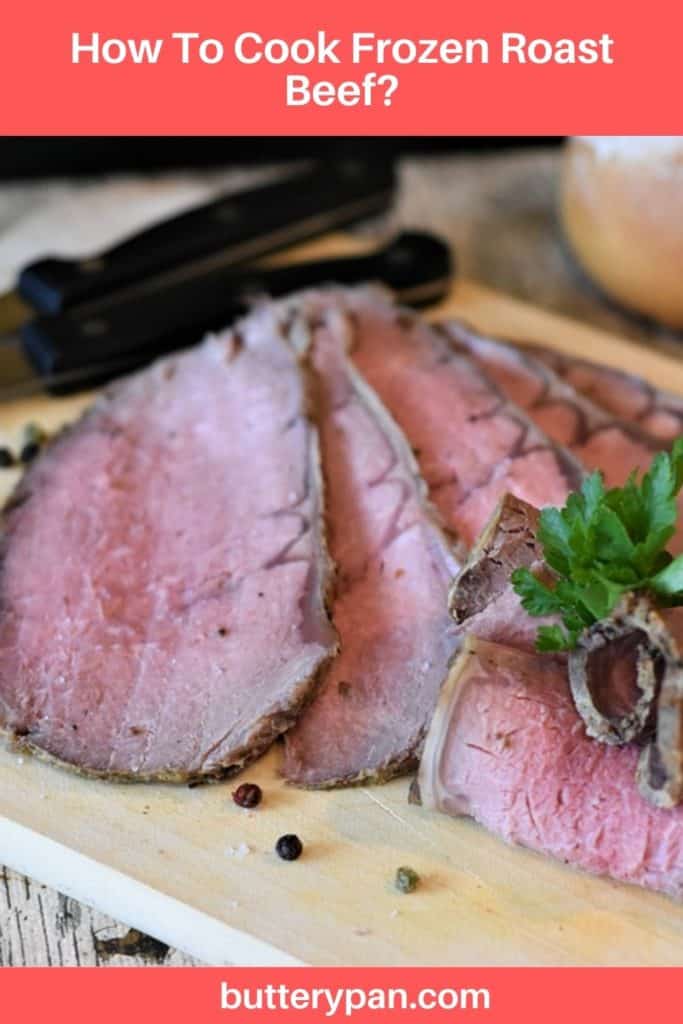 How To Cook Frozen Roast Beef In A Slow Cooker?
Another valued companion in the kitchen – is the slow cooker. Just like the instant pot, it will let you cook frozen meat without defrosting. The only difference between the two is the cooking time. Thus, let's get right to it – frozen roast beef in a slow cooker!
Place the frozen roast into the slow cooker and cover it with chicken stock.
Pour a bowl of seasoning over the frozen meat – again, the combination is up to you.
Close the lid and set it to high – the cooking time is 6 hours in total.
Once out, the meat should be fork-tender, meaning the only logical side is a bowl of mashed potatoes!
How To Cook Frozen Roast Beef In Air Fryer?
I'm not seriously telling you to put frozen meat in an air fryer? Well, I kinda am, but hear me out – air fryers were made for this! A couple of minutes in, and you'll have deliciously tender roast beef in front of you.
If you don't believe me, follow these simple steps below!
Gently brush olive oil over the roast beef while seasoning it with salt and pepper.
Preheat the air fryer to 360 degrees F.
Set the frozen roast beef into the preheated air fryer and seal the lid close.
Set the cooking time for 18 minutes.
Once done, let it rest for 5 minutes before slicing into it!
Another small tip – although this recipe talks about roast beef, a slice of substitute meat may turn out great as well. Thus, don't be afraid to try this recipe and cook time out with some lamb roasts!
How To Cook Frozen Roast Beef In Crock Pot?
Remember a while back when I talked about all the advantages of a slow cooker? Well, since a crockpot is essentially the same thing, the same benefits apply to it.
For one, it allows you to slow cook frozen meats right out of the freezer. Once you place them in and the slow cooking starts, all you have to do is sit back and relax. The roast beef will be yours for the taking in just a little over 6 hours.
Until then, start thinking about a delicious side dish to go with it!
Best Way To Cook Frozen Roast Beef?
Up till now, we've covered several cooking methods – the air fryer, slow cooker, and instant pot. However, I've still to tell you my favorite (old-school) way of preparing frozen roast beef – baking it!
That's right. It's time to get back to the basics, so dust off your baking dish.
Preheat the oven to 375° F.
Place the frozen roast onto a roasting pan – preferably one with a lid.
Sprinkle a soup mix over the roast along with your preferred seasoning.
Next, you'll want to add in onion segments and a mushroom soup mix.
Cover the roasting pan with a lid and place it into the oven – you're cooking time is 4 hours at 375° F.
During the last 30 minutes of cooking, add baby carrots and diced tomatoes into the pot – side dish done!
In the end, make sure to enjoy the pot roast!
How Long Should I Cook A Frozen Beef Roast In The Oven?
Ideally, a frozen beef roast should cook for 4 hours in an oven preheated to 375° F. However, this isn't the whole story. To make sure your meat is properly cooked, be it in an oven or elsewhere – always use a meat thermometer. In the case of roast beef, the internal temperature should be either 145° F or above – anything below is considered undercooked and may be dangerous to eat!
In addition to the internal temperature, another thing to consider is the amount of meat you're working with – a kilogram won't cook as long as 500 grams. Don't worry, we've got that one covered as well. Once you check out the simple rule for beef roast cooking time, you're all set to start roasting!
How Long To Cook 1kg Of Frozen Roast Beef?
It's time for some math – don't worry, it'll be simple, I promise.
Half a kilogram (500g) of roast beef will cook for 20 minutes to medium-rare. It will cook 25 to medium. Based on that, if you're working with 1kg of roast beef, you're looking at a cooking time of 40 minutes for a medium-rare roast or 50 minutes for a medium one.
The numbers keep going up from there.
How To Cook A Frozen Eye Round Roast Beef?
To make it as tender and as flavorful as possible, follow this step-by-step recipe.
Preheat the oven to 250 degrees F.
Place the frozen eye round roast beef in a baking dish along with some veggies, seasoning, 2 cups of water, and a can of beef stock.
Cover the baking dish and place it into a preheated oven to cook for 4 hours – a steady cook is a tender cook, after all!
What Temperature To Cook Frozen Roast Beef?
It depends – what did you have in mind? Were you thinking of a pot roast? A nice slow cook in the crockpot or a fast and easy dinner in an air fryer? In the same way that all these recipes differ, their cooking times differ as well.
Thus, a frozen roast will take six hours in the crockpot and only 18 minutes in the air fryer. On the other hand, it will take 4 hours in the oven. However, I'm choosing not to give you more cheat sheets than this – for all detailed cooking times, check out the recipes above!
How To Cook A Roast When Frozen?
As you may have noticed, a roast doesn't have to be thawed to be cooked – it can be cooked straight out of the freezer. Not in just one may but several different ones.
Thus, if you're in a hurry, you might opt for an easy 20-minute air fry. Conversely, if you like to plan ahead like me, then a 4-hours frozen pot roast recipe is your best friend. However, I'm not a big fan of repeating myself, so to find out all the ways you can cook a roast from frozen, scroll back up the article!
Can You Cook Roast Beef Without Thawing?
If you've paid even a bit of attention to this article, you already know the answer to this question. Frozen meat and with that frozen roast beef can be cooked without thawing.
Thanks to the wonders of culinary technology, all you need to do is decide on a cooking method, take your meat out of the freezer and follow the instruction provided in this article! After that, all that's left to do is enjoy!
Summary
It's been a long article, but we've reached the end, meaning you now know how to cook frozen roast beef. All you need to do is preheat the air fryer or oven to 375 ° F, add the frozen roast beef slices together with the broth, set the timer 20 minutes – and poof! You have one steaming and delicious roast beef in front of you!
If you are actually cooking a whole chunk of meat, see the video guide in the header of this post!