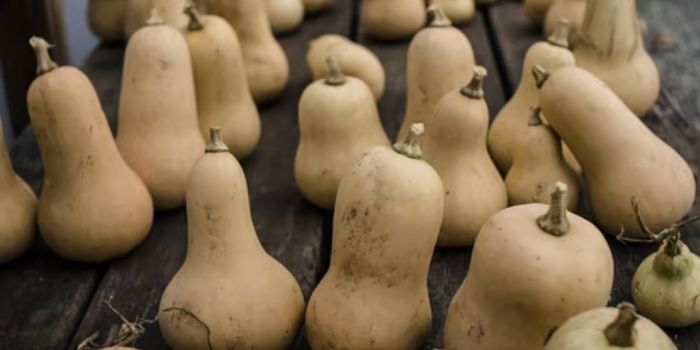 How to cook gourd? Preheat the oven to 450 degrees F. Cut the gourd lengthwise into two halves, remove the seeds, and season the remaining gourd "meat" with salt and olive oil. Line the baking sheet with aluminum foil, spray with a nonstick cooking spray, and place gourd halves on it. Cook for 30 to 40 minutes.
How To Cook Gourd?
Preheat the oven to 450 degrees F.
Line that baking sheet with aluminum foil and spray with nonstick cooking spray.
Cut the gourd into two halves lengthwise and remove the seeds.
Drizzle each gourd half with olive oil and season with salt and pepper.
Place them onto the baking sheet and cook for 30-40 minutes.
Let it cool, then chop, and serve it in a salad, or as a side dish with meat, or other vegetables like carrots and broccoli.
How To Cook Gourd Squash?
You can make spaghetti squash from the cooked gourd.
Cook the gourd halves like in the previous paragraph in the oven at 450 degrees F for 30-40 minutes.
After you allow them to cool a little bit with a cut-side facing upwards, take a fork and run it through the flesh.
This way, you will separate spaghetti-like noodles that you can use in the dishes instead of real pasta.
How To Cook Gourd Seeds?
When you cook gourds, you discard the seeds. But, just like the pumpkin seeds, gourd seeds can be cooked and eaten.
Preheat the oven to 275 degrees F.
After you remove the seeds from the gourd, rinse them well with water to remove strings and pieces of gourd.
Pat dry the seeds and place them in a bowl. Season them with salt and olive oil.
Spread the seeds onto the baking tray lined with aluminum foil.
Bake for 15 minutes.
Let them cool before eating.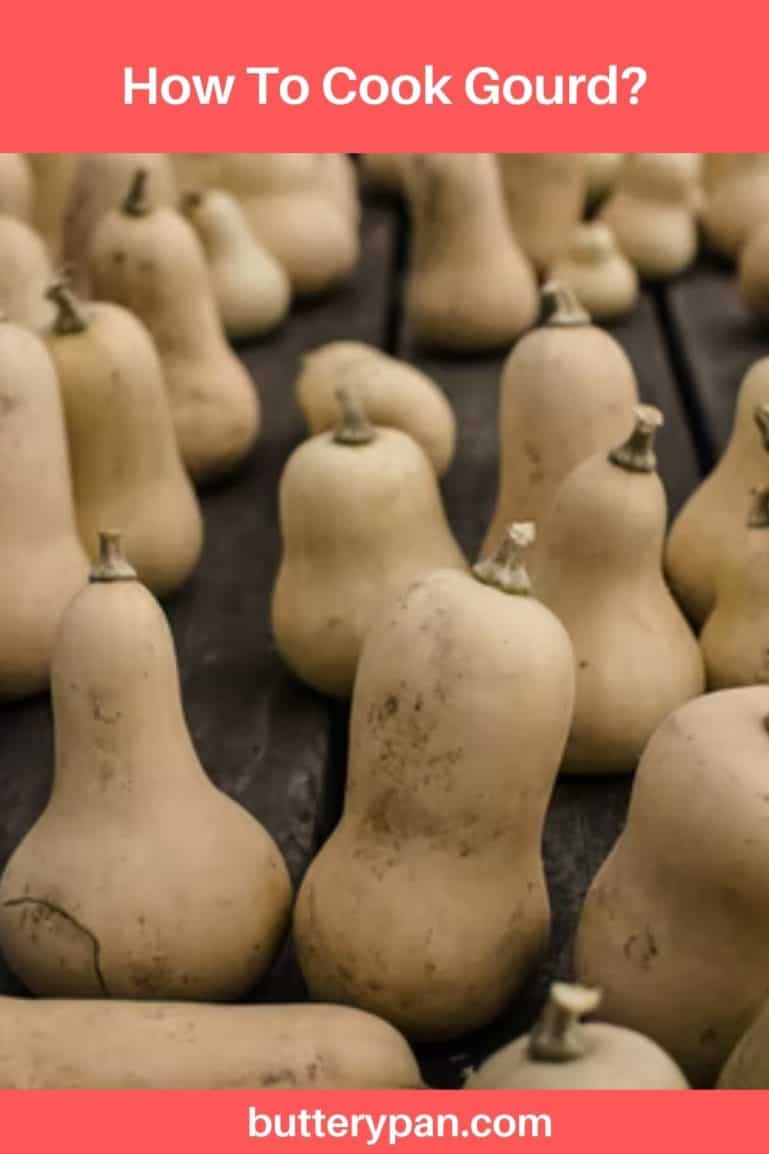 How To Cook Gourd Curry?
If you want to know how to cook gourd Indian style, follow this recipe:
Wash the gourd, and peel it.
Cut it into bite-sized pieces.
Preheat a large pan with a little oil.
Add 1/2 tsp of cumin, 1/4 tsp mustard, 1 tsp chana dal, and 1 tsp urad dal.
Fry until the dals become golden.
Add one sprig of curry leaves and two chopped green chilies.
Fry until the leaves become crispy.
Add gourd, salt to taste, and 1/8 tsp turmeric.
Fry for 3-5 minutes, add coconut milk, and let it cool.
Serve with fried rice.
How To Cook Bitter Gourd?
Cut the bitter gourd into half lengthwise.
Remove the seeds with a spoon.
Slice thinly into long slices and place them into the bowl.
Season with salt and leave aside for 15 minutes.
After 15 minutes, drain the salted slices for their juices.
Whisk two eggs lightly in a separate bowl.
Add soy sauce, Chinese wine, sesame oil, and ground pepper to the beaten eggs.
Dissolve the chicken stock cube in hot water.
Preheat the frying pan over medium heat and add vegetable oil.
When the oil gets hot, fry two chopped garlic cloves for 10-15 seconds.
Add the gourd slices and fry for 2 minutes until they start turning limp.
Add the dissolved chicken stock and 1 tsp of sugar to the frying pan and stir everything well.
Add the eggs and stir fry them until they are scrambled and still lightly wet.
Remove from the heat and transfer to the serving dish.
How To Cook Bottle Gourd?
Wash the bottle gourds and cut off their necks.
Peel the skin and remove the seeds and spongy parts.
Cut the remaining flesh into long slices or bite-sized pieces.
Season with salt and pepper.
Heat the oiled frying pan and fry the gourd slices for 8-10 minutes or until they become soft.
Serve cooked bottle gourd slices with scrambled eggs.
Can U Cook Gourd?
Unlike squashes (winter squash, acorn squash, butternut squash, and summer squash), gourds have harder skins and less "meat". Their taste is more bitter than the squash taste. However, the edible gourd can be cooked in a similar way you would cook squash plants.
Is It Safe To Eat Gourds?
Most gourds are edible. They just need to be washed and cooked properly. However, there are some inedible gourds like the apple gourd. Also, you should avoid eating immature gourds. Gourd poisoning is rare, but it can happen. Also, gourd dust can cause harmful mold that could lead to poisoning when you breathe it in.
What Do You Do With Gourds?
Apart from cooking and eating them, you can use decorative gourds to decorate your home or garden. You can make hanging baskets or bird feeders from them, or just display them as a nice rustical decoration.
However, to make your gourd decorations last for years, you need to first dry the fresh gourds in a warm, dry, and well-ventilated room.
How Do You Make Edible Gourds?
Gourds are edible when they are fresh and not fully matured yet. They will usually be white in color. Dried gourds and gourds that started changing color from white to green should not be eaten. When you choose a gourd that is still edible, you can cook it in several different ways, previously described in this article.
Summary
Now you know how to cook gourd. The easiest way to do it is to preheat the oven to 450 degrees F. Slice the gourd lengthwise into two halves and remove the seeds. Season with salt and olive oil. Place the gourd halves onto the aluminum foil-lined baking sheet. Place it into the oven and bake for 30-40 minutes.