How To Cook A Petite Sirloin Steak On The Stove?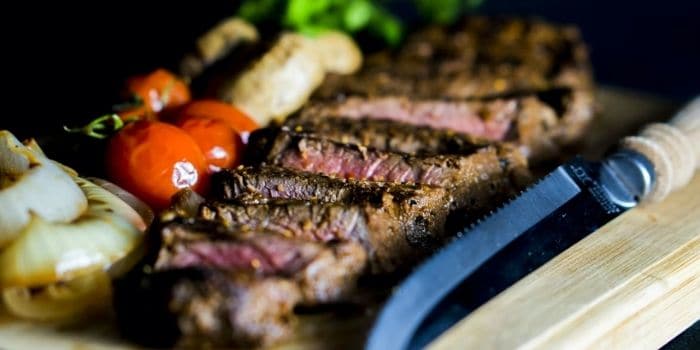 How to cook a petite sirloin steak on the stove? Pan sear it in hot oil for 4 minutes per side and then coat with melted garlic butter and rosemary until it reaches the desired doneness.
In all honesty, I left some parts out of that recipe, but it caught your attention, didn't it? If you want to figure out just what details slipped my mind this time, scroll down below to one of my top-notch stovetop sirloin steak recipes!
How To Cook A Petite Sirloin Steak On The Stove?
Now, I'm not going to give you any recipes yet – I first need to know that you're committed to this article. However, I'm not going to leave you empty-handed either. Rather I'm going to focus your attention on one of the most important parts of cooking sirloin steak – the browning.
The trick of the golden-brown crust – unbelievably hot oil. If you were expecting something more complex, I'm sorry to disappoint. Nevertheless, the secret to a perfect pan sear is truly the temperature.
Once the steaks hit the skillet, the oil should be as hot as possible – this way, the crust starts forming instantly, and the cut loses a minimal amount of tenderness.
Now that you know what to keep an eye on, onto the recipes!
Is Petite Sirloin A Good Steak?
A great steak*, not a good steak, and here's why.
This particular cut of meat comes from the top sirloin making it both lean and juicy – a rare combination in the steak world. In addition to its flavor, a petite sirloin steak is generally less expensive than a larger filet mignon. Being smaller, it also logically cooks quicker.
In sum, it's lean, juicy, affordable, and quick to make, so like I said – a great steak!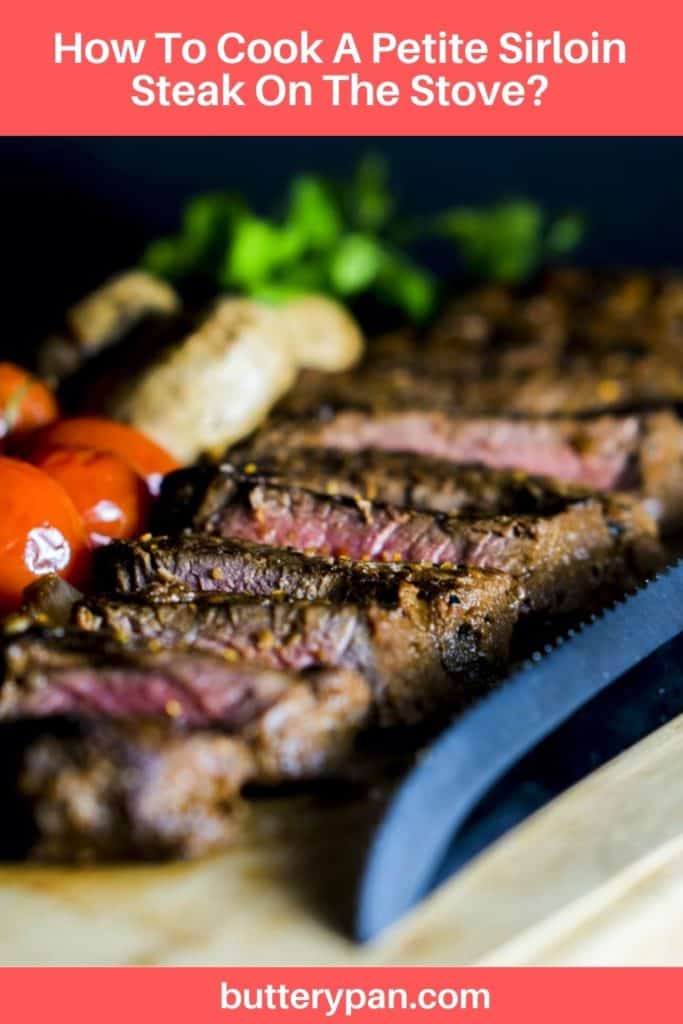 How To Cook A Petite Steak?
If you've ever tried Googling this question, you probably already know the answer. Still, if you're still debating on how to best cook sirloin steak, placing it on the stovetop is the right way to go – and although stovetop recipes may appear similar at first, the devil is in the details.
Lucky for you, I've made sure to write down all the best ones, and once you nail those down, a pan-seared sirloin steak will become a must on your weekly culinary agenda!
How To Cook A Small Sirloin Steak On The Stove?
I'm not going to lie – cooking small sirloin steak is no walk in the park. It's going to require precision, patience, and a great recipe. While the first two are up to you, one amazing pan-seared steak recipe is just down below!
Take the steaks out of the refrigerator 30-60 minutes before cooking – the necessary time for them to warm up to room temperature.
Preheat a large cast-iron skillet on high heat for 5-7 minutes.
While the skillet is heating, pat the steaks dry with paper towels and rub both sides with olive oil and salt and pepper mix.
First, add one tablespoon of olive oil into the hot skillet, followed by the steaks.
Sear steaks for 2 minutes per side without moving them too much.
Reduce the heat to medium-high and add garlic, butter, and your go-to herb selection into the skillet – keep flipping the steak and coating it with the garlic-butter-herb mixture.
Use an instant-read thermometer to check the steaks' internal temperature – if it's 140 degrees F or above, you're good to go!
Once it's off the stove, let it rest for 5 minutes, covered with aluminum foil. After that, slice it crosswise against the grain and enjoy!
How To Cook Beef Petite Sirloin Steak On The Stove?
I'll admit, that wasn't the easiest recipe out there, but nothing worthwhile comes easy. However, to make sure your pan-seared sirloin steak does come out worthwhile, I'm giving you another albeit similar recipe to perfect your culinary skills!
Before cooking steak, you'll have to do a little leg work – this means patting it dry with paper towels and seasoning with salt and freshly ground black pepper. Once seasoned, the steak should rest between 30 minutes and an hour.
Warm a tablespoon of butter and extra virgin olive oil in a skillet over high heat.
When the butter foam subsides, add the steak and sear for 2 minutes per side. Don't hesitate to press the steak into the pan. Press until the fat is rendered.
If you're looking for a perfect medium-rare steak, cook for another 2 and a half minutes per side – the internal temperature of a medium-rare is between 125 and 130 degrees F. For anything over medium-rare, cook a few minutes more while checking the temperature.
Once the steaks reach the desired doneness, place them on a cutting board, cover them in aluminum foil, and let them rest for 5-20 minutes – just enough time to make a quick and healthy side!
How To Cook A Petite Sirloin Steak In The Oven?
You'll probably find sirloin stovetop recipes everywhere you look. One Google search, and you've got hundreds of them right at your fingertips. So, in the spirit of going against the current, I've nailed down a delicious oven recipe for sirloin steaks!
Fair warning – this is not a five-minute easy bake recipe.
Marinate the steak for 3-8 hours before cooking – told you it wasn't a quick one-pot sort of thing.
About 30 minutes before cooking, take the steak out of the refrigerator and let it reach room temperature.
Preheat the oven to 400 degrees F and a cast-iron pan over medium-high heat on the stove – okay, so this is a partial stovetop recipe after all!
Just before the oven is heated, place the steaks onto the hot pan and sear for 2 minutes per side – this gets you that perfect brown coating everyone's always talking about!
Transfer the skillet into the oven and bake for 2-6 minutes, depending on the desired doneness.
Once it's out of the oven, let it rest on a cutting board for 5 minutes before slicing in.
How To Cook Small Filet On The Stove?
If you spend half as much time as me watching cooking shows, you've probably heard of the filet mignon. It seems like a must in every cooking competition around the world. However, contrary to what cooking competitions will have you believe, pan-searing a filet mignon is not all that difficult. To prove it, I've laid out a step-by-step recipe right here.
Take the filet out of the fridge 30 minutes before cooking and sprinkle each side with salt and pepper – any additional herbal mix you may use is also welcome!
Heat a tablespoon of olive oil and butter in a cast-iron pan over high heat.
Once hot, add the filet mignon cook for 5-7 minutes per side.
Let them rest for 5 minutes before cutting in!
I promised it would be simple, didn't I?
How To Cook A Tender Petite Sirloin Steak?
A tender steak is the result of exactly two things – the right cooking time and a nice buttery coat. Lucky for you, this recipe has them both, so let's try it out!
Pat the steak dry with paper towels and season both sides with salt and pepper generously.
Heat 1 tablespoon of olive oil in a cast-iron pan over medium-high heat.
Place the steaks into the hot oil and seat for 4 minutes per side – don't hesitate to turn it on its side so that the fat has a chance to render as well.
Reduce the heat to medium and add 2 tablespoons of butter, a dash of rosemary sprigs, and garlic cloves – spoon this sauce over the steaks while checking the internal temperature for the desired doneness.
Once the steaks cook through, make sure to let them rest for 5-10 minutes before slicing in.
All that's left afterward is to enjoy and marvel at your culinary skills!
How Do You Make Petite Sirloin Tender?
To make petite sirloin tender, you'll need to pat it dry, cook it through, and coat it generously in butter.
If the instructions above appear simplified, it's because they are. This is just a summary of every recipe above. For a more detailed explanation, check out one of the many recipes on how to cook steaks above!
What's The Best Way To Cook Petite Sirloin Steak?
I feel like we've covered some great steak recipes up till now – top-tier pan searing as well as oven baking. However, we're still missing one crucial piece to cook sirloin steaks to perfection. Lucky for you, I know just what it is – homemade garlic butter!
Whenever an ingredient is homemade, it makes all the difference to the flavor profile of a dish – garlic butter and sirloin steak are no different. Thus, I'm going to show you a simple and quick way to make garlic butter.
The best part? You can apply it to all the recipes above!
Using a small microwave-safe bowl, melt 2 tablespoons of unsalted butter in the microwave for 20-30 seconds.
Add finely chopped garlic and parsley flakes.
Use it to coat the steaks cooking in the pan!
How Long Do You Cook A Sirloin Steak On Each Side?
Ideally, each side should first be pan-seared for 4 minutes and then an additional 3 while you coat the steak in butter. However, the cooking time is going to depend on the way you like your steak. Thus, a medium-rare is going to take less than a well-done sirloin.
As stovetops tend to differ, I can't give you the exact cooking times for each degree of doneness. However, I can give you the next best thing – a cheat sheet!
To help the newcomers out there, here are the temperatures to look out for when cooking sirloin steak – 120 degrees F for rare, 130 for medium-rare, 140 for medium, 150 for medium-well, and 160 degrees F for well done.
Keep your meat thermometer close, and you'll have no trouble with this one!
Best Way To Cook Sirloin Steak On Stove?
Although I could be biased and tell you that every steak needs to be nicely buttered and seasoned, I'm not letting you take the easy way with this question.
There are at least a hundred different ways to cook top sirloin steaks, and this article has some of the very best ones. However, the truth is that you may not prefer every one of them. To figure out what works best for you in your kitchen, you'll need to pick a recipe and try it out.
If it doesn't work out, don't sweat it – there's a lot more where that came from!
How Does Gordon Ramsey Cook Petite Sirloin Steak?
Even though you may think the trick is in some top-secret ingredient, it's really not. Gordon Ramsey's petite sirloin comes out delicious because of one thing – technique, and to get that one down, you will need the practice.
Don't stress, with all the recipes above, you'll get in the necessary practice and then some. Just remember Gordon's ultimate advice – never flip the steak more than once. It does nothing but drains the flavor and juices!
Summary
Since I'm out of recipes, this would mean that you've learned how to cook a petite sirloin steak on the stove! Pan sear it in hot oil for 4 minutes per side and then coat with melted garlic butter and rosemary until it reaches the desired doneness.
This time around, the above instructions are enough – you've got the details nailed down!