How to Cook Frozen Potstickers?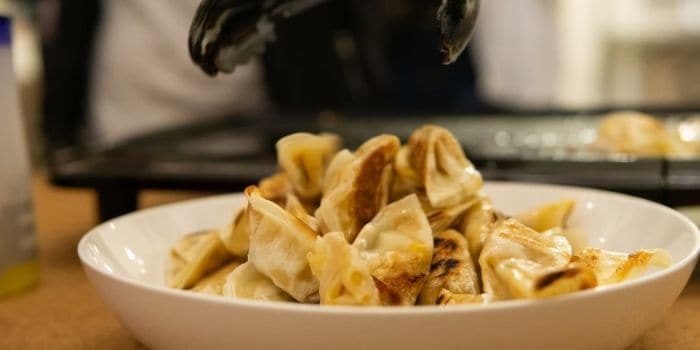 Here is how to cook frozen potstickers. The answer is to saute them. In a large pan over medium heat, add vegetable oil and add potstickers once oil is hot. Cook for two minutes and add 1/2 a cup of stock or broth to your pan. Turn the heat to low, cover the pan and cook for a further two minutes.
Want to discover other ways to cook these family favorites? Keep reading!
How to Cook Frozen Potstickers in a Pan?
Traditionally, potstickers are cooked in a pan on the stovetop. Many people argue that pan-fried potstickers are the best way to cook frozen dumplings.
To cook frozen dumplings in a pan:
Preheat 2 tablespoons of vegetable oil in a pan or wok on medium heat until the oil is hot (approx 1 minute)
Place frozen potstickers in the hot oil (be cautious – the oil might splash and splutter) and cook for 4 minutes or until the skins turn lightly brown.
Reduce heat to medium for a further 4-5 minutes or until golden brown on another side.
Serve immediately with the sauces of your choice.
How to Cook Frozen Potstickers in Air Fryer?
Air fryer-cooked potstickers are very different in taste and texture from the frozen dumpling cooked the traditional way. If you want to try a new way to enjoy the frozen dumplings, air fryer potstickers are quick and easy.
Preheat your air fryer to 400F.
Spray the air fryer with cooking spray or oil.
Place a single layer of frozen dumplings in the fryer basket.
Spray the tops of the potstickers with cooking spray or oil.
Cook for eight minutes.
Serve with a dipping sauce of your choice.
Air fried potstickers are a great alternative snack – perfect for an appetizer, as part of a meal, or for a snack when the kids get home from school.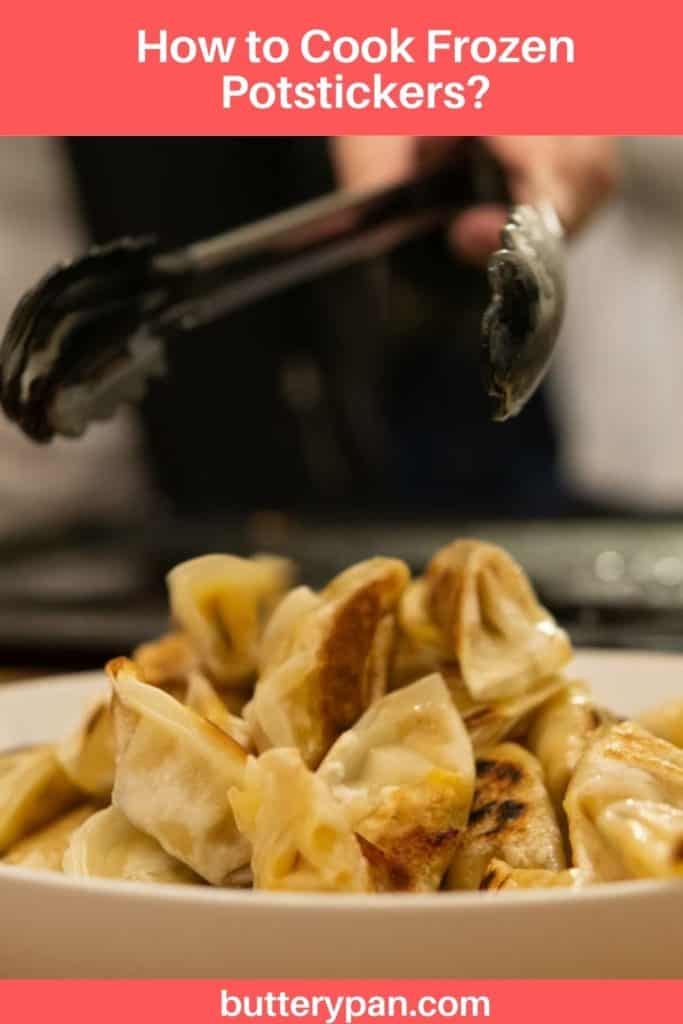 How to Cook Frozen Potstickers in the Oven?
If you're looking for a fuss-free and no mess dinner solution, oven-cooked potstickers are a great solution. These frozen dumplings can be thrown in the oven and left to cook while you focus on the rest of the meal.
To cook your potstickers in the oven, follow these tips:
Preheat your oven to 400F.
Place frozen dumplings on a lined baking sheet.
Cook for 5-6 minutes.
Rotate frozen dumplings.
Cook for further 5-6 minutes.
Serve with a dipping sauce of your choice.
Alternatively, heat your oven to 350F and cook them for between 15 and 20 minutes – remembering to turn them.
How to Cook Frozen Potstickers in the Microwave?
Anything you cook in the microwave should be ready in less than half the time than other methods. But this is probably one of the worst ways to cook food. Potstickers can be prepared in three minutes in the microwave.
Place frozen dumplings in the microwave-safe container.
Cover with plastic wrap or a microwave-friendly lid.
Pierce holes in the plastic wrap.
Cook on high for 3-4 minutes, or until hot.
Serve with dipping sauce.
If you prefer your potstickers to be crunchy, finish them off in a pan with some olive oil to create crispy dumplings.
How to Cook Frozen Potstickers in an Instant Pot?
An instant pot is another solution for busy families looking for a stress-free evening meal. In most cases, you just chuck everything in and leave it to cook – and potstickers are no different.
You can steam potstickers in just a few minutes in your instant pot. To cook your potstickers in the instant pot:
Place water in the inner pot of the instant pot.
Add frozen potstickers to the steamer basket.
Lower the steamer basket into the instant pot.
Close the lid and seal the vent.
Cook for three minutes on high pressure.
Quick-release the pressure.
How to Cook Frozen Potstickers without Sticking?
Potstickers – as the name suggests – easily stick to the pan. When the potstickers stick, they will break as you remove them from the pan and ruin the boiled dumplings.
To make sure this doesn't happen, do not cook them on high heat, or they will burn and use oil to cover even the frozen potstickers when frying them.
How to Cook Frozen Potstickers in Ninja Foodi?
A Ninja Foodi offers a range of cooking settings you can heat your frozen potstickers (precooked) with.
You can choose to:
Air fry
Broil
Saute
Slow Cook
Bake
One of the most popular ways to use the Ninja Foodi to cook your uncooked dumplings is to use the air fryer setting.
Place potstickers in the air fryer basket in a single layer.
Spray with plenty of cooking spray or oil (a flavored oil like sesame oil will transform the potstickers).
Air fry for 8 minutes on 380F.
What's the Best Way to Cook Frozen Potstickers?
The preferred way for most people to cook potstickers is to pan-fry them. This is how potstickers are traditionally served, and they are quick and easy to do – even from frozen.
Brown your dumplings in a pan with olive oil or cooking spray, then add the stock or broth of your choice to boil the dumplings a bit, and they've done!
How do you Cook Frozen Trader Joe's Potstickers?
Trader Joe's potstickers are a family favorite that many people have at home in the freezer.
To cook your Trader Joe's potstickers from frozen, simply place the dumplings into boiling water and cook them through for 15 minutes.
Once cooked, if you want to, brown them off in a pan or under the broiler with a bit of oil until crispy.
Serve immediately with your choice of dipping sauces.
How to Deep Fry Potstickers?
Deep-fried potstickers are an indulgent snack, great for parties, and they take minutes to prepare.
Heat oil in the deep fryer to 350F
Place potstickers in the oil and deep fry for two to three minutes
Serve while hot!
Summary
Now you know how to cook frozen potstickers. One simple way is to boil it for around 10-15 minutes and then give them a little color by panfrying them for 2 minutes on each side.