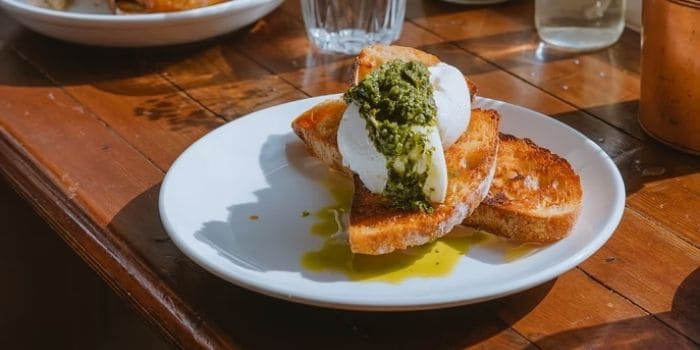 How to cook with pesto? Pesto is a delicious sauce, perfect for many different recipes. To make easy pesto pasta, simply transfer pasta from the large pot you cooked it into a bowl. Add pesto to your cooked pasta, top with parmesan cheese, and serve your filled with flavor pesto pasta!
Are you looking for other pesto recipes ideas for a delicious meal? Keep on reading and learn all you need to know about pesto!
How do you cook with pesto?
Pesto sauce is one of the most delicious dressings, and it can be used for many different recipes, including pesto pasta. Pesto is made with fresh basil leaves, toasted pine nuts, fresh garlic, olive oil, parmesan cheese, and pecorino cheese: these ingredients make pesto perfect for an easy pesto pasta and many other different recipes. To cook with pesto, you can either warm it up on the stove or use it straight from the jar for a summer pasta dish or appetizers.
How do you use pesto in a jar?
If you want to make a delicious pesto pasta recipe but you don't have enough time to make your pesto in a food processor, store-bought pesto can be the perfect solution for a delicious meal. You can use pesto in a jar to make a pesto pasta recipe, to dress vegetables, to garnish toasted bread or croutons, or for summer pasta salads along with diced cheese, cherry tomatoes, fresh basil, and a drizzle of olive oil!
How to cook pesto pasta?
Basil pesto pasta recipe is really easy to make, and it's such a rich in flavor dish. When you're in a rush, a jar of store-bought pesto is a real lifesaver and can be the ace up your sleeve for a five stars dish to enjoy with your whole family! Here are a few tips for making a delicious basil pesto pasta:
1. Cook pasta in a large pot: put the sea salt in the water when it's boiling, then add your favorite pasta to the boiling water. Perfect Italian-style pasta is cooked al dente, so check the package directions (also for nutrition facts)!
2. While the pasta is cooking, heat your basil pesto by placing some olive oil in a pan, then add salt and pepper to taste your basil pesto sauce, a garlic clove, and a ladle of pasta cooking water. It's important to add to pesto the starchy pasta water because it will help the pesto to get creamier and smoother
3. Once the pasta is done, place the drained pasta into a large bowl with the pesto sauce. Season the cooked pasta with pesto and top it with freshly grated parmesan cheese and a drizzle of extra oil. Garnish with some more basil, serve immediately and enjoy your pesto pasta dish. Buon appetito!
How do you cook pesto and chicken?
Pasta is a real crowd-pleaser, and there are so many recipes around that one could serve it every day and never get bored! The pesto pasta recipe I want to introduce you includes pesto, cherry tomatoes, and chicken breasts: here's how you make it!
1. Place a large pot on the stove and bring water to a boil. Salt to taste and add your favorite pasta
2. Heat a pan over medium-high heat, pour some olive oil, add the chicken breasts cut in chunks, and season with more salt and freshly ground pepper
3. Cook each side of the meat for 3-4 minutes and when it gets golden brown, add the garlic and fresh herbs( such as thyme, oregano, basil) and cook for another minute
4. Move the drained pasta into the pan with the chicken and coat it with pesto
5. Join the halved cherry tomatoes and gently mix the pasta, then add parmesan cheese to taste and serve your pesto pasta!
How to cook with pesto rosso?
Besides the very popular basil pesto recipe, there's also another pasta dressing that is very popular in Italy, especially in the southern regions, which is full of flavor: pesto rosso!
To make pesto rosso, "red pesto", the traditional recipe calls for dried cherry tomatoes, parmesan cheese, almonds, garlic, fresh basil, red pepper flakes, and olive oil.
This pesto sauce can be used in many different recipes, giving each dish a distinctive and rich taste. Use pesto rosso in your next pasta recipe, mixed with some pasta water to make it smoother, garnish croutons and sandwiches along with halved cherry tomatoes, red pepper flakes, toasted pine nuts, pepper, and a drizzle of olive oil, or to give a boost of flavor to your chicken or pork recipes.
Can pesto be cooked?
Although basil pesto can be eaten straight out from the jar or used to season your hot pasta without being cooked, I recommend you warm it up before mixing it with your pasta. There are different ways to do so:
1. Use your pasta water! The quickest and more effective way to warm pesto is simply placing your pesto sauce in a bowl and adding some pasta cooking water to it. With this method, not only will you heat the pesto sauce, but you will also make it smoother, thanks to the starchy pasta water.
2. To warm pesto on the stove, you can simply place some olive oil in a pan, add salt and pepper to taste, and pesto sauce. Heat it and stir it for a couple of minutes while your pasta is cooking, then move to a bowl and dress your pasta for a quick and delicious dish, adding some parmesan cheese!
Why is pesto so bad for you?
Basil pesto is a very popular dressing, and it's a delicious alternative to tomato sauce when it comes to seasoning pasta. However, if you don't have time to make your pesto with a food processor, you should consider limiting your consumption of store-bought pesto. Along with basil, toasted pine nuts, garlic, olive oil, grated parmesan cheese, pecorino cheese, and salt and pepper, factory-made pesto is not only a fatty and caloric product, but it is also rich in preservatives.
This is why pesto is a sauce you should eat in moderation and consider finding time to make pesto yourself at home!
Summary
Now you know how to cook with pesto. It can be as simple as making al dente pasta and adding pesto to it. Some more complex recipes are in this post!