Easy Pancake Recipe For One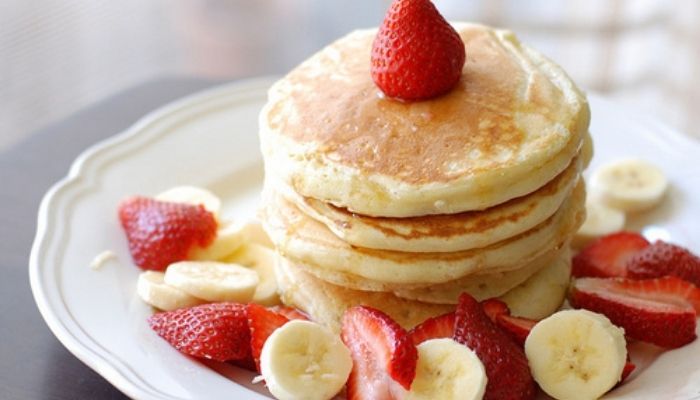 In this post we will go over an easy pancake recipe for one, so you do not have a ton of leftovers as it is always better to make your pancakes fresh!
If you are like me, you love pancakes. They are a perfect breakfast treat and they go very well with everything:
Maple syrup
Sour cream
Scrambled Eggs
The variety of their applications is fantastic! But in most recipes you have to cook a huge batch, so I decided to make this quick recipe when you are making pancakes just for one person!
Let's get to it!
We will need:
1 large egg
Butter
1/2 tablespoon of sugar
3/4 cup of milk
1 teaspoon of baking powder
1 cup of all-purpose flour
pinch of salt
Recipe:
Take a large bowl a mix together egg and milk (Optional: vanilla extract works great too, just do not overdo it.)
Into the same bowl, mix together baking powder, flour, sugar, and a pinch of salt. Whisk it together, if you do not have a whisker, work with your fork – until everything is nicely combined and has a creamy texture.
In your pan or a skillet melt the butter, wait for it to become translucent and a bit bubbly.
With a cup, ladle, or straight from your bowl lay the batter on the pan to the size of the desired package. You can make many small pancakes or 3-4 big ones – depends on your preference.
Let them cook (do not steer or move them) until bubbles start to appear on the surface – that means that the other side is golden brown. Carefully check with your spatula. Takes about 2-3 minutes.
If the sides are brown, with your spatula flip the pancakes to the other side and let them cook for roughly 1 minute.
Remove the pancakes on the plate, and repeat the process wit the remainder of the batter (if you have any).
Put the desired topings and that is it! Enjoy!