How To Cook Canned Asparagus?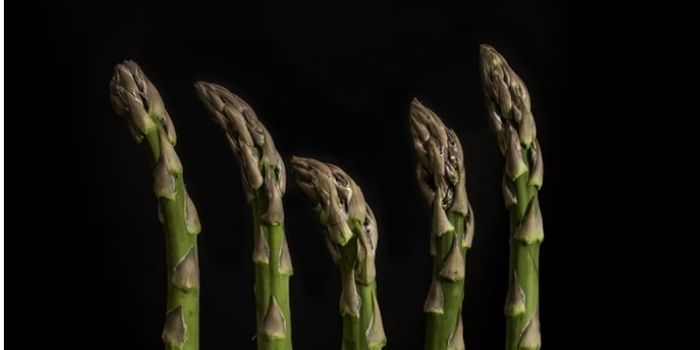 In this post, I will tell you how to cook canned asparagus so it is as tasty and healthy as if you were buying fresh right of the market!
Is canned asparagus as good as fresh asparagus?
We all know asparagus is one of the best options of vegetables out there. In terms of nutrition, canned asparagus is, for example, very low in Cholesterol. Also, some studies demonstrated that canned asparagus, when free of salt and sugars, has a nutritional value that is often the same as fresh asparagus. On top of that, canned asparagus is extremely rich in Vitamins A, C, E and K, as well as in Fiber, Iron, Phosphorus, Potassium, and Manganese. Frozen and canned vegetables are quickly processed, usually, it is just a matter of hours, from being harvested that helps to keep the nutrients.
Besides, when cooked correctly, canned asparagus can have basically the same flavor as fresh asparagus, so pay attention to the recipes we're going to show you!
How to cook canned asparagus in boiling water?
This is probably the most common way to prepare asparagus – apart from cooking fresh or cooking frozen asparagus pan-fried – but is certainly not the only way. The taste is great and you can serve it immediately as one of your side dishes.
For this method, you're going to need:
1 can of asparagus
Sea salt
Crushed black pepper
Instructions:
Add 4-5 inches of water and 2 teaspoons of salt in a large skillet
Wait until the water is boiling
Squeeze the juice from the canned asparagus spears and put them to the boiling water
Cook for approximately 5 min. on medium heat
Remove the asparagus from the skillet and add a little bit of the crushed pepper on top of it
Eat!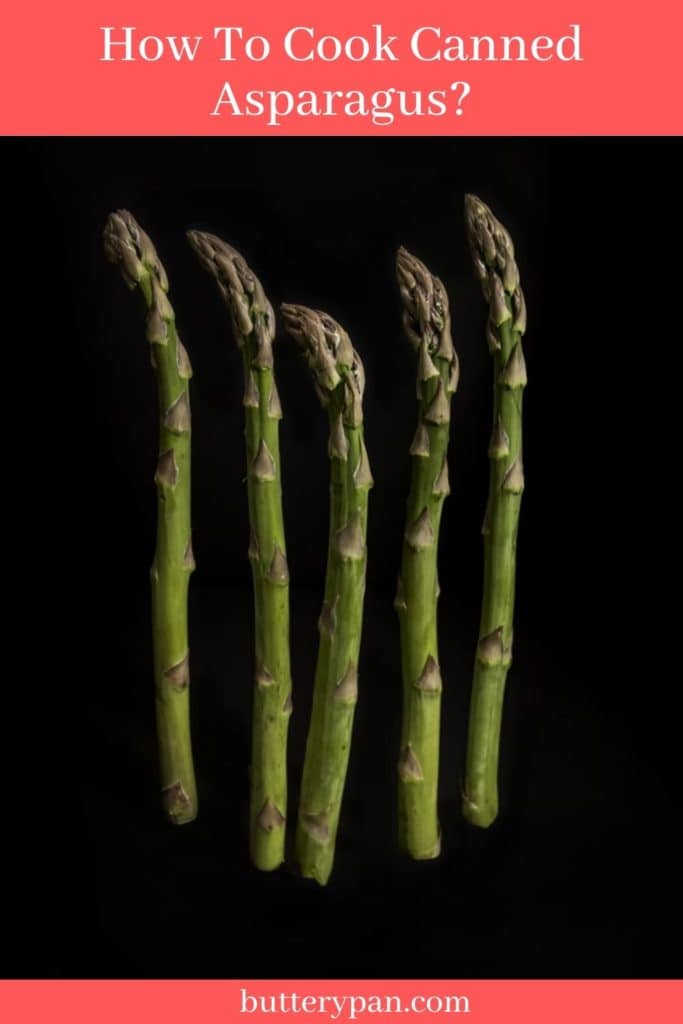 How do you steam asparagus in the oven (with some olive oil)?
The steaming method in the oven is also possible when dealing with canned asparagus.
For this method, you're going to need:
Asparagus
Olive oil
Salt and pepper
Instructions:
Toss the asparagus with some olive oil and salt and pepper – to be seasoned according to your taste.
Heat the oven to 425°F and leave the baking sheet with the asparagus there for between 10-12 minutes
The quantity of asparagus will determine if you should let it stay in the oven longer or not. The more asparagus you have, the longer it will take for it to be in the right thickness and ready to serve immediately as a side dish!
How to steam asparagus in the microwave?
You can cook almost anything in those things if you have enough laziness in you, right? Well, with canned asparagus that's no different. This method is very simple and should save you time if you're in a rush or simply don't wanna put that much effort into preparing your meal.
Instructions
Roll up the asparagus in some dampened towels. Put the bundle, in the microwave.
Heat it on high potency until the asparagus for about 3 to 4 minutes.
Add a little bit of olive oil and sea salt on the top.
If you love asparagus but aren't the most skillful person in the kitchen, this method will definitely become one of your favorite ways to eat asparagus.
How to cut the asparagus spears?
You can eat the whole spear of the asparagus except for the woody segment in the bottom. You can snap it off your own hands by bending the spears over and over again or you can cut it off using a knife.
Do you have to wash the asparagus before cooking?
Absolutely. In fact, you must wash all of your vegetables before cooking them. That's essential to eliminate any possible microorganisms that could harm your health. Washing your vegetables is a quick task, so there's no excuse not to do it and have a delicious (and safe) meal.
How to drain the juice from canned asparagus?
Canned asparagus can be really mushy and watery. To remove that excess, you can squeeze it with your hands (washing them first, obviously) or you can dry it out by using some paper towels. Drying your canned asparagus before cooking them can improve the taste of the dish and decrease the chances of it turning out too floppy.
How to make asparagus less bitter?
Asparagus can have a not-so-pleasing flavor to some, who complain about its bitterness. To soften that aspect of the asparagus you can, after boiling it for a few minutes, plunge the spears in ice water. Leave it there for about 1 minute and after this, dry it off. The flavor should be less bitter and grassy and a little bit sweeter, especially if you add some melted butter on top of it too.
Careful not to overcook your asparagus!
Pay attention when you're cooking your asparagus. When boiling it's always best to do it in medium heat. You can check the texture of it by picking it up with a fork or even having a small bite. Nobody likes asparagus that's too soft and floppy!
What is the correct way to eat asparagus?
Many people see asparagus as a classic side dish. It can always come in the company of some olive oil or some other special sauce of your choosing. Some people can even like it enough to eat as a snack or even on top of some pasta dish with fresh parmesan. Asparagus is also one of those foods that you should eat with your hands. But if you want a more formal take into the asparagus-eating universe, what is said is that the asparagus spear should be picked up by the blunt end of the stem, the budded tip dipped in the sauce of your choosing, and then eaten bite by bite.
Wow, there are so many options…
That's right! Canned asparagus can be a more affordable and practical choice for many people that intend to maintain a healthy diet and eat some good vegetables. You can try all those recipes and pick your favorite based on the taste and/or texture that you find. You can also try different ingredients here and there, making some changes and creating new flavors. Cook your canned asparagus as you please and share it with your friends as a side dish, a snack, or even a main course, alongside some other option of food!