How To Cook Steak on George Foreman Grill?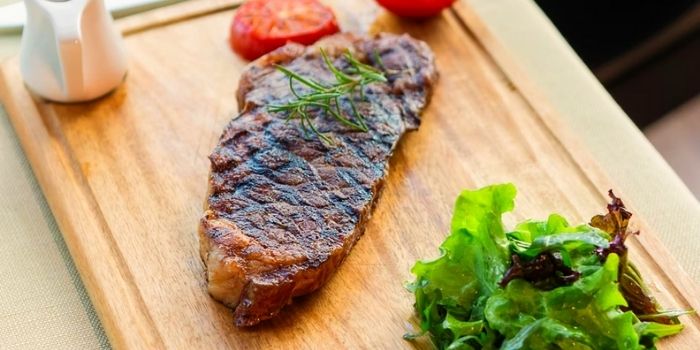 So you are looking to make some steaks, but you do not have an outdoor grill? Or do you have a charcoal grill and you don't want the hassle? How to cook steak on George Forman grill might be the right post for you!
Perhaps the weather is not so good and you can't go outside grilling steaks, or you live in the city and a charcoal or gas grill is not an option…
No problem!
There are alternatives that will allow you to cook your meat indoors. One popular kitchen appliance that is used as an indoor grill is the George Foreman Grill.
The George Foreman grill is a non-stick, easy-to-clean appliance that allows you to cook multiple servings at once.
The heat of the appliance cooks meat by radiation, allowing you to cook it faster than other types of indoor grills.
This grill has been sold on a worldwide scale. The inventors wanted to create a grill that would cook steaks on both sides in a healthy and clean way, without excess fat drips.
You might doubt that you can cook a steak on this grill but it's fairly simple and you will be able to cook meat indoors all year round.
How to cook steak on a Goerge Foreman grill?
Here are the steps to cook your steak on a George Foreman Grill:
Season your meat with salt and pepper, olive oil as well as any spices you desire, such as cumin or garlic powder.
There are no rules to seasoning – a steak recipe usually varies, use whatever species you like the most to make a delicious steak.
Disclaimer: All the instructions are intended as steak recipes' general information.
Turn on the grill and let it heat up.
Preheat your George Foreman grill for roughly 5 minutes with the lid closed
Open lid, put your steaks on the grill, and close the lid again.
The time and temperature will depend on the thickness of your meat and how well done you want it (The cooking time for medium doneness, medium-rare, rare, or well-done steak will vary).
The George Foreman grill cooks meat to perfection, and you simply have to press the top of it down.
It's simple to use and this type of cooking allows for the tasty juices to stay in the steak, resulting in an even tastier finished steak!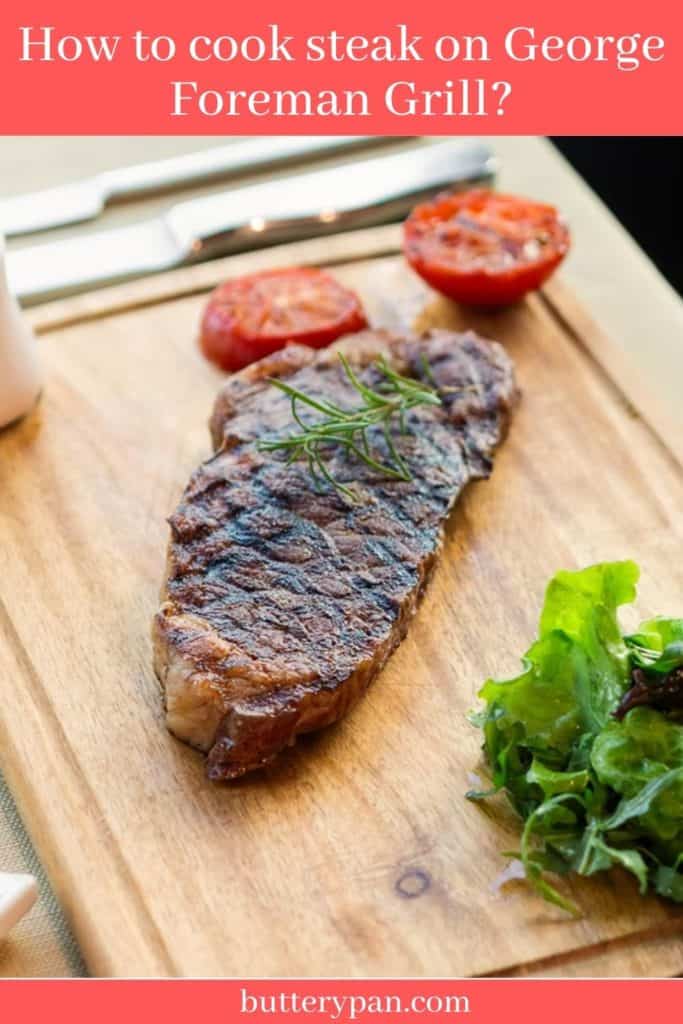 What temperature do you cook steak on a George Foreman Grill?
The George Foreman grill has a temperature control dial, so you can set the ideal cooking temperature for your steak, the temperature will depend on how cooked you want your steak to be.
There is a small cookbook that comes with the grill, it includes a chart that will tell you how long to cook different meals.
The recommended temperature for steak is higher than what you might use for other meats, generally around 350-400 degrees Fahrenheit in a George Foreman Grill.
The high temperature is essential to properly cook the steak while retaining all of the flavors.
It will be easier for you to cook a steak if you use your experience since the thickness and degree of doneness must be carefully balanced.
How long does it take to cook your steak on a George Foreman grill?
Grilling your steak on a George Foreman grill maybe as quickly as 5 minutes. Depending on the level of cooking through that you like.
Depending on the thickness of your meat and how well done you like your meat and the steak size (you can like thick or really thin steaks) the cooking times are different, we all have our version of a perfect steak.
A 1/2 inch steak will cook for around 3 minutes if you like medium-rare.
If you want it well-done, cook it for 4-5 minutes.
If you are dealing with a 1-inch steak, cook it for roughly 5 minutes, this way the middle will be medium and 7-8 minutes if you want it to be well done (not advised).
Categories steak recipes, general grilling, or how to cook thin steaks, sirloin steak, boneless steak or york strip steak will vary.
How long to cook a ribeye steak on George Foreman grill?
Ribeye steaks, a delicious and flavorful cut of meat, taste great when cooked on the George Foreman Grill.
Ribeye is well-marbled and has a delightful fat that melts into the flesh during cooking, ensuring that it remains delicate and juicy.
The drippings from the fat melts will fall into the tray, making the Foreman grill a healthy method to prepare ribeye.
If your steak is one inch thick, you'll cook it for around 8 minutes, depending on your preference for redness.
How long does it take for a medium-rare steak?
On average, it takes around 7 minutes for medium-rare steak to be cooked especially a thick one.
You can use a meat thermometer to measure the internal temperature of the meat and make a better assessment.
Filet mignon on George Foreman Grill
Filet mignon is a cut of steak that is extremely tender and the flavor is quite delicate.
Because this cut of meat lacks any fat marbling, on a George Foreman grill, the drippings will have minimal effect on the flavor.
Based on the thickness and desired degree of redness, cooking a 1-inch thick filet mignon will take 7 to 12 minutes.
Are steaks good on George Foreman Grill?
Yes! The George Foreman grill can cook any type of steak of your choice, thin steaks, sirloin steak, boneless steak, or york strip steak.
How to make the steaks better?
The steak turns out tender and juicy when you season it with spices, herbs, and a little olive oil.
You can even use garlic and salt to give your grilled steak an added flavor boost.
What makes the George Foreman Grill good?
The George Foreman grills have many characteristics that make them a great solution for indoor cooking:
You can adjust the timer to cook your steak according to your specific preferences on the George Foreman Grill (for example, 7 minutes for medium cooked steak)
The George Foreman Grill is all sizzle without the smoke, It produces considerably less smoke than other indoor smokeless cooking devices, it can be up to 85% less
With contact grill plates, the pan cooks 3X faster.
Dishwasher-safe removable plates and drip tray make cleanup a breeze. The fat melts and falls into a tray.
Do You Have To Flip Meat On George Foreman Grill?
In order to cook your meat, you do not have to flip it over. The design of this steaks grill was done purposefully to grill steak The cooking surface inside should be sufficient since it cooks evenly on both sides.
So now you know everything there is to know about how to cook steak on George foreman grill!