How To Cook Flap Meat In Cast-Iron Skillet?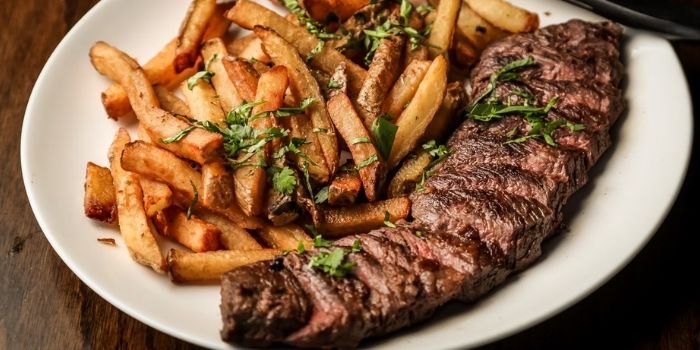 How to cook flap meat in a cast-iron skillet? The easiest way of cooking flank steak would be a cast-iron pan sear for about 4 minutes on each side and medium-high heat. Nevertheless, don't be fooled. Although these instructions may look simple at first glance, there's more to them than meets the eye.
For one, if prepared incorrectly, flap steak is one of the easiest cuts to dry out. Here the right cooking time can make or break the dish, and so can the marinade, for that matter. Thus, to make your Sunday dinner a bit less stressful and a lot more delicious, this article has covered everything on how to cook the flank steak, from the skillet cooking time and temperature to the marinade and seasoning.
How To Cook Flap Meat In Cast Iron Skillet?
To start this flat steak cooking adventure, here is the simplest flank steak recipe of them all. Once the steak comes out perfectly juicy with this one, you'll know it's time to step up your game!
Whisk together 1/2 cup of olive oil, salt, and freshly ground black pepper, as well as a tablespoon of soy sauce, honey, and vinegar. Keep whisking until it becomes a uniform marinade.
Place the flap steak into a medium-sized bowl and pour the marinade over it. For reference sake, the steak should be thoroughly soaked in the marinade.
Next, you'll cover the bowl and leave it in the fridge for at least 30 minutes. If you have more time than that, all the better!
Preheat a large cast-iron skillet over medium-high heat.
Place steak into the hot skillet and pan-sear for 4 minutes per side.
You'll want to cook the flap steak medium-rare so it retains its tenderness. A good indicator for this pink beads of moisture that begin to appear on the steak. Before cutting into the steak, don't forget to let it rest for 5 minutes!
Can You Cook Meat In Cast Iron?
If you've ever planned to cook flank steak on the grill and had it backfire on you at the last second, you've probably heard that a cast-iron skillet is the next best thing – this is absolutely right. Cooking flank steak or any other type of meat in cast-iron skillets has more than just a few benefits.
For one, cast irons tend to heat quite evenly and retain heat almost surprisingly well. Thus, placing steaks into a preheated cast iron allows the interior to become mouthwateringly golden brown while the interior cooks to that perfect medium-rare. Once they come out of the skillet, they're guaranteed to be juicy on the inside as well as crispy brown on the outside.
For a detailed flank steak recipe in the cast iron skillet and all the tips and tricks you'll need to season it, keep reading below!
How Do You Tenderize Flap Meat?
Flap meat, or in this case flap steak, is a lean cut of meat. In translation, flap steak is not a tender type of meat. Therefore, to make a cast-iron flank steak juicy and tender, you're going to need a few expert culinary tips. Luckily for you, the most important ones are all čisted right here!
First things first – to get a flap steak tender, you'll need to marinate it for at least 30 minutes, although I'd recommend an hour for this part. Right now, I won't get into the specifics of the best flank steak marinade, but you'll find everything you need for it just down below – from olive oil and garlic butter to freshly ground black pepper. It's all there.
Moving on to the next tenderness tip – how to cook steak. Because flank steak is a lean piece of meat, it shouldn't be cooked for a long time since you'll run the risk of drying the meat out. Thus, to avoid this, flank steak should be cooked either on the grill or in cast-iron to medium-rare – this way, you're in for a real treat!
The last piece of advice concerns cutting the steak. To get the maximum tenderness out of flank meat, cut very thin slices against the grain. This way, you'll shorten the muscle fibers and preserve all the tenderness of the cut.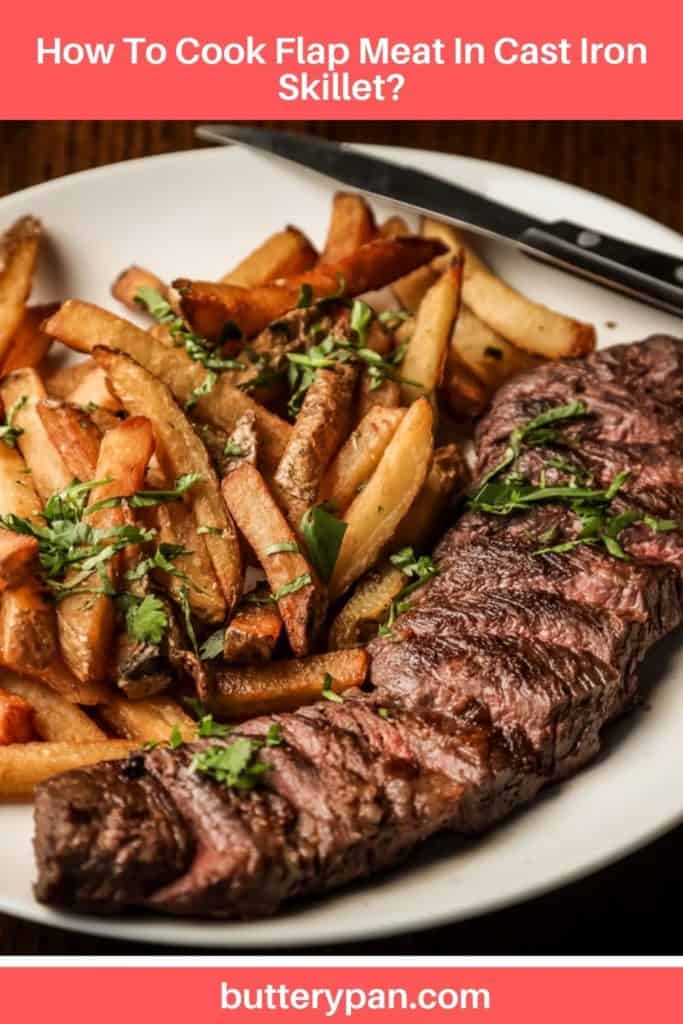 How Do You Use Beef Flap Meat?
There is a surprisingly large amount of ways to use flap steak – anything from the grill to a cast iron pan will do the trick if you know what you're doing, of course. To make your night and life a bit easier, here is a simple yet delicious flap meat recipe that will surely become the star of your Sunday dinner.
The first thing you'll want to do in the kitchen is preparing the flank steak marinade.
In a medium-sized bowl, combine 1/2 cup of olive oil, 1/4 cup of fresh lime juice, a tablespoon of minced garlic, salt, and freshly ground pepper, and 1/2 a teaspoon of pepper flakes. For those who love stronger flavors, adding a teaspoon of cumin and sugar is also recommended.
Next, you'll place the steak into the marinade, seal the bowl with a lid, and place it in the refrigerator. I've already mentioned that it should stay in the marinade for at least 30 minutes. However, if you're like me and enjoy preparing everything ahead of time, you can marinate the flank steak in the morning and leave it in the fridge for up to 8 hours – this way, you'll get the most out of the flavor profile!
Now, since it's been in the fridge for long enough, take the marinated flank steak out since it's time to cook!
Heat olive oil in a cast-iron pan over medium-high heat.
Once hot, place the flap steak into the pan and sear for 5 minutes. In chef talk, this would mean letting it simmer until a golden crust begins to form.
Flip the steak and repeat the process. The meat should cook for another 5 minutes until it becomes medium-rare. For all of you who like using an instant-read thermometer, the temperature should be 120 degrees F – remember anything above will dry the meat out!
Remove the steak from the pan and let it rest for an additional 5 to 10 minutes.
After this, place it on the cutting board and cut it into thin slices, just like I've explained above.
Above all else, make sure to enjoy this simple and (relatively) quick dish!
How Do You Cook Flank Steak, So It's Not Tough?
As you may have noticed, the secret to cooking flank steak is both in the time and the seasoning. You have to make sure not to dry it out with cooking and season it well, so all its juices get a chance to shine. Up till now, I've given you a fairly simple recipe on how to do this with a cast-iron skillet.
However, this time around, I think you're ready for something a bit more challenging – a cast-iron skillet and oven combination. Don't worry. Although it may sound jarring, I guarantee this perfect recipe will instantly become a favorite!
The first thing you'll want to do is preheat the oven to 400 degrees F.
While that's in the works, cut the flank steak into 4 equal parts, pat it dry, and season with some salt and ground black pepper.
Heat a tablespoon olive or vegetable oil in a medium-sized skillet over medium-high heat. If you'd prefer garlic butter, it will also do the trick.
Once the oil is hot, pan-sear the flap steak for 3 minutes per side.
Take it off the stovetop and place it into the oven for another three minutes of cooking – for reference sake, the internal temperature of the meat should be about 120 degrees F right about now.
Take the cast-iron skillet out of the oven and place it back on the stovetop. Remove the steak and let it rest for 5 to 10 minutes.
Unfortunately, while the flap steak is resting, you don't get a breather. Instead, you'll be making a delicious sauce to go with your flap meat!
Since the skillet is back on the stovetop, heat a tablespoon of garlic butter over medium-low heat for 1 to 2 minutes.
Add white wine, an additional tablespoon of butter, and the juices from the steak back into the hot frying pan and saute for another 5 minutes. Once the sauce becomes slightly thick, you'll know it's done and ready.
All that's left to do is pour it over the cut meat and serve with a side of mashed potatoes!
Summary
It would appear you've reached the end of the article, meaning you now know how to cook flap meat in a cast-iron skillet. All you truly need is a good marinade and to sear it for 4 minutes on medium-high heat. I won't mention all the tips and tricks for flank steak this time since I'm sure you've got them all down, and if not, the article will be right here to help!