Spinach Apple Salad, Easy Recipe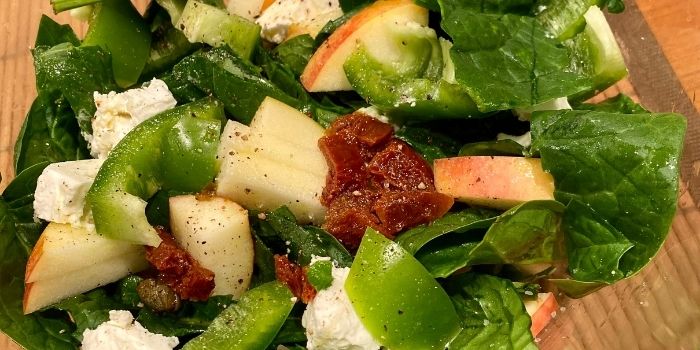 Spinach apple salad. This salad cuisine is a delicious mix of sweet and savory flavors that is a perfect meal for the entire family.
To make an apple spinach salad, you first need some tender baby spinach and crisp apple, whatever kind you like, just as long as they're fresh apples. Mix those together and add some raw red onion, chopped, toasted walnuts, a small handful of dried cranberries, your favorite salad cheese (goat cheese or feta cheese pair nicely with the sweet flavor of the rest of the salad), and top with your favorite dressing. For an extra apple taste, make your own vinaigrette with apple cider vinegar.
Serve immediately to keep your salad from wilting, or store in an airtight container overnight.
Spinach Apple Salad
It doesn't take much work at all to make a delicious spinach apple salad recipe. The prep time for this salad is minimal, and you can prepare your salad ahead of time as long as you store it in an airtight container or mason jar so it can stay fresh.
Wash a few handfuls of fresh baby spinach (as much as you want to eat).
Mix your spinach in a large salad bowl with one chopped apple (or more if you want), granny smith, and pink lady apples work great, but any apples that are in season will do.
Toss gently as you add in your other ingredients. You can add whatever you like. Toasted walnuts, goat cheese, and dried cranberries are two favorite toppings for this salad, but you can add crumbled bacon, grilled chicken, freshly ground black pepper, other dried fruit, pecans, and more! Whatever flavors you want.
Dress your salad with kosher salt, olive oil, or your favorite dressing. You can even make a honey dressing if you want some extra sweetness!
Or a similar but slightly more complicated version:
Spinach Apple Salad Balsamic Vinegar
To make this healthy salad, you don't need to do much prep work. There are no set rules for making a spinach apple salad, but one of the delicious recipes you can start with while you figure out what you like is this:
Wash your baby spinach and dry it with a paper towel, so it doesn't make the salad wet.
In a large bowl, add your spinach and an apple that has been thinly sliced or chopped. You can add more if you want some extra sweet flavor.
Add about 1/4 cup of goat cheese, a small handful of dried fruit, a little red onion, some chopped pecans, and a little bit of cooked bacon.
In a separate small bowl, mix 3 tbsps of balsamic vinegar and maple syrup, 2 tsp of olive oil, and 1/2 tsp of dijon mustard to make your balsamic dressing.
Spinach Apple Salad Feta
Feta cheese goes great in an apple spinach salad. Once you've mixed your main spinach salad ingredients (baby spinach, chopped apple, and any other mix-ins you like), just add in a few tbsps of crumbled feta.
Feta cheese is high in saturated fat, however, so don't add too much if you plan to serve this salad often.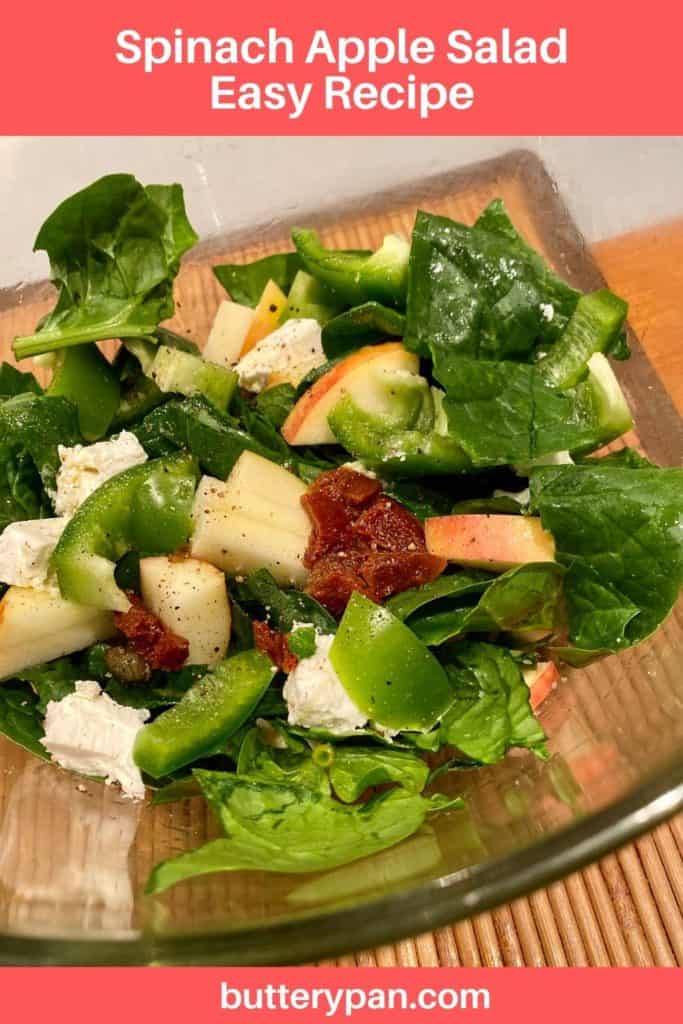 Spinach Apple Salad Goat Cheese
If you want to add goat cheese to your apple spinach salad, just add a few tbsps of goat cheese crumbles to your salad once your other ingredients have been gently mixed. Wait until right before you dress your salad, so your goat cheese doesn't crumble too much and lose its shape.
Spinach Apple Salad With Poppyseed Dressing
A sweet and sour poppyseed dressing is a perfect way to top off a spinach apple salad. Once you've mixed your spinach, thinly sliced apple, and your other mix-ins in a small bowl, mix together:
3/4 cup olive oil
1/3 cup apple cider vinegar
3 tbsps spicy or dijon mustard
1 tsp salt
3/4 tsp black pepper
1/4 cup honey
1 tsp of poppy seeds
Dress your salad with as much of this dressing as you like and serve immediately.
Spinach Apple Salad Vegan
A spinach apple salad is a great vegan option as none of the main ingredients are made with animal products. Just mix your spinach and apples together and add whatever vegan-friendly salad ingredients you want. You can even use vegan cheese and meat substitutes if you want!
Spinach Apple Salad Vinaigrette
Any vinaigrette would go great with an apple spinach salad. A few favorite types of vinaigrette you can make or buy to pair with your salad are:
Balsamic vinaigrette
Poppyseed vinaigrette
Apple cider vinaigrette
honey mustard vinaigrette
Spinach Apple Salad Epicurious
Epicurious has a great spinach apple salad recipe that needs very little prep time. To make it mix together in a large bowl:
minced onion
baby spinach
apples that have been cut into thin slices
sesame seeds
toasted almonds
Mix all these ingredients to taste to fit your preference!
To make their dressing and bring out the recipe notes of your salad, in a separate bowl mix:
1/4 tsp paprika
3 tbsps of both apple cider and white wine vinegar
3 tbsps sugar.
Spinach Apple Salad With Maple Cider Vinaigrette
To prepare a maple cider vinaigrette to go with your spinach apple salad, mix together 1/3 cup apple cider vinegar, 2 tbsp maple syrup, 1 tbsp dijon mustard, a pinch of salt and pepper, and 2/3 cup olive oil.
Use this for your favorite apple spinach salad recipe.
Spinach Apple Salad Ingredients And Procedure
The main ingredients you need for a spinach apple salad are:
baby spinach
chopped apples
your favorite crumbling cheese
a small handful of your favorite nuts or seeds
dried fruits or berries
your favorite dressing or vinaigrette.
Just mix your ingredients together and dish into your serving plates immediately for a delicious meal.
Summary
Spinach apple salad. The easiest way to make a delicious spinach apple salad is to mix together a few handfuls of baby spinach, a chopped apple, and your favorite salad mix-ins and dressing.