What is Papadum? Papadum is a type of bread from India. Its dough is usually fried, and the final product is a thin, round disc that is crunchy and salty. While the taste is delicious on its own, its flavor is mild enough, so it goes great with all sorts of chutney or salsa dips without having to worry about flavors clashing. You can find it as a side dish in most Indian restaurants, and it's a favorite snack food among fans of Indian cuisine. You might even be able to find it pre-made at your local stores.
What Is Papadum?
Papadum is a bread that has been fried in hot oil (often peanut oil, but any frying oil will work). It's a golden brown, crispy, delicious snack food that is perfect for any time of day, whether as a side dish or a main course! If you like salty, crispy snacks or you're trying to eat fewer potato chips, papadum might just be your new favorite food.
What Is Papadum Made From?
Papadum dough is made of slightly different ingredients compared to common western types of bread. The main ingredients in crispy papadum recipes are:
black gram (your local grocery store probably carries this as chickpea flour)
water
salt
cumin seeds.
There are some variations you can make, such as adding chopped onions to your dough mix or using other flours. If you can't find or don't like chickpea flour, you can try one of these options:
lentil flour
rice flour
wheat flour
legume flour.
Papadum is a versatile food, so whether you want to go the traditional route or try something new with your papadum dough, you don't need much!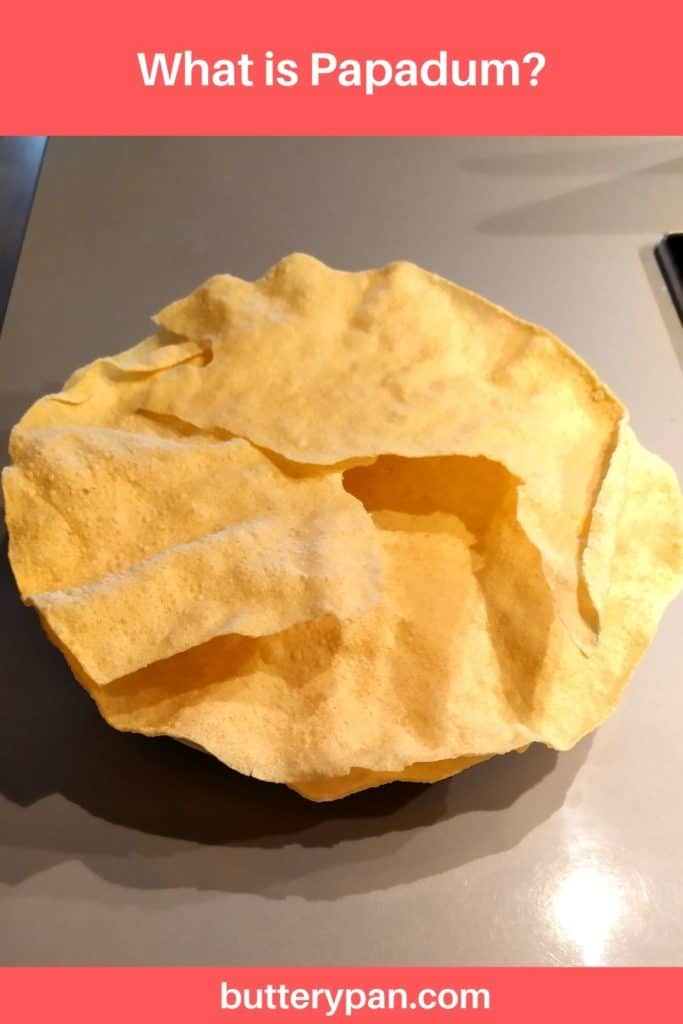 What Is Papadum Served With?
Dried papadum can be served with really anything you could think to eat it with. For the best flavor, eat them fresh while they're still warm, but you can make it in bulk and store your leftovers in an airtight container as well.
No one would judge you for eating your papadum on its own, but try it with a dip, chutney, or your favorite Indian meal!
What Is Papadum Indian Food?
Papadum is a thin bread that has been fried in oil. It's a typical snack food or side dish to Indian cuisine. You can sometimes find it pre-made at your local grocery store, but you can also get it fresh from your favorite Indian restaurant. You can even make it yourself! Impress your friends at your next party by upgrading the typical chips and dip selection to papadam and chutney!
Masala Papad
Masala papad is a traditional appetizer and snack from India. The easiest comparison would be to say it's sort of like a pizza, but not at all! Really, it's fried, crispy papadum dough that is topped with:
onions
tomatoes
green chilies
coriander
salt and cracked black pepper
red chili powder
lemon juice
masala powder
any other spices you prefer.
It's a delicious side or main dish if you're craving a crunchy snack that's actually not that unhealthy!
What Language Is Papadum?
Papadum comes from India, but the word actually comes from the Sanskrit word "paparata". In Sanskrit, paparata means a flat disc, which is exactly what papadum is! A flat and delicious disc!
What Is Meant By Papadum?
Papadum is a thin, crunchy flatbread that has been fried and is a huge part of Indian cooking that is salty and crispy. It's eaten on its own, but you can also have it with various toppings.
While the traditional papadum is made by deep-frying the dough, you can also bake it in the oven or cook it over an open flame if you want.
What Is The Meaning Of Papadum?
If you have heard or read the word papadum, but you were wondering what it means, here's the definition!
The word papadum refers to a type of Indian flatbread made of chickpea flour or lentil flour. It's often eaten with chutney or dip, but it's also eaten on its own.
What Is The Definition Of Papadum?
Papadum usually refers to a type of fried bread from India. It's a great gluten-free alternative to other types of bread and crackers as the traditional recipe calls for either chickpea flour or legume flour or flour made from crushed, dried lentils.
While traditionally it's fried, your papadum (or papads) can also be cooked in the oven. Just make sure you knead the dough well or use a rolling pin to make sure your dough is nice and thin when you lay it on a baking tray lined with parchment paper.
What Is The Description Of Papadum?
Papadum can be most simply described as a thin, crunchy, fried bread. It's great if you like to fry your snacks but want an option that's a little bit healthier and much less processed. It's also a great gluten-free food as it's made from black gram or other flour besides the typical wheat flour of most western bread.
While papadum is best when fresh from the fryer (or the oven), you can store your fried papads in an airtight container and eat them at your own pace. Don't expect them to last long, though! They're so good; you'll eat them all in no time!
Summary
Now you know what is papadum! Simply put, papadum is a thin bread that has been cooked in a deep fryer. It's made from chickpea flour or lentil flour most often. The recipe also calls for water, salt, black pepper, and other spices depending on the specific recipe you're following, most commonly cumin.
You can eat your papadum alone as a side or main dish, but it's typically served with sauces, salsa, or chutney. There are tons of Indian meal options that would go great served with papadum. Try out a few, or just make a batch to munch on yourself. Once you start eating it, you'll crave it for days!